True or false? When your mother tells you to do something, you want to do the opposite. For a just-out-of-college Diane Griffin, the answer was true. But eight years ago, she resigned to the fact that sometimes, moms just know best. Now, she's making her real estate-savvy mother and her community proud with her commitment to the thriving business community and local philanthropic efforts.
As owner of Griffin Properties in Grand Rapids, Diane knows that to have success in business, she must surround herself with great people who possess varied talents but are all committed to working toward a greater goal. Diane and her fourteen-member "mega agent" team just moved to a new location to accommodate the company's quick growth. You'll find their new office located in the Midtown neighborhood of Grand Rapids, but their For Sale signs are all over the city.
Whether buying or selling, repeat business takes up ninety-three percent of Griffin Properties' efforts, Diane said. "That's because we're customer-focused; it's all about the customer, and as long as we feel like we're a good fit for them, then we go for it." Griffin Properties deals in small accounts—lower price points and first-time home buyers—and large ones with listings for more than $1 million. The range of service reinforces the need for a team with a diverse skill set and finely attuned sense for the market.
So, how is the market in West Michigan? It's "excellent," Diane said. "It's a perfect combination: There is a slight increase in prices, but interest rates are still low. It's a really sweet spot, in my opinion."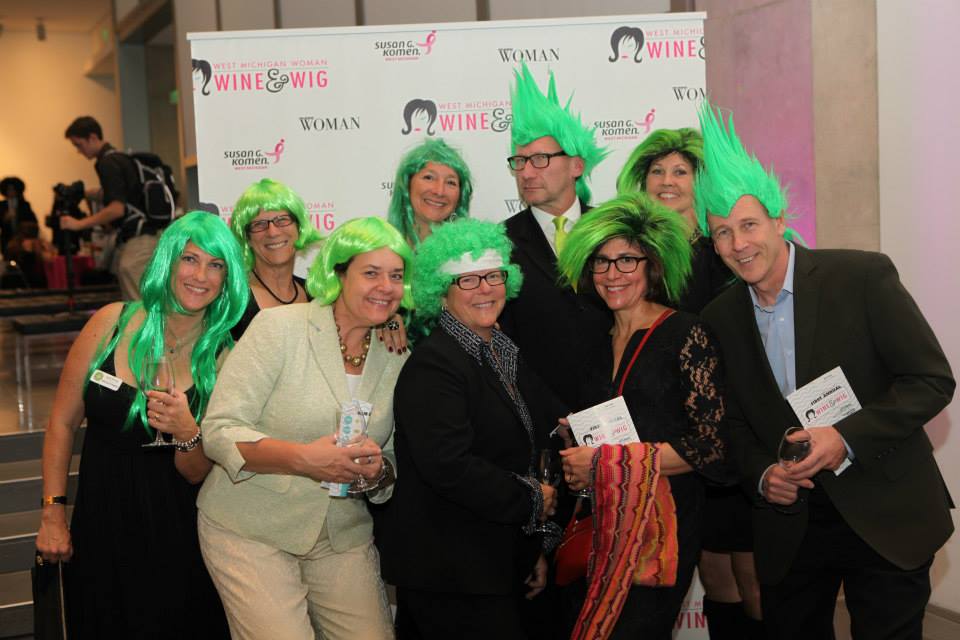 No matter the fluctuation of buying and selling, one thing that is always steady in West Michigan is an inclination toward charitable giving. Griffin Properties was a sponsor for West Michigan Woman's recent Wine & Wig event, which raised $15,000 overall for Susan G. Komen West Michigan. But Diane can't pinpoint the reason she is so passionate about giving back to her community. "I think it's just how I was raised. It never occurred to me why; I just do it. It's a part of who I am."
Griffin Properties is a continual supporter of many local charitable organizations. A percentage of each closing sale goes to Gilda's Club Grand Rapids, and Griffin Properties gets involved in neighborhood ventures and larger community events throughout the year, Diane said.
While her team demonstrates resourcefulness in the real estate field, Diane credits it most for its willingness to contribute to society as a whole. "I think it's one of our main strengths," she said, "and to be included in the community is really important to us in many ways."

Written by: Erika Rose is West Michigan Woman magazine's staff writer.