Growing up, Kari Tubbs and her favorite female cousin shared everything, including clothes. "She always had a closet full, and she let me go through and pick out my favorites and keep them," Kari said. Although the girls were twelve years apart, they had a bond that propelled them through childhood and keeps them close even now—even as her cousin is in the midst of breast cancer treatments. When Kari got the news that her cousin had been diagnosed, she was "heartbroken." Throughout chemo and radiation treatments, she has tried to stay positive for her cousin. "She's always been very beautiful in my eyes, and even with a bald head, she's gorgeous. I tell her with her bald canvas, her blue eyes just pop."
Just last week, Kari found another way to encourage her cousin and to share in something else with her—a bald head.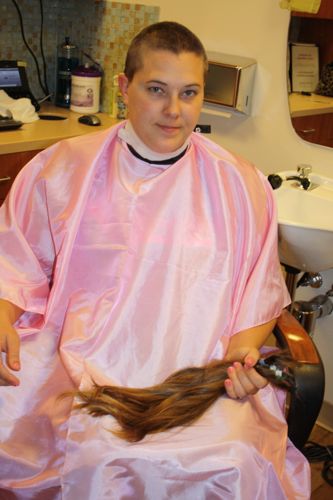 Kari, a housekeeping employee of Mercy Health in Grand Rapids, got the wild idea to show her support to her cousin and cancer patients everywhere this October by shaving her long, brunette locks. Personal Care Area employees at Mercy Health agreed, and helped Kari shave her head there last week. She's feeling the cool fall air a little more distinctly now, but she's also experiencing an outpouring of opportunities to share her mission.
"My pillow feels different, the wind feels different," Kari said. "I'm feeling a little naked in public, but it's for a good cause, and I try to think of the good that will come out of it."
The best way to support friends and family members undergoing treatments, in Kari's opinion, is to be sincere. Don't make them promises you can't keep, she said. Kari didn't tell her cousin about her plans to shave her head in solidarity until the night before, when she knew she would follow through on her plans. "I would never want to disappoint her." But Kari's actions are speaking volumes of the love the cousins share, the bravery bread in their family, and the hope that springs from unconditional support. "Family and friend support is number one," Kari said. "They can't get through this without us."
Written by: Erika Rose is West Michigan Woman magazine's staff writer.