The road of life Lori Baker travels has not always been smooth, but it has always led her to interesting places. When she was a teenager, newly married, and recently a mother, she and her husband sold everything they had, removed the backseat of their 1969 Dodge Charger to make room for a makeshift bed, and hit the road. From Michigan they headed south, stopped off in Texas, traveled through Oklahoma, and ended up in Wichita, Kansas. It was fun for a time, but when the money ran out and the marriage fell apart, Lori went home to Michigan and started over.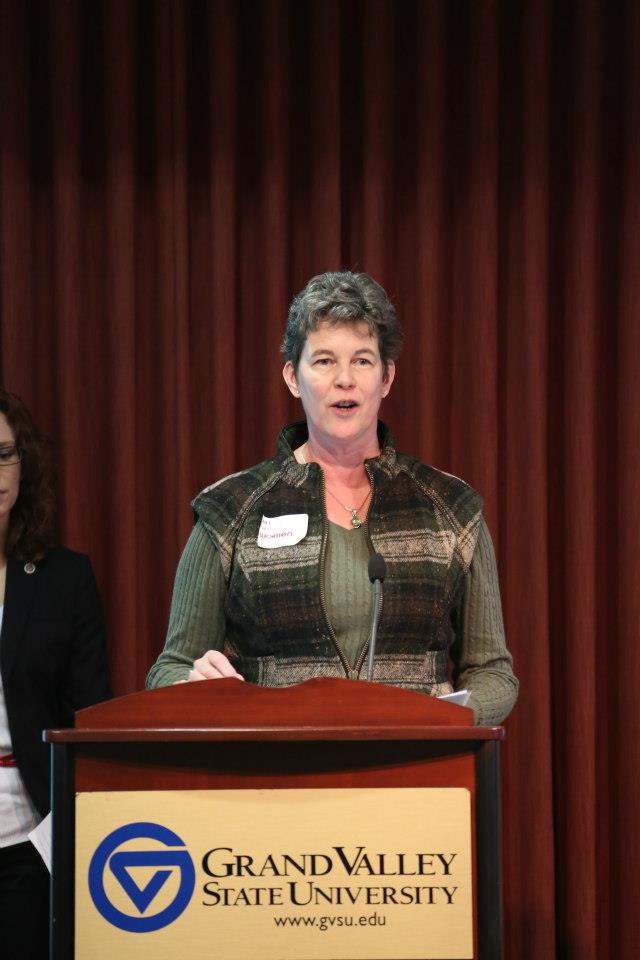 But sometimes, second chances are the ones that mean the most. Going back to school at Davenport University (and eventually Aquinas College) and working full time during the day stretched Lori's patience and taught her to multitask. And whether you call her determined or stubborn, when she sets her mind to something, it gets accomplished. "That's what happens," Lori said, "when you focus."
Lori grew up pitching in at her parents' trucking company. She learned accounting and how to crunch numbers from a young age, so when it was time for her to plant the seeds of her own career, she chose what she knew—and loved—best. Lori has spent the past thirty years at Baker Holtz, where she works as a CPA. Now, in addition to helping West Michigan community members with their taxes, she's giving back to young women who could use a little inspiration from an early age.
Lori wants to inspire and lead future number-lovers into career development, and give them the professional guidance she feels she lacked when young. Her industry is changing, she said, and women are finding ways to balance a career life with a home life. "We want them to stay," she said. "We want them to come back and know they can have families, if that's what they choose, but they can also still have a career."
Passion for helping others comes with the CPA territory, in Lori's opinion. She said she does more than sort through the ever-changing tax laws: She gives others a way to relate to and understand their finances. Lori is also making it her mission to keep West Michigan-grown students at home by providing local, recent graduates opportunities for lifelong careers. "We have a philosophy here of hiring from local schools like Davenport, Aquinas, Calvin, Ferris, Grand Valley," she said. And Lori is enticing students with a future in her industry to stay in school, thanks to Aquinas' accounting scholarship she and her husband founded.
"I'm trying to give back," Lori said. "That's a big thing for me."
Written by: Erika Fifelski is West Michigan Woman magazine's staff writer. She graduated from Michigan State University with a degree in journalism. Erika was born and raised in West Michigan, and after a brief stint on the sunrise side, she's home and loving it.