Back by popular demand, GrandJazzFest is dancing back into town this August. And the lady behind the music couldn't be more excited to double the play time and expose West Michigan to the many genres of jazz. Audrey Sundstrom is gathering bands from Grand Rapids and beyond and calling on music-lovers of all ages to attend the free weekend concert at Rosa Parks Circle, August 17 and 18.
Based on jazz festivals from around the state, GrandJazzFest is a chance to remind Michiganders of music that was founded right in our back yard. Although there is scarcely a radio station to play it, and stores' CD sections are diminishing, jazz is still alive, well, and waiting to be rediscovered.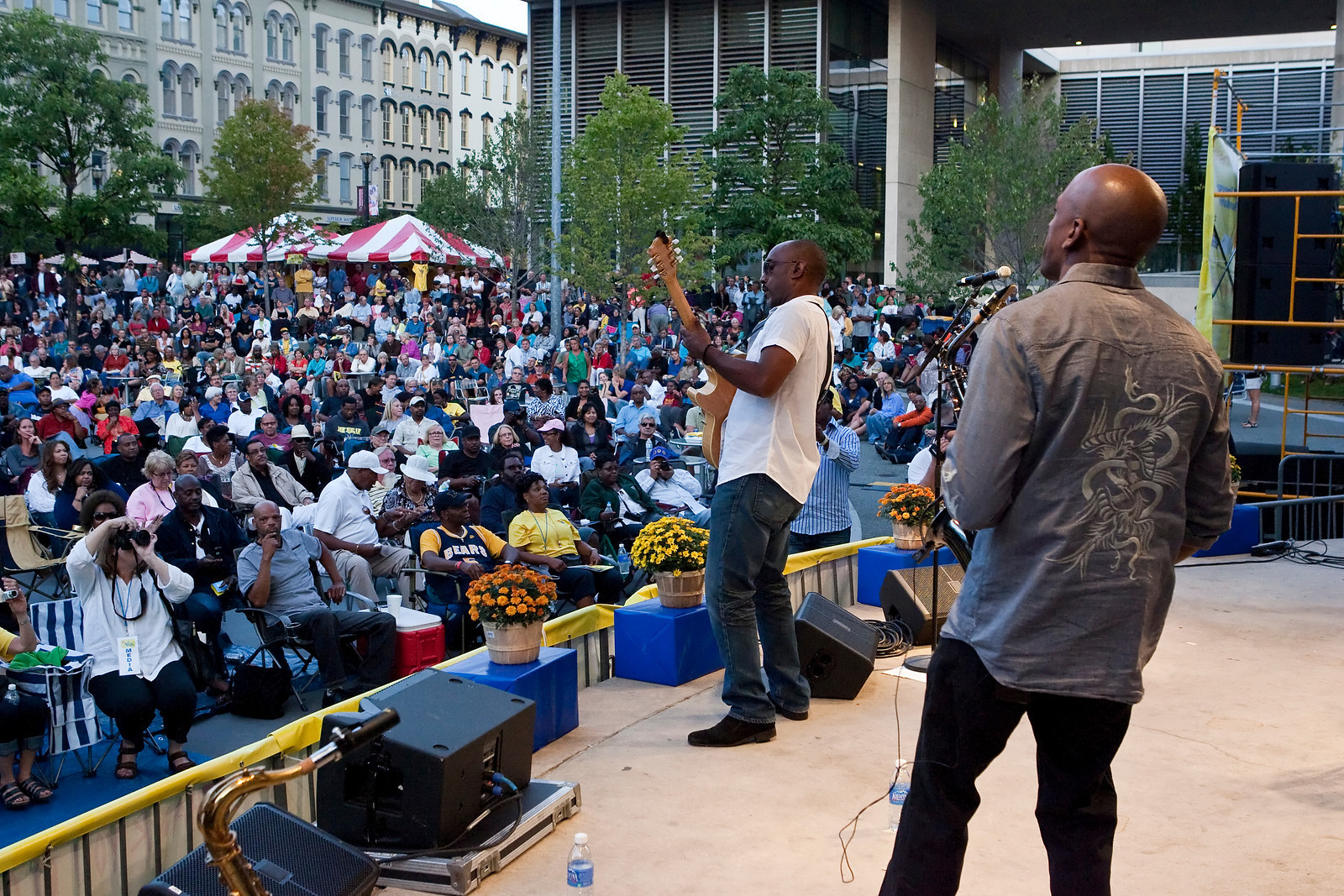 "There's a misconception that jazz is just elevator music," Audrey said. "But true jazz is very innovative and interesting, and a lot of times high energy. Jazz really is a huge spectrum." And reintroducing the many facets of jazz is where Audrey comes in. Growing up, she remembers her dad playing big band and swing musicians like Benny Goodman, Buddy Rich, and Herb Alpert and the Tijuana Brass. She didn't know it then, but he planted a seed that would grow and flower into the first-year festival attended by an audience four thousand strong. In 2013, Audrey expects the crowd to overflow Rosa Parks Circle, and that's kind of the point.
But Audrey isn't a one-woman show. She has help from her board members—also women—and support from local downtown businesses that she also endorses. As members of LocalFirst, GrandJazzFest touts the benefits of shopping local while at the festival—and any other time, for that matter. "It's an important part of our mission," Audrey said.
When she's not grooving to the sounds of brassy bands like Tim Bowman—the headliner for GrandJazzFest 2012—Audrey's busy with her real job as a dental hygienist in Grandville. For thirty-two years, she's worked to keep teeth clean and gums healthy. Audrey received her degree from University of Michigan, in Ann Arbor, not far from her hometown of Oak Park. When her then-fiancé Grand Rapids City Manager Greg Sundstrom transferred to Grand Valley State University, Audrey went with him, and they never looked back. West Michigan has been Audrey's home for more than double the time she spent on the East Side, and she's seen Grand Rapids go through major changes for the better.
"When I moved here thirty-two years ago, it was a far different area than it is now," Audrey said. "I'm glad to see it's evolved." With just the Civic Theater and Welsh Auditorium (Civic Auditorium) as performance venues, Grand Rapids was a culture shock to the East Side native. Now, in part thanks to Audrey's efforts to stir up the West Michigan music crowd, the city is an internationally recognized art hub.
"We certainly offer a lot more in terms of culture," Audrey said.
Written by: Erika Fifelski is West Michigan Woman magazine's editorial coordinator. She graduated from Michigan State University with a degree in journalism. Erika was born and raised in West Michigan, and after a brief stint on the sunrise side, she's home and loving it. Photos provided by: GrandJazzFest