Patricia (Patty) Christopher started out teaching special education and was a psychologist in the schools until she retired four years ago. That's when she decided to take the leap in fulfilling her dream of becoming a pastry chef—more specifically, a chocolatier.

Patty attended the prestigious French Pastry School in Chicago and Montreal's Callebaut Chocolate Academy, learning from European and Canadian chocolatiers. She still attends two to three classes a year taught by Pierre Herme, who Patty refers to as the "rock star of chocolates."

Since 2003, Patty and her husband have worked together in their state-of-the-art second kitchen in their Grand Haven home—Patty makes around thirteen hundred chocolates a week, and Paul manages the company website and serves as a willing taste tester. Starting their business wasn't difficult, Patty said, "but not having a business background, there are a lot of details that you have to get used to."

Christmas is Patricia's Chocolates busiest time of the year, followed by Valentine's Day and Mother's Day.

Two months ago, Patty came up with chocolates to go with red, white, and in-between wines. She researched fruits and chocolate that would go well with wines, and finally created a twelve-piece collection to be paired with different wines. Just before Christmas, Patty came up with a new chocolate, created with Michigan teas that are made right outside of Traverse City.

"The nice thing about working with chocolates: You can be very creative and come up with unique chocolates," she said. "Other than just creating the chocolates—I love that—it's a lot of fun to create and we do samplings at shops, getting to meet the people and getting to talk about chocolate, where it comes from, how it's made."

Speaking of how its made, Patty shares that her chocolates are all-natural, with no preservatives. She uses fruit purees and butter from Europe, cocoa butter, and her own ganache to fill the insides of the handcrafted and decorated chocolates. Patty is especially fond of using local Michigan dried cherries, blueberries, lavender, mint, rosemary, honey, and cream (which is hormone-free).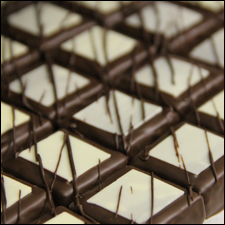 Patty says these chocolates, easily cut into four pieces by using a paring knife, are meant to be savored and shared with everyone.

With a strong emphasis on providing a European experience, the chocolate is stored behind glass and pieces are selected one-by-one by the customer. After the chocolates are chosen, a booklet is placed in the box; this allows the customer to learn what is in the chocolates chosen and all of Patty's chocolates.

"Every one likes to select their chocolates," Patty said. When asked to choose her favorite, Patty said that she doesn't have any one: She created them all, and each one is her favorite.

To buy Patricia's Chocolate, visit her website.

Written by: Chelsea Stoskopf, an intern at Serendipity Media. She recently graduated from Grand Valley State University, and is counting down the days to her wedding in July.