Liz Merriman, whose first degree and career were in welding, is used to working in a male-dominated field. As a graduate of Compass College of Cinematic Arts, the producer and production manager is on set with mostly men. But that doesn't intimidate this go-getter, who was Compass College's first-ever female valedictorian.
"There are not a lot of women in the profession," said Liz, "but the ones who are out there work hard. We're making a splash."
Liz grew up in Muskegon, along with the rest of her blue-collar family. When she graduated from her Norton Shores high school, she did what was expected, enrolled in community college, and learned a trade. But Liz always had a flare for the cinematic arts. She took classes in theater and after working as a welder and part-time bartender, she did something completely surprising: She went back to school.
It was her now husband—an actor—who introduced Liz to some friends in the business who were associated with Compass College. Liz enrolled, and during fourteen months of intensive hands-on education learned all about running a production set.
"I fell in love with film."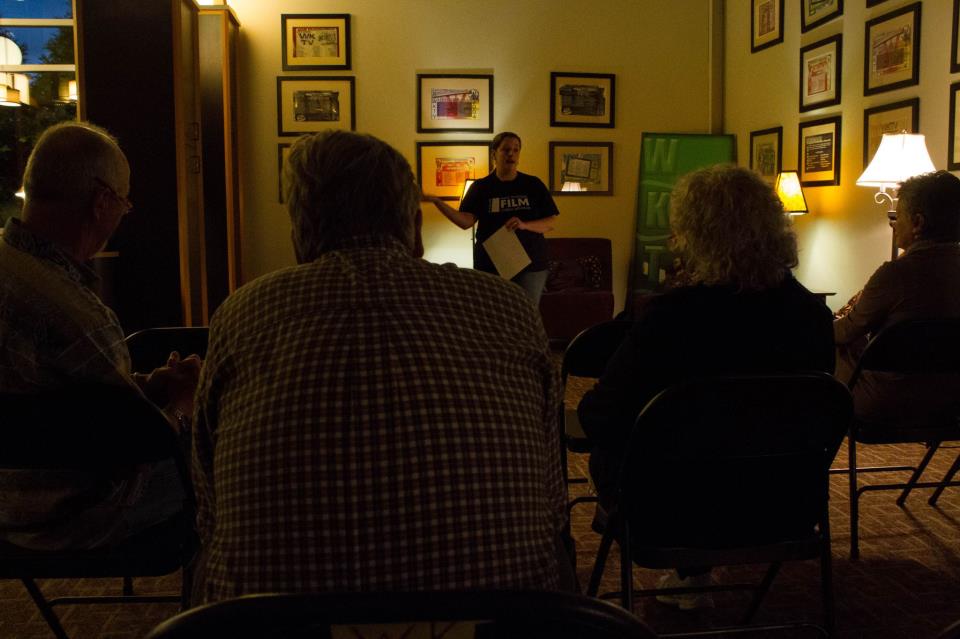 Liz started her own company—Happy Hat LLC—and has worked on projects as varied as the genres she's hired to put together. Right now, she's splitting her time working as production manager for a music video for Gunner and the Grizzly Boys and as the producer and production manager for From Tokyo to Ali—a documentary on local boxer Buster Mathis.
"If we count our chickens right, we'll be able to submit [the documentary] to various festivals."
Goal-oriented Liz has plans to advance her career beyond West Michigan, and is in the process of applying for the Sundance Institute Producer Fellowship. Acquiring a feature script, director, letters of recommendation, and writing a creative synapses is a slow-going process that adds to her sometimes eighty-hour work weeks.
Even so, she finds time to use her talents to unite her beloved community and expose people to the cinematic arts blooming right here in West Michigan. As a board member of the West Michigan Film and Video Alliance, Liz is helping others to "promote a thriving film and video production community in West Michigan," and "…make sure West Michigan talent and crew can be found by producers who are searching to hire for projects and productions," according to the WMFVA website.
Although she does wear many hats that require her to be out and about much of the time, Liz does spend some time working in her home office, with her husband nearby. As a voice actor and voice-over talent artist, he has his own home office—and it's nice to be in close range for a quick chat every once in a while.
"It's comforting to be able to work at my desk and know that he's down the hall," Liz said.
When Liz isn't enhancing local productions in and around her Jenison community, she likes to get her hands dirty. Ever wonder where those crafty, home project-centric Pinterest board generators get their ideas? Try Liz's living room.
"I love reinventing things from something that already exists and re-fabbing vintage finds." Right now, she's working on a headboard made out of old windows.
It's Liz's creative edge that makes her a perfect fit for any production. "Being creative helps me to be a creative problem solver," she said.
"I might think of solutions that other people may not think of right away, because I'm used to thinking of things differently."
Written by: Erika Fifelski is West Michigan Woman magazine's editorial coordinator. She graduated from Michigan State University with a degree in journalism. Erika was born and raised in West Michigan, and after a brief stint on the sunrise side, she's home and loving it. She enjoys yoga, gardening, vacuuming, and discovering new ways to live sustainably and support local businesses. Photos provided by Liz Merriman.