Grand Haven native Cyndi Casemier hasn't lived in her hometown forever, but it took going away and coming back for her to see that the city is evolving for the better–particularly when it comes to the local art scene. Cyndi is a potter, a hobby she picked up in Vermont when she needed to make friends in a new town. Her expertise as a banker bumped her into an accounting roll on the board of the Vermont Clay Studio, and that's when her dreams began to blossom.
When Cyndi moved back to Grand Haven five years ago, after raising three children and mapping out some grown up goals of her own, the economy was tough, but her dreams were tougher. It took three more years, but she finally saw her dreams realized–she opened an art gallery, C2C Gallery, on the lakeshore displaying work from her fellow Michiganders.
"I'm trying to help Michigan artists actually survive and be able to live off their craft," she says.
Cyndi entered a piece in ArtPrize two years ago, but more recently, she opened up her gallery for the Grand Haven Art Walk. Supporting local artists and businesses through new initiatives like the art walk is near and dear to Cyndi's heart. She's proving that fact by holding a fundraising event at the gallery to raise money for the preservation of the Grand Haven Lighthouse. "Keep the Lights On" takes place November 2.
"We're raising dollars to renovate and preserve the boardwalk and lighthouse. They need money to paint, repair the windows, and I think there is still lead in some of the surfaces out there. There is also concrete work that needs to happen," Cyndi says.
Click here for more information about the event!
Giving back to her community is one of Cyndi's many passions, and she is living proof that to feel fulfilled, you should always do what you love. In addition to getting involved locally, she displays some of her own work in the gallery, and keeps her studio in the back.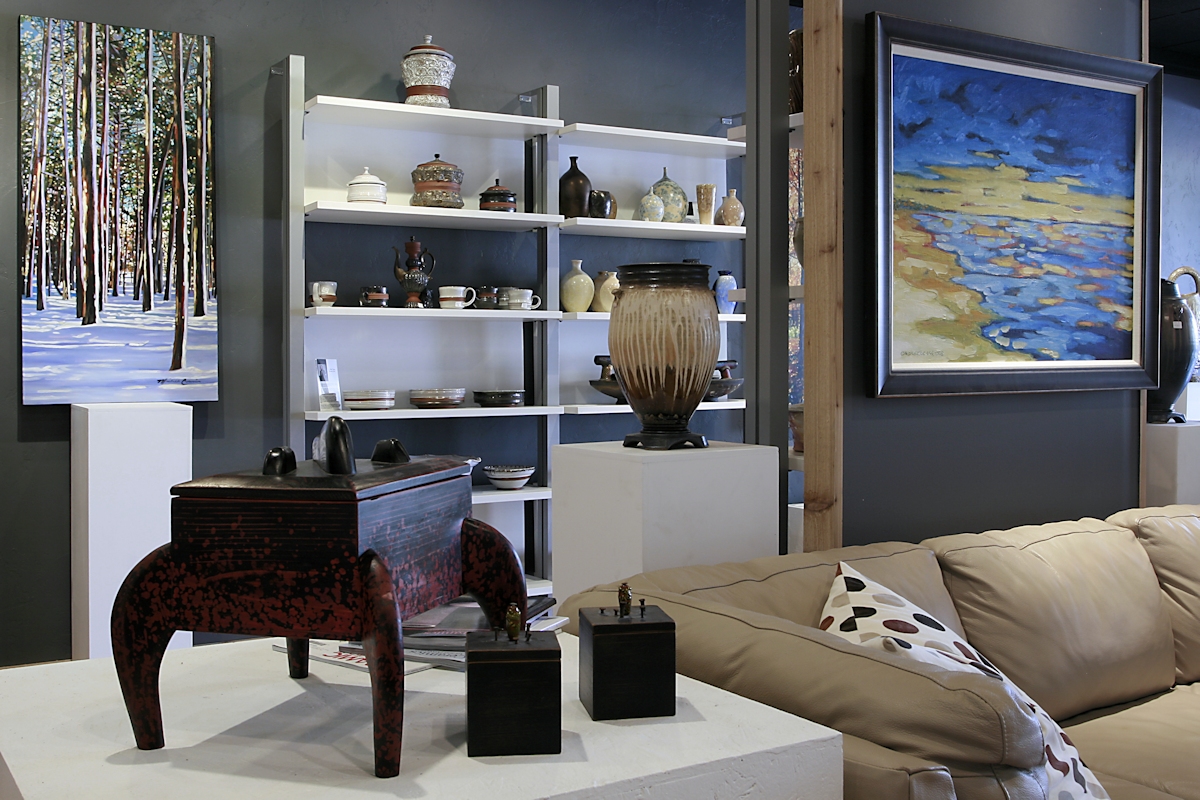 "C2C is a working ceramic studio. I work in the back part of the store so people can see me throwing every third Friday of the month. My kiln is here. I make my own glazes at home and fire [my work] in the studio," Cyndi says.
Ceramics is just one of the many mediums on display at the C2C Gallery. From photography or handmade jewelry, from paintings to bags, scarves, glass and woodwork, the gallery draws in art lovers from Detroit, Traverse City, Chicago, and even the Netherlands. But Cyndi says art has a way of bringing people together, no matter their origins.
"I think it connects us to people. It brings enjoyment to your life, and I think it helps ground people. It helps them to remember that we're all interconnected," she says.
Written by: Erika Fifelski is West Michigan Woman magazine's editorial coordinator. She graduated from Michigan State University with a degree in journalism. Erika was born and raised in West Michigan, and after a brief stint on the sunrise side, she's home and loving it. She enjoys yoga, gardening, vacuuming, and discovering new ways to live sustainably and support local businesses. Photos provided by: Cindy Casemier