Robyn Gobbel, MSW is a licensed therapist, author, educator, podcaster and community creator whose 20-year career has been dedicated to serving the families of children with histories of complex trauma.
In 2019, Gobbel retired from the therapy office and created The Club—an online community for parents of kids with vulnerable nervous systems and big, baffling behaviors. Gobbel also created Being With—a year-long training program to better equip professionals to serve vulnerable children in their community.
Her services are delivered online to minimize barriers and maximize accessibility, and most of her resources (including a podcast, online videos and eBooks) are free.
In September 2023, Gobbel published her first book—Raising Kids with Big, Baffling Behaviors: Brain-Body-Sensory Strategies That Really Work—via Jessica Kingsley Publishers. We caught up with Gobbel, the 2023 Brilliance Awards Entrepreneur top honoree, to learn more.
While Gobbel began writing her book in January 2021 by working with a book proposal coach, the inspiration and knowledge behind its contents are culmination of her 15 years of clinical practice, combined with her neuroscience of behavior studies.
"We were nine months into the pandemic and the families that I serve and support were in crisis. The pandemic had grateful impacted their ability to access services—telehealth with extremely dysregulated kids and families is tricky," Gobbel said, adding how this was contributing to extreme service provider burn-out, professionals quitting and families being left without the services they needed. "I wanted to write the book both for families and for professionals. I wanted families to have affordable access to information laid out in an easy-to-understand way, and I wanted professionals to have a guidebook for how to help families."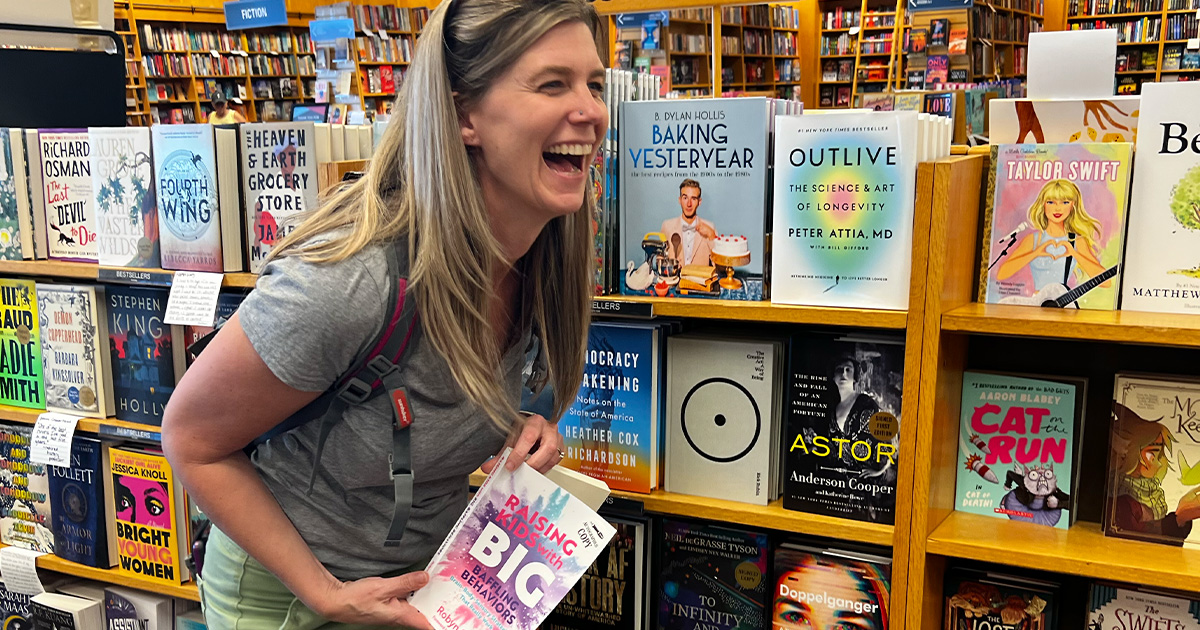 Photo Courtesy of Marti Smith.

Gobbel knew she didn't want to write "just another parenting book." She's keenly aware of how many already exist.
"The families I work with have generally already read all the books; they don't need more information. They need to feel more regulated so they can actually use the information they already have," Gobbel said. "I strategically wrote a book that didn't just give information but was also written in a way to increase parent's compassion for themselves—because that increases regulation. And then they can actually use all the information they get."
Gobbel's approach to teaching parents and kids about the nervous system (the origin of challenging behaviors) is done through a playful metaphor with owls, watchdogs and possums. The book features a fictional character who comes for parent coaching. Every chapter starts with a scene in Gobbel's office that is written in first-person. After that scene, Gobbel explains, the chapter unfolds in a way you'd expect from prescriptive non-fiction.
"This approach is crucial because it creates the opportunity for parents to build a relationship with these difficult parts of their kids and themselves, and it's this relationship—of compassion and curiosity—that invites brain change more than any specific tool or technique ever could," she said.
Gobbel, who turned in the book's manuscript to her publisher in June 2022 with a publish date of September 2023, shared more of the logistics of getting her book published and what it took to get it in the hands of families who could benefit from it.
"I hired a book proposal coach who ended up doing so much more for me than just helping me with the proposal," Gobbel said. "Together, we wrote a comprehensive outline and a framework so the information could be delivered in a scaffolded and organized way. This has impacted all my intellectual property, beyond what's in the book. It's helped the information be presented in a streamlined way that doesn't confuse folks. It leaves them feeling confident instead of overwhelmed, and keeps them connected to the material."
The no. 1 thing Gobbel hopes readers gain from reading her book is the sense that there is nothing wrong with them or their child—that parents can be the expert in their child, and feel empowered and confident.
"[I want them to know] that everything about their child's baffling behaviors makes perfect sense, though of course that doesn't mean it doesn't have negative consequences," Gobbel explained.
With the book now being a USA Today Best-Seller, Gobbel says she's felt an outpouring of support from friends and family. She's also enjoyed reading people's experience with the book so far.
"I want them to feel seen and known in their darkest moments. I want them to consider that the compassion I offer them is authentic and that maybe one day they could offer it to themselves."
Raising Kids with Big, Baffling Behaviors: Brain-Body-Sensory Strategies That Really Work can be found at Schuler Books. More information about the book, endorsements and additional options for where to buy can be found at RobynGobbel.com/BafflingBook.
Written by Sarah Suydam, Managing Editor for West Michigan Woman.
Main Photos Courtesy of Robyn Gobbel and Oliviara Multi Media.