Barb Meconis is massaging refreshing, holistic health ideals into West Michigan communities and supplementing her background in nursing with a passion to promote preventive care through the power of human touch.
Barb's background is in disease management and quality, and she worked as a nurse as well as in administrative roles at Priority Health and Spectrum Health. In 2003, she described herself as "a woman in transition," and Barb got the chance to reinvent herself and her career. Barb was studying holistic healthcare on weekends, teaching herself how to use essential oils to treat allergies and delving into the world of reflexology.
"I was so intrigued by the power of human touch. That just started me on my journey," she says.
Barb took over her sister's massage therapy business that year and set out to diversify the company's offerings. To Holistic Care Approach's services, she added acupuncture, homeopathic treatments, reflexology, nutritional IV infusions, and osteopathic medicine. Recently, she added a skin care center to her business, and she continues to research practices that can enhance her approach to holistic care.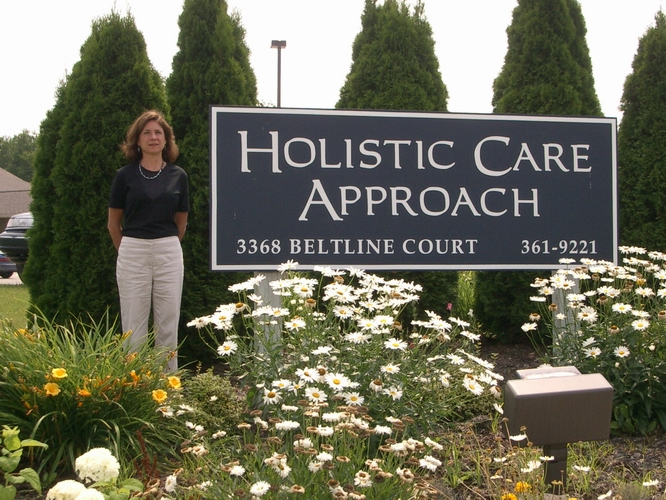 "We just keep broadening," she says.
Barb's ambition to give the health scene of West Michigan a more natural outlook comes from a personal desire for healthy living, and she knows that as a woman, she's not alone in her desire to stop unhealthy habits before they start.
"I've experienced all of it. That makes it real personal. I was on my own quest, my own health journey. I think a lot of us women encounter it," she says.
For Barb, working in hospitals exposed results-driven measures of health care, and it wasn't enough.
"I wasn't seeing the kind of outcome in health care that my heart needed to see. I wasn't seeing people get better in a way I needed to see…Hospitals are designed to treat sick people."
But Holistic Care Approach is designed to keep people healthy in a way that introduces them to natural, meaningful nutrition.
"My constant goal is that people take away a knowledge that they have other options, more options than what Western medicine has to offer," Barb says. "People should understand that these options do not replace Western medicine, but what they may already being doing with their doctor can integrate very nicely to bring about a lot of healing."
Barb encourages women to research holistic modalities and centers like Holistic Care Approach before visiting. In Michigan, licenses for practices such as acupuncture and massage therapy are not required. Even so, "Look for people that have credentials," Barb says.
Holistic Care Approach employs highly credentialed practitioners.
Written by: Erika Fifelski is West Michigan Woman magazine's editorial coordinator. She was born and raised in West Michigan, and after a brief stint on the sunrise side, she's home and loving it. Erika enjoys gardening, vacuuming, and discovering new ways to live sustainably and support local businesses. Photos provided by Barb Meconis