Not only is Lucinda Wright changing up the coffee and spirits game as Co-Founder and CEO of Michigan-based Cask & Kettle, she's also a lesson in what happens when you step away from comfortability and imagine what's possible in a world of impossibility.
A Rives Junction native now living in West Michigan, Wright attended Jackson Community College and Michigan State before getting married to her husband Jeff and landing a job with Whirlpool, where she hit the ground running. Eventually, Wright was managing dozens of employees and helping to develop a new marketing order processing system.
"It's really where I learned how to be a good leader," Wright said. "I learned the fundamentals of being a good businesswoman there and about the executional side of business and supply chain and operations. I was given fabulous opportunities."
But brand marketing—the original dream—was calling Wright's name. She left a successful career and went back to school full-time for her MBA. After, Wright spent time working for both Kellogg (as brand manager and Vice President of Marketing) and Consumer's Energy in the innovations sphere, being the leading force for products and brands you've likely got sitting in your pantry or refrigerator at this very moment.
Knowing the value in her unconventional approaches, MSU approached Wright to help make improvements to their MBA Career Services group. She took the offer, and in her couple of short years with the university, Wright helped improve some program rankings and student performance, in addition to starting MSU's Weekend MBA Program. Though she was experiencing success, Wright missed the food business. She got back to her roots, landing with Meijer, where she had the opportunity to create the Meijer brand foods innovation and product development as Director of Private Brand Innovation.
"You don't walk away from that," Wright said. "I had been responsible for every category across the grocery footprint. We set up global sourcing around the world, introduced 300 to 600 new products a year, and launched their naturals brand. A fabulous, fabulous company and a tremendous experience for me."
Never one to shy away from opportunities for innovation, Wright eventually ended up at JPG Resources in Battle Creek as Marketing, Sales, Innovation & Strategy Practice Leader. It's here the Cask & Kettle idea was born between Wright and her fellow co-founders.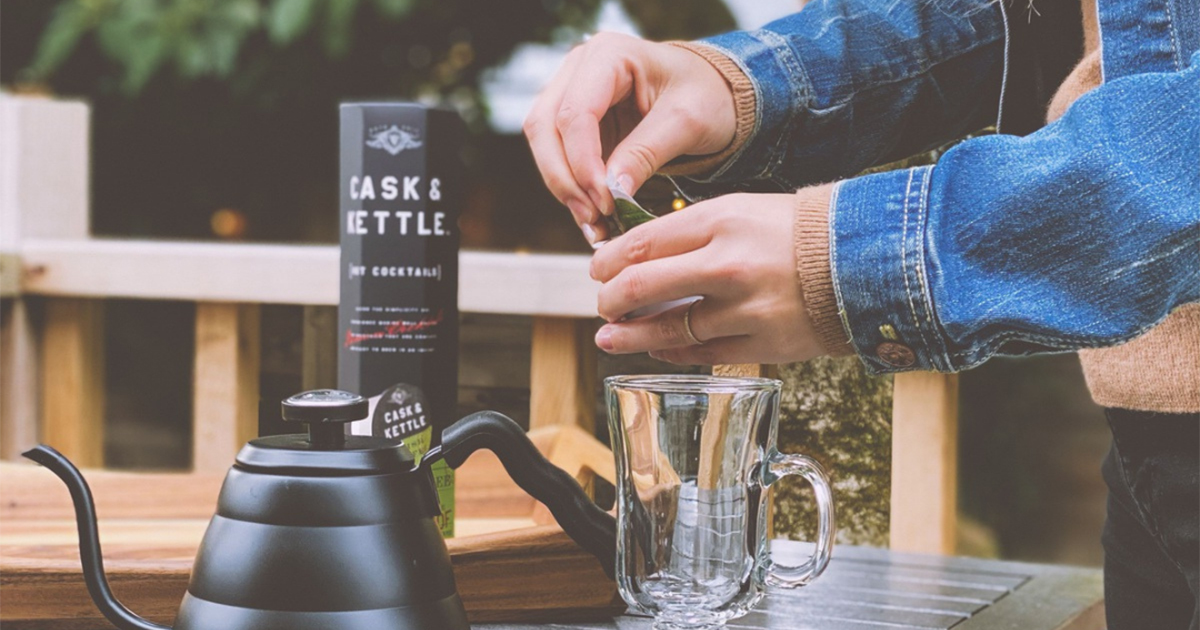 Cask & Kettle, which was established in 2017, creates ready-to-brew, well-crafted hot cocktails for Keurig-style home brewing systems. Believe it or not, all you have to do is add water. The company now has five flavors available at a variety of large chains and independent retailers throughout Michigan, as well as Illinois, Missouri, California, Nevada, Arizona, Colorado, Kansas, Oklahoma and Florida.
"We were in a budget meeting, and you know how those go—they're never fun," Wright recalled. "So, one of the founders said to me, 'Hey, do you at least want some coffee?' And I said, 'Only if it has alcohol in it at this point for this meeting!' and he laughed and said, 'I think we can do that.'"
After an extended period of development and engineering, Cask & Kettle was ready to be shared with the outside world. However, Wright acknowledges the slower gestational curve that goes along with starting a distilled spirits-based business.
"You have so many people between you and the end consumer, so many regulations, people you have to rely on and things you can't do that you can do in other businesses," she explained, noting consumer education is half the battle in getting the Cask and Kettle name out there. "If you think about innovation in the alcohol world, you don't see companies that come along like ours, which are creating an entirely new disruptive segment within the category."
Wright emphasizes how the Cask & Kettle team works tirelessly to carefully layer flavors to create a whole cocktail experience which can be enjoyed casually outside of a restaurant/bar/party setting.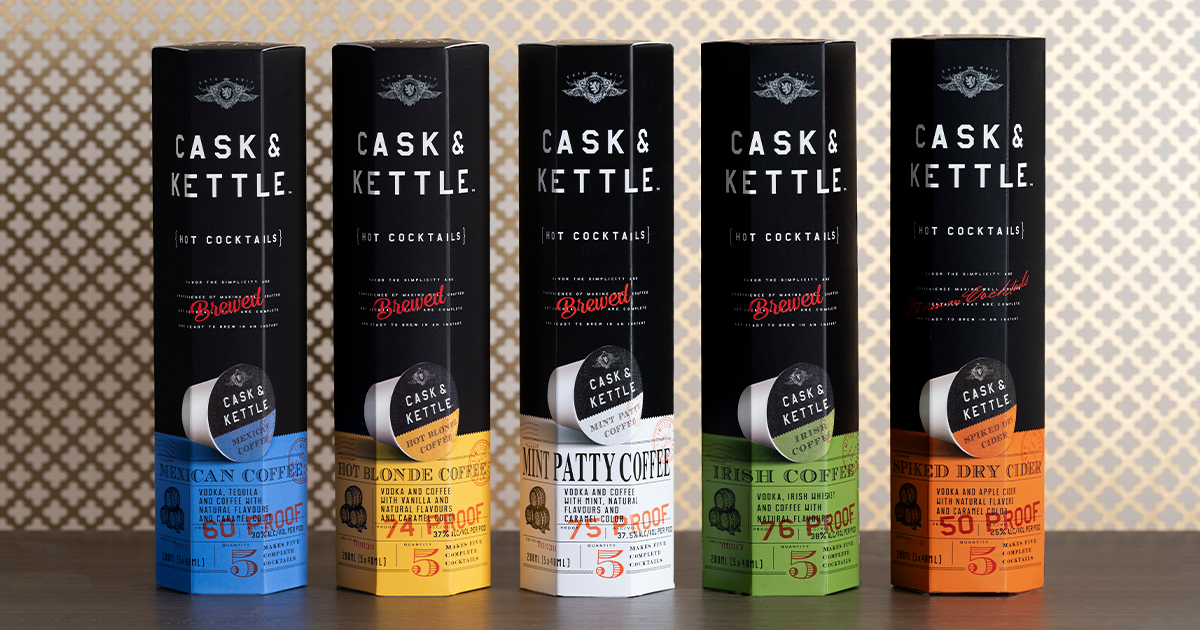 "It's not just like dumping some booze in your coffee if you were at home," Wright said. "It's 100% about that late afternoon, end-of-day nightcap, let-the-day-go-kick-back-and-chill moment."
The brand tripled their business last year and is on track to double it by the end of 2021. With delicious flavors including Irish Coffee and Spiked Dry Cider, it's not hard to see why.
Throughout her career, Wright is highly familiar with being the only woman in the room.
"I really thought at some point in my career that I'd stop being the only woman on the call or the only woman in the room," Wright said. "I've had at least two instances fairly recently with heads of packaging firms or financial institutions or whatever think that one of the company's co-founders that we have is my boss."
Wright, who self-identifies as having a high risk profile, suggests other women looking to follow a similar career path assess their own risk tolerance, as well.
"For those women who have that high risk profile, my best advice is get used to the feeling early ... and don't expect it to ever be different. If you need it to be different, then you probably need to take a different career path where you don't take new paths all the time," she said. "You just do you, and focus on that and in that's all anybody can ask for. But it would be incorrect to say that those who push these boundaries don't carry the weight of the women who will come up behind them, because you do. So, you have an eye on your own career, but you're also sort of signing up for helping others be successful too."
Wright is inspired by the symbiotic back and forth support she can give and also receive from the younger generations of women coming up in their own careers.
"For people who think they can't create a lifelong career in Michigan, I'm sort of proof that you can, depending on your interest and willingness to have a broader career path," Wright said. "I've had the opportunity to build a career that I never dreamt of when I was younger."
To learn where you can find Cask & Kettle products, visit Cask & Kettle.
Written by Sarah Suydam, Managing Editor for West Michigan Woman.
Photos courtesy of Cask & Kettle.