It's not uncommon to think of taking a ghost or crime tour down in the Big Easy, where third eye explorations reign supreme. But did you know Grand Rapids also has its own infamous history worth exploring? That's what Eirann Betka-Pope and their wife Jenna Betka-Pope sought to share with others through the creation of GR Crime Tours.
GR Crime Tours is a project from Betka-Pope Productions, a company the couple founded together in 2020 to advocate for and to celebrate local art. In addition to both Eirann and Jenna being co-founders and owners of GR Crime Tours, Eirann also works as a tour guide and is the company's head researcher, while Jenna serves as the company's business manager.
West Michigan Woman sat down with Eirann to learn a bit more about the company and what tour participants could expect.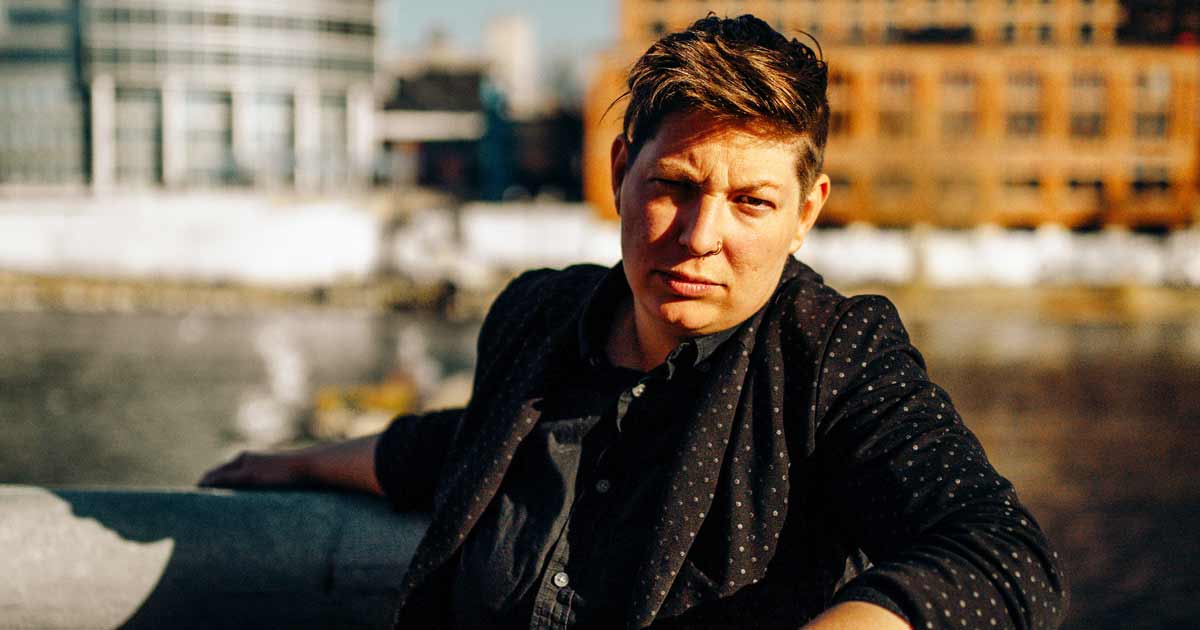 Photo courtesy of Gretchen Elle Photography.
How/when was GR Crime Tours born? Where did the idea come from?
Jenna and I have always enjoyed the ghost and crime walking tours of New Orleans, where you can grab a to-go drink and hear some tales of local lore. After theatres and stages closed due to COVID, and as Grand Rapids opened up their Downtown, Bridge St., and Monroe North Outdoor Refreshment Areas, I was inspired to create a walking tour unique to Grand Rapids.
I spent several weeks—and tedious hours—going through old newspaper collections, books and family stories that were kept by the Grand Rapids Public Library, The Grand Rapids Historical Commission, and other institutions, to gather as many stories of true crime that happened in and around our area throughout history. Then, I gathered a few out-of-work performers who I knew could lead a crowd and tell engaging stories. And in October 2020, GR Crime Tours was started!
Walk me through a typical tour! What could someone expect to experience and learn on a GR Crime Tour?
A typical public tour starts at a local establishment where you can pick up your first to-go local craft beverage. Your tour guide will then go over the expectations, route and procedure with guests. We move through the crimes of the city chronologically and try to set the scene as we move through the decades.
The first crime we dive right into is the crime against Native Americans/Indigenous Peoples in the early 1800s, and we move "through time" and through the city streets to discuss some of the well-known, and not-so-well-known stories of local crime.
Our private tours can be catered to your specific group—whether you are looking for something lighter and more family-friendly, or if you and your true crime friends want the darkest scariest tour there is ... we've got you covered!
Talk a bit about how the tours successfully combine history/crime with comedy—a balance that could be difficult to achieve for some.
The balance between respecting the victims and the history of our city in the stories we discuss with humor was challenging at first. But taking time to learn about the people involved in each story and focusing on their humanity, especially the victim's humanity, helped to bring a more complete story filled with as much heavy content as there are moments of joy, laughter, and most importantly, moments of connecting with the victims.


Photo courtesy of GR Crime Tours.
I love GR Crime Tours' statement of equity. Could you elaborate on the importance of celebrating and supporting the diversity of your tour guides and guests and how that support translates into the tours themselves?
Thank you, we like it, too! Our city is rich in diversity, and I believe learning about the history of the people of Grand Rapids is the first step in truly celebrating that diversity. So, our stories may not be what some might expect from a tour about local crime. Sure, we hit some of the big stories like the Peck Family Poisonings and the Alpine Nursing Home Serial Killings. But we also reveal some lesser-known struggles of locals, and take a step back to consider the harm that law enforcement, policing and the criminal justice system at large has done in our communities.
It is also important to us that our guides reflect the vibrant medley of cultures Grand Rapids has to offer, and each tour will be a little different based on that guide's personal connection to the city. The fact that they are all performers who cannot perform due to COVID makes for a wildly entertaining time—from stand-up comedians, to drag queens, to musical theatre performers!
What do you hope tour participants take away from an experience with GR Crime Tours?
I would love for them to connect with our city and appreciate it a little more. There are too many individual stories of crime, passion, challenges, failures and triumphs in our city to talk about in one tour—or in one lifetime—but the story of our city is one that has yet to be told in full. The more I read between the lines of the newspapers and police reports and journals of Grand Rapids, the more I love the authenticity of this city as told by those who didn't actually write the history, but rather lived it. And I just really hope tour participants take away a little of that love for the real Grand Rapids.
How has GR Crime Tours adapted to the environment brought on by the pandemic?
GR Crime Tours came OUT of the environment brought on by the pandemic! When the indoor stages closed, we brought performers outside. We saw some tighter restrictions come down this winter, so we made our tour group sizes even smaller. We also follow recommendations from the CDC and the Governor, and masks are still required for tour participants as of now.
Learn more about scheduling a tour at GR Crime Tours.
Written by Sarah Suydam, Managing Editor for West Michigan Woman.
Main photo courtesy of Gretchen Elle Photography.