If you can dream it, she can bake it–into a cookie. Monica Mitidieri wears as many hats as there are ingredients in her professional-size kitchen at Monica's Gourmet Cookies, but one thing is for sure, "you can't have a bad day making cookies." Monica infuses her sun-shiny attitude into everything she does, whether it's spending time with her two daughters, supplying another local store with her products, or shipping cookies to her family's country of origin—Italy.
Since 1996, when she started with a food catering business, Monica has been making people smile with her hospitality and delicious desserts.
"It was mostly catering up to that point, but everybody always wanted dessert when we (were) making lunch. They'd say, we don't care what you bring, as long as you put the cookies on the menu," Monica says.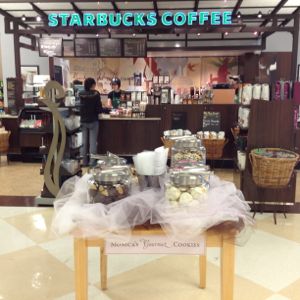 Since those days of making cookies for lunches, her business has taken off, and she supplies cookies to Spartan Stores and local shops like Keystone Pharmacy all over West Michigan. In addition to more than four hundred stores that carry her cookies throughout Michigan, she ships them all over the country, and even overseas. The business is taking off even more now that Monica's daughters are in their twenties. She is even considering opening up a store front to sell the cookies in the near future.
It didn't start out that way, though. "I've knocked on a lot of doors," she says.
And she hasn't done it alone. With a dedicated and creative staff, not to mention help in the kitchen and on the road from her daughters, Monica has a way of gathering up personalities and making them fit together just right–not unlike her cookies.
For Monica, food preparation is all in the family. Her grandfather moved to South Haven from Italy and opened a small grocery store and tavern then later added a restaurant. Both sides of Monica's family are "very Italian" and tend to make meal time an event.
"I really took to that part of it and started (my business) from there," Monica says. "There are lots of traditions, and those things have been passed down to me, and I've passed them down to my girls."
Monica grew up in South Haven and moved to Grand Rapids sixteen years ago to be closer to her husband's job. She found the community to be like a big Italian family.
"It's been a great place to raise our girls. We've made some great friends. It's a very close community, and it's kind of a nice place to be. I have a hard time being away from the lake. We're Great Lakes people, and I don't see myself going someplace else," she says.
Monica makes traditional flavors like chocolate chip and peanut butter, but she likes to be creative and reflect her clients' particular tastes. She makes an ever-popular "Iced Almond" cookie because, as she says, of the size of the Dutch community in West Michigan. Holiday time plays into her recipe cards in cookies like Pumpkin Chocolate Chips and White Chocolate Peppermint.
"When I started catering, everybody was always looking for something (unique). If you want a cookie, let me see what I can do with it that's different from what everybody else is doing," she says.
It's not as easy as throwing a few cups of this and a pinch of that into a mixer, however. Monica says baking is "a science" and she's learned along the way that it's the small things that count. But the most important ingredient at Monica's Gourmet is laughter.
"Who's not going to have fun making cookies every day?" she says.
Written by: Erika Fifelski is the West Michigan Woman magazine editorial coordinator. She was born and raised in West Michigan, and after a brief stint on the sunrise side, she's home and loving it. Erika enjoys cooking, vacuuming, and discovering new ways to live sustainably and support local businesses. Photos provided by Monica Mitidierie