According to the U.S. Bureau of Labor Statistics, women account for only 10.9% of the construction workforce nationwide. Ada-based Erhardt Construction is looking to increase that number. Impressively, half of the firm's project management positions—which lead multimillion-dollar projects throughout Greater Grand Rapids—are now filled by women, something that's typically unheard of in the construction industry.
Ben Wickstrom, President and CEO, says that diversity enhances innovation, so having women on the Erhardt team makes the firm more innovative, creative and connected with customers.
"We're doing the hard work of identifying and putting an end to gender bias in our industry," said Wickstrom, noting the firm's proud partnership with Women's Resource Center. "We do a great job of developing a high level of mutual trust with our clients, and the women on our team play a huge role in that because they are genuine, authentic leaders. They build trust with our clients, see the project through their eyes, and are excellent at identifying what is most important to them."
Jennifer Pelletier, Project Manager at Erhardt, was only 17 when her career in the construction industry started. She moved her way up through multiple positions, developing a thick skin and will to prove herself, before arriving at Erhardt and advancing to her current role. She's inspired by the people she encounters daily.
"This industry is like no other. Seeing an empty piece of land, commercial or residential, and watching the entire process of a building go up is an amazing feeling and accomplishment. I do this job for my clients, my people," said Pelletier.
Though she says being a woman in a male-dominated industry isn't easy—there were many tears shed early on—Pelletier loves what she does now.
"Simply put, I chose to work at Erhardt because it is a great company," Pelletier said. "We have a great team of people who love working in this industry. The years of experience the team at Erhardt has is truly incredible."
Another Erhardt Project Manager and West Michigan native, Nick Haglund, has learned plenty during her 25 years in the construction industry.
"Ask questions. I have always and still do ask a lot of questions," said Haglund. She acknowledges that being in a male-dominated industry means she's often not in the "inner circle" of certain groups. "I have to do better work and make fewer mistakes. I have to be more prepared and I have to speak louder to be heard. When I work with new people, few expect me to be doing the job that I do and they'll attempt to talk over me or dismiss my knowledge."
Her advice?
"Be yourself and don't worry about being different than the majority."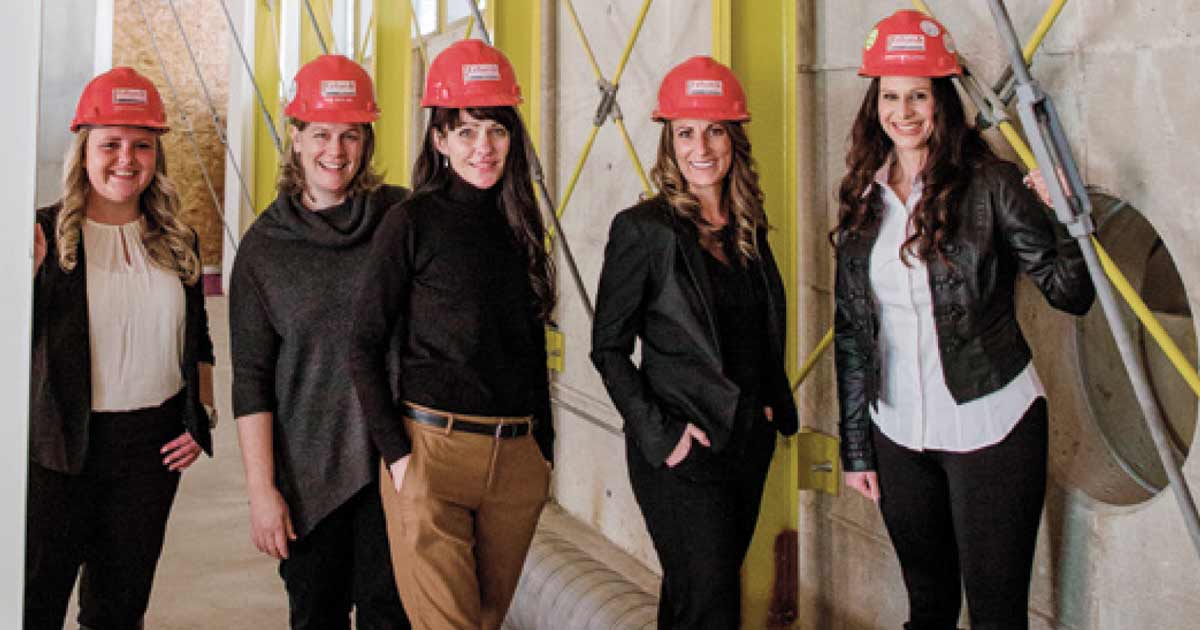 A proud Northern Michigander and Project Manager for Erhardt's Facility Solutions Group, Melissa Hruska finds her interior design background allows her to understand the impact design has on the budget and schedule of any given Erhardt project.
"Many clients I work with appreciate that I can come in from the start during the architectural design process and manage their project through to its completion," said Hruska, who believes women offer a perspective which may not normally be considered in the industry. "Construction is truly a collaborative effort which continually requires a creative thought process. I feel fortunate to work daily with others to bring a conceptual idea to a tangible product."
Hruska is empowered by empowering others and letting them recognize their real value in whatever they're trying to achieve. Women looking to enter a field like construction should stay focused on their goals, Hruska says.
"Don't see the industry as who dominates, but as an opportunity to make a difference."
Erica Rahe, Erhardt's Project Coordinator, has a different background from the rest of the Project Management team. After the arrival of her son, Austin, Rahe needed a shift from her original career of working 50-60 hours a week in the restaurant industry. She found the flexibility and core values she was seeking at Erhardt.
"I started here not really knowing a lot about construction, but knowing about business, customer service, organization and communication; the rest was learned," said Rahe.
Never afraid to take on new challenges with a smile (and a great pair of heels), Rahe suggests being unafraid of changing stereotypes and to being confident yet humble.
"There are so many people at Erhardt who have been doing this for so long, are so knowledgeable and are more than willing to take the time to share what they know," she said. "I think it is very cool that we're paving the way for younger generations of women."
Speaking of the younger generation, 2019 Ferris State University Grad and Assistant Project Manager, Karli Jackson, found she enjoyed the construction field thanks to her high school woodshop class and construction trades program. A career in the industry also allows her to feel close to her grandfather, who owned a construction company for more than 25 years.
Immediately upon interviewing, Erhardt felt like the perfect fit for Jackson.
"The atmosphere was great and soon after I started, I knew I had made the right choice for my career," said Jackson. "Being able to learn from the women at Erhardt Construction provides me with empowerment. It's awesome to see their success and have such great role models in the workplace."
To Jackson, working in construction means being a leader.
"It means showing younger girls that women can work in male-dominated industries like construction and be successful. It means having drive and passion for your career because you love it and want to be successful in it," she said. "Be ready to step up. There will always be someone willing to help if you are willing to learn."
Erhardt Construction has a mission of doing just that. Empowering all of their employees to rise to their highest potential in their professional careers.
"We need to continue to enhance the image of our industry, which will in turn make it a more attractive career for everyone and increase diversity as a whole," said Wickstrom, in closing. "The construction industry has changed and it's our duty to continue on that trajectory."
FUN FACTS
Pelletier grew up going to tennis camp at the iconic Desert Inn Hotel in her hometown Las Vegas and consequently met and played with celebrities like Tony Bennett.
Haglund is fluent in Sango, a trading language spoken in Central Africa.
Hruska, whose husband also works for Erhardt, spends her free time working outside and tending to her gardens.
Rahe used to help her husband behind the scenes with his live call-in sports talk show in Cincinnati.
Jackson grew up on a beef farm with six siblings and started showing beef cattle when she was 11.
Written by Sarah Suydam, Managing Editor for West Michigan Woman.
This article originally appeared in the Apr/May 2021 issue of West Michigan Woman.
Photos courtesy of Kelly Braman Photography.