Every evening, Nadia Brigham runs through the things she did that day in her mind. No, not tasks and meetings. Instead, she takes stock of the moments of humanity and connectivity she experiences with others.
This centering daily practice is only one example of Brigham's strong character and priorities, which clearly shine through within the meaningful (and fun) work she does today.
Though originally from Chicagoland, Brigham moved to Benton Harbor, her mother's hometown, when she was 10. It's there she met her future husband, Shatawn, as fourth graders on Brigham's first day at her new school. They've been supportive and trusted partners—walking right alongside each other—ever since. Eventually, the couple moved to West Michigan to attend GVSU.
Brigham would go on to earn her bachelor's and master's in social work, in addition to a master's in public administration. She's currently finishing her Ph.D., focusing on race relations and power inequalities. Brigham spent most of her career at the W.K. Kellogg Foundation as Program Officer on the Racial Equity and Community Engagement team. But when her selfless and loving grandmother, Dorothy Marshall, passed, it had a profound ripple effect on Brigham's career and life.
"My grandmother was such a huge force in our lives, that when you lose someone like that, it makes you re-evaluate how you're moving and how you want to spend your time," said Brigham, noting her grandmother's gentle and quiet presence, always accompanied by a huge laugh. Brigham recalls a memory of her grandmother reacting to something rebellious she'd done in her teenage years.
"She said to me quietly, 'You need to get your priorities together,' and it hurt so bad because I had disappointed her. From that point on, I got my life together."
Nadia reflected further upon her grandmother's passing.
"You begin to reflect on who you are as a person. Who are you as a daughter? As a mother? A wife? How are you holding to the customs you were taught?"
Though she never saw herself as having an entrepreneurial spirit, Brigham broke the rule she was raised with as a child: Don't quit a job unless you have another. She knew she had to take the risk.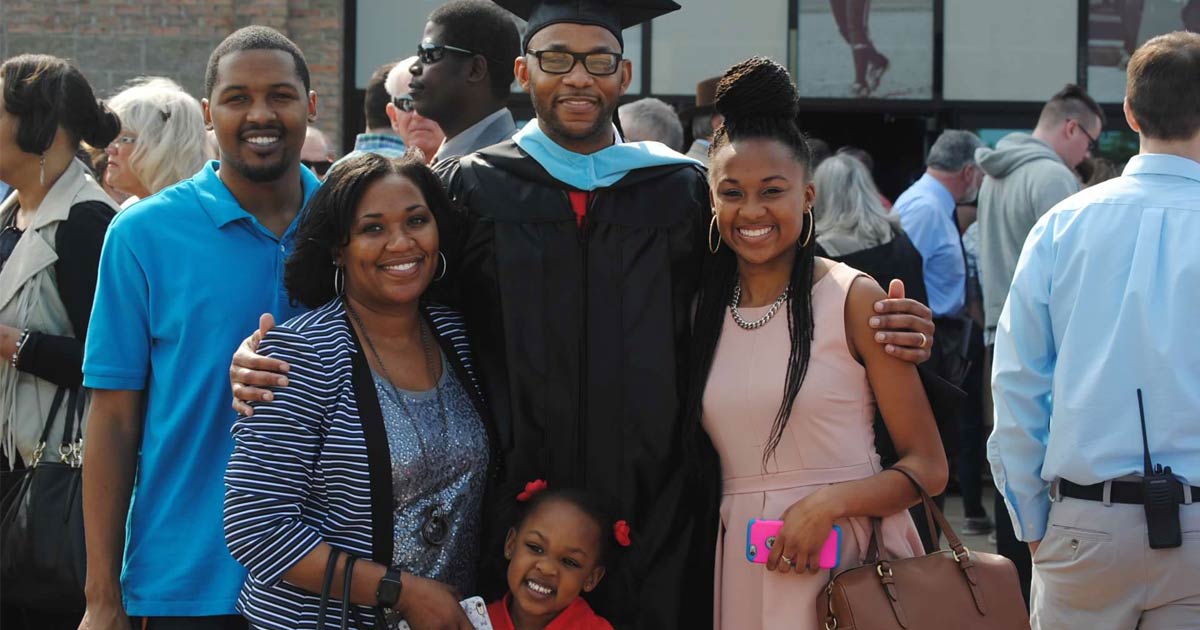 Photo courtesy of Nadia Brigham.
"I felt like God was saying, 'You need to take a leap of faith!' So ... I left," said Brigham, a self-proclaimed bold yet tenderhearted woman. "It was a spiritual journey. A lot of people in their forties have midlife crises but for me ... it was midlife clarity."
Six weeks later, Brigham Consulting was established, through which Brigham helps leaders, organizations and companies operationalize racial equity principals—a lifelong passion and strength of hers. That same day, Brigham and her husband also officially created GRNoir Wine & Jazz in downtown Grand Rapids. Wine wasn't always on her radar, though. In fact, she and Shatawn didn't try a glass until their daughter—the last of the couple's three children—was 18 months old.
"Even though we grew up in Southwest Michigan, where literally one exit away from us are all sorts of grapes growing and wineries, it was culturally inaccessible," said Brigham, explaining how GRNoir seeks to remove this barrier. "Nobody in our community talked about wine and it was this thing that was for the 'sophisticated' and a social class that was beyond our means."
Jazz always intrigued Shatawn, but it wasn't until a 2015 trip to New Orleans that Nadia was reeled in.
"I went to New Orleans and fell in love," Brigham said. "Think about the birthplace of jazz being Congo Square, a place where enslaved Africans had a free day—which according to slave codes across the South, was unique. But in New Orleans, they were allowed to meet in Congo Square and make music. In that dire and oppressive environment, they created something that totally revolutionized music around the world and is still having an impact today. The fact that such beauty could come from such a dark institution like enslavement has multiple meanings for us."
Everything about GRNoir is purposeful, from offering a communal table to bring people from all walks of life together, to a wine list that highlights producers who use sustainable practices and/or are Black- and women-owned.
"Every time you're listening to jazz and drinking wine, you want to be with people and talk about whatever life is bringing you in that moment," said Brigham, who hopes GRNoir will be transformative for the city. "I know that Black people, women, and people of color, have begun to enter into the space around wine in ways that are blazing a trail."
The concept of building up from nothing is present in a historical and physical sense for Brigham, whose stunningly decorated space was built upon what for years was a literal hole in the ground.
"Nobody talks about how jazz is an artifact of authentic American culture—African American culture. We wanted to 'right' and 'write' that story and honor and center our ancestors for what they've given the world," said Brigham, who has had strangers call her to express their excitement over the space and opportunity GRNoir offers, especially for Black people who haven't traditionally felt welcome downtown. "No matter where you walk, you should feel comfortable in your being. I want GRNoir to be a source of pride for the Black community; not from a place of arrogance, but from a place that says, 'We can do this!'"
Brigham has also been asked if GRNoir is a space for all, to which she always replies:
"If you like wine and jazz, come be with us! Come chill with us, come enjoy. Yes, we are unapologetically Black and Black-owned, but we are not Black-only."
The intention, Brigham stresses, is to create spaces where people can explore and discover new wines and jazz in a no-pressure, non-judgmental way.
"After an experience at GRNoir, I don't want people to ever go to another restaurant and be intimidated by the wines," she said. "We're talking about the tongue you were born with; You can drink whatever and you might like it, you might not, but you don't have to look to someone else to validate what you're tasting."
Ultimately, Brigham strives for GRNoir to become known for offering acceptance, love and a sense of belonging.
"It doesn't matter your race, culture, gender, orientation, or political leanings ... Everybody deserves to feel like they belong. I hope when I engage with people, they feel that," said Brigham.
She hopes this journey shows her children that they're capable of doing anything they want.
"I want us to have lived so purposefully and out loud that it influences others to do the same," said Brigham, offering advice for others who might find themselves being called to an entrepreneurial path.
"Follow your spirit, because you can't fail."
Written by Sarah Suydam, Managing Editor for West Michigan Woman.
This article originally appeared in the Feb/Mar 2021 issue of West Michigan Woman.
Photo courtesy of Kelly Braman Photography.