"This is how I was made."
After 20 years in medicine, Dr. Abha Varma has launched a website, blog and cooking channel, all while continuing to work as a primary care physician for the underserved at Cherry Health. She takes great pride in her Indian origins and carries on the traditions of food and clothing she grew up with, while teaching others how to take care of themselves and cook.
Her blog, Peace of My Mind, strives to teach people how to deal with life, loss and the current moment. Her cooking channel, Culinary Karma, offers instruction for cooking traditional Indian dishes. Both platforms exploded in popularity over the past year as people sought out good news and new hobbies.
She's also working on a book, which will tell unique stories of interactions and cases from her own patients that affected how she approached medicine.
Where does your passion come from?
So much of my life is a product of two incredible Indian immigrant parents who were both doctors and gave everything they had to send my brother and I to private school and medical school. I think I have this need to make sure everything they've ever done for me comes to fruition. I want to touch as many people as possible before I leave.
I'm not trying to sound like Mother Teresa or Oprah, I'm merely letting you know this is how I was made. And it comes from my mom and my dad. My mother's love language was food. My father's love language was helping people through his knowledge of science and medicine. I am the amalgam of my mom and my dad.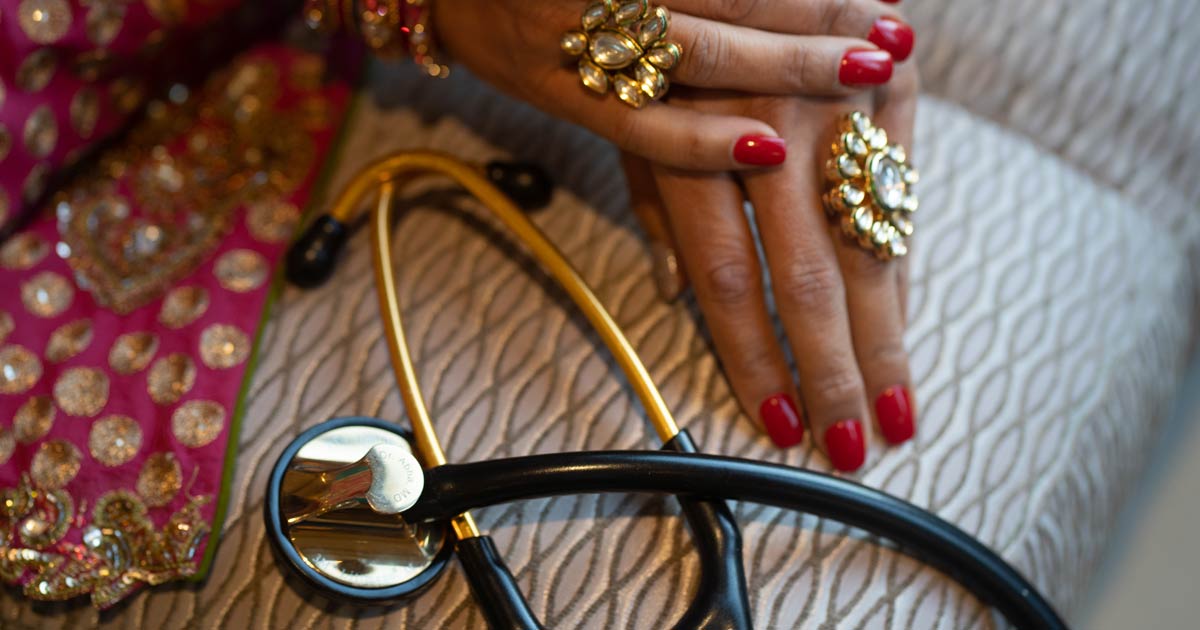 How did the cooking videos come about?
I just happened to do a Facebook Live on chicken curry and people were like, 'Oh my gosh, keep this going.' It coincided with COVID, where people weren't dining at restaurants and weren't connecting in that manner of eating socially together. A friend said, 'I don't watch the news, I'm watching you.' And that really struck a chord with me, right? Because what she basically was saying was, 'Give me some good news.'
What excites you right now?
I'm involved in a vaccine trial here at Cherry Health. It's been a real boon to be part of that. I get to see a huge swath of people that are still maintaining a great degree of optimism despite the current state, so I really love that. Because optimism is my angle, I really need to stay positive and be around people who want to be positive. You can imagine every Saturday that I get to tape Culinary Karma, that makes a rainbow in my week. When I get to blog, other people are seeing my vision, which is to help as many people as I can, be it through the written word or the beauty of Indian clothing. In these videos, I'm doing things that bring people out of the humdrum.
Read more about Dr. Varma's work at doctorabha.com or on Facebook. Read her blog at doctorabha.com/peace-of-my-mind, and subscribe to her cooking channel on YouTube: Culinary Karma – One Dish at a Time With Dr. Abha.
Josh Veal is the managing editor of Revue and a former nonprofit reporter. He keeps in the know on local restaurants, breweries and venues through ample firsthand experience. Josh enjoys cocktails on the porch, graphic novels, social justice and biking through nature.
This article originally appeared in the Feb/Mar 2021 issue of West Michigan Woman.
Photos courtesy of Evan Krummel.