Jennifer Brougham always knew she wanted to be an attorney—she even wrote a letter to her father describing why when she was 10 years old. But before graduating from Notre Dame Law School and becoming a lawyer with McShane & Bowie, P.L.C. in Grand Rapids, Brougham served for over four years in the U.S. Air Force.
"I always loved being a bit unpredictable and marching to my own drum," Brougham said about her upbringing in the suburbs of Chicago. She explained that her father, who wasn't called for the draft but did ROTC in Colorado for two years, regretted never serving. "(Serving) was something I always considered, and my parents talked about it a lot with my brother but it was never something that was presented to me and I didn't know much about it."
Out of high school, Brougham ended up enrolling in her dream school—Duke University in North Carolina. Though her first year went well, she encountered challenges when her grandmother became ill. Brougham pondered returning home, but her grandmother, who Brougham describes as an adventurous spirit, wasn't having it.
"I decided I needed to do something to really justify the reasons I'm staying there and making it the right place for me," said Brougham. One of her friends brought up ROTC as an option. "I walked into Reserve Officer Training Corps office for the Air Force, which I was naturally drawn to."
It's easy to see why. Growing up, Brougham's father would tell her stories about one of the Doolittle Raiders he had known and she would also go flying with her grandmother, who was a pilot.
"I just had this click that I felt like I was where I needed to be and it made me feel better not being able to be close to my family and grandmother, knowing she wasn't going to be living much longer," said Brougham. "I just absolutely fell in love with the idea of serving my country and being a part of something bigger than self; the idea of being able to potentially travel the world and doing things other people don't get to do is something that was intriguing."
Brougham ended up being the ROTC Wing Commander her senior year, and upon graduating from Duke earned her commission in the Air Force. Between her junior and senior years, Brougham met her future husband—who attended West Point, a federal service academy in West Point, New York—while in Alaska.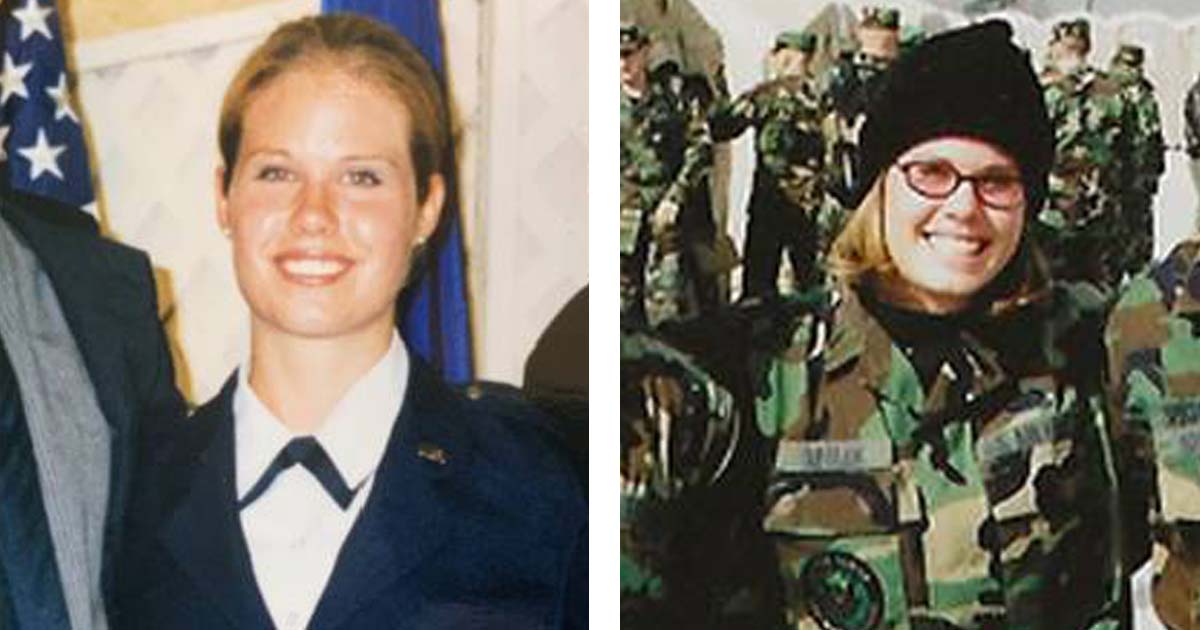 "My active duty experience was a bit different than most because after I graduated from my 10 months of intelligence training in Texas, I was able to go to a joint unit," said Brougham, explaining how she was the first second lieutenant in the history of the command to ever go that unit, which focused on counter-drug and counter-terrorism efforts. She was also on active duty on September 11, 2001.
"It was amazing to be part of this joint task force where I was working alongside people in the Navy, Marine Corps, Army, and Department of Defense civilians," Brougham said, explaining the unit was made up of only 130 people being commanded by a General Officer—something that's unheard of in the military. "Typically, a one-star general is commanding thousands of people."
While in the Air Force, Brougham was able to travel everywhere from the San Diego border to southern Texas and north to Blaine, Washington and over to Houlton, Maine.
"I would have loved to have stayed in longer, but it was very difficult with my husband being Army and me being Air Force. He deployed for over a year and we had to cancel our wedding," said Brougham.
It was undoubtedly a difficult decision to leave. She and her husband both left the military around the same time in 2005-2006 to transition to corporate America. They started a family, eventually settling in Kalamazoo in 2008.
Originally, Brougham wanted to enter law school through the JAG Corp, but she ended up putting her law school dreams on hold for about 13 years. Eventually, a window of opportunity presented itself and Brougham was able to attend Notre Dame Law School and graduate in 2016, though it was a difficult task with already having small children.
"It was very hard, my daughter was six and my son was eight," Brougham explained. "I figured 'you know what? It's now or never' because you're never too old to accomplish your goals. I don't want to look back years from now and say, 'I really should have done it.'"
After graduating, Brougham and her family moved to Grand Rapids, where she started practicing law with McShane & Bowie, P.L.C.
"I found a firm that has a really rich history, a great reputation, and people that I love to work with," Brougham said. "I get to learn every day—every day is still a challenge. I get to work alongside people that I have the highest regard for who can help me be a better attorney and better advocate for my clients."
There are many lessons from Brougham's time in the Air Force that continue to influence her life today.
"Always be willing to get your hands dirty," she said. "If you've got a group of people you're working with or are in charge of, they want to see you out there with them doing the work just as much as they are. You're never too important or too busy to get engaged and be part of what your team is working towards."
Connecting with other Veterans is something Brougham says comes naturally.
"Anytime you meet another military Veteran, it doesn't matter which branch they were in or what their specialty was, you just have this natural bond and connection and comradery," said Brougham. "I miss that from the military but I love that almost on a daily basis, I encounter somebody who has also served. It's just remarkable the instant connection that you have with those people because there's a common understanding of experience.
"There are so many Veterans in Grand Rapids, and we can always do more for our Veterans, but I'm happy to be in a place where there are a ton of Veterans and know the community makes every effort to serve their Veterans; to serve for those who have served. That's something in Grand Rapids that I've experienced more than in other places."
Though Brougham's path has been far from conventional—she has even earned her Army Jump Wings—she's proof that service, hard work and planning are unmistakable components for success.
Join us in thanking Brougham and other Veterans for their service.
Written by Sarah Suydam, Staff Writer for West Michigan Woman.
Photos courtesy of Jennifer B. Brougham.