When Christina Guajardo Arnold was young, there were few Latinos in the community and only two Latino families in her elementary school. A child of divorce, less common then, Chris had friends who weren't allowed to play with her because she had no father and was Mexican.
Her grandparents, among the first families from Mexico to settle in Grand Rapids, were instrumental in establishing the local Latino community. They arrived in the 1940s, when Daniel Vargas worked for the railroad. Mr. Vargas influenced change for immigrants. He instilled in his grandchildren the privilege of what they had, hard work, the opportunity to go to school; he took them to migrant camps to closely see the living conditions.
People seeking help lined up outside the Vargas home on Buchanan Avenue; Mr. Vargas, among the area's first Latino leaders, took many to get their driver's license and offered translation and other assistance. He ignited Chris' passion for social justice at an early age.
Growing up wasn't easy. Extended family helped, yet there were no vacations, dance lessons or any other opportunities often taken for granted. Despite limited resources, her large family had plenty to do and had each other. "When my husband and I first started dating, he couldn't believe I talked to my mom and sisters every day and how often we got together. It was overwhelming at first, as Bob came from small quiet family."
Maria Vargas Guajardo, Chris' mother, plays a significant role in her story. "She's the strongest person I know." A courageous single parent who didn't remarry, she dedicated her life to her seven children, all still in Grand Rapids. When Chris was in high school, her younger brother became a quadriplegic; Maria takes care of him. "I don't know how she's done it."
Chris graduated from Ottawa Hills High School and began working at Grand Rapids Public Schools, within then-Grand Rapids Junior College, at 17. She took classes to further her career and, when GRPS moved, stayed at what's now Grand Rapids Community College for 36 years.
"I grew up on campus!" So did her only child. Allie attended preschool, tagged along to lectures and events, and did homework in the conference room. Chris became founding director of The Bob and Aleicia Woodrick Center for Equity and Inclusion at GRCC, a great part of Allie's life that prompted her own sense of social justice.
The Center and making a difference for others felt like a part of Chris. Retirement from GRCC, but not work life, was scary. "Being a woman of color, I thought, 'What am I going to do next? Am I too old? Who'll want me?'" GRCC's president asked her to return to assist with the leadership transition, helping her break away from her director role. Chris started consulting, also scary.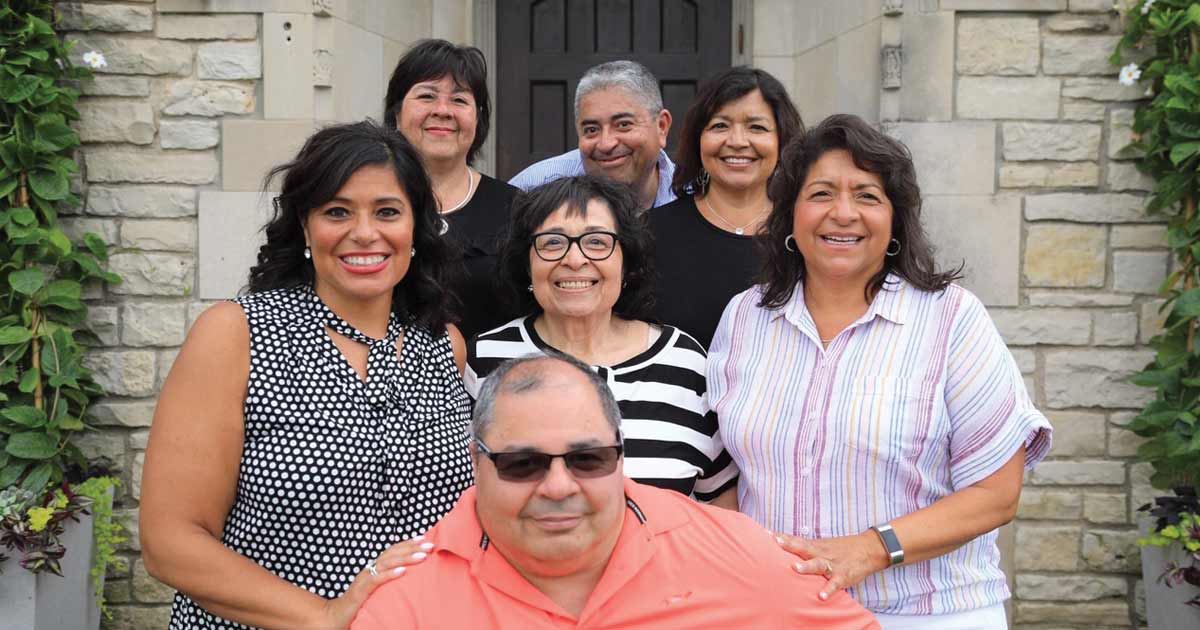 Photo courtesy of Chris Arnold.

"I felt my experience was valuable to other organizations, which instilled some confidence in me!"
The Lakeshore Ethnic Diversity Alliance asked Chris to be its interim executive director, allowing her to immerse herself in the area and meet people working in racial justice. As that role was winding down, a Social Innovation Programs + Partnerships role at Steelcase arose, letting Chris further her work and continue doing what she loves.
Moving from higher education to consulting to small nonprofit to global company seemed right. Joining Steelcase was an interesting twist: Her husband retired after 40 years and two sisters still work there. "I always had the highest regard for Steelcase, for their work and impact on the community. I'm fortunate to be here, to continue my community work."
It's taken Chris years to establish important relationships and trust to navigate and build the community together. She contemplates how we could work together to make the community better, creating positive change and diversifying leadership, boards, and politics. She reflects on a conference in San Antonio and seeing many Latinos in professional and leadership roles.
"People want to see themselves in their community. It gave me a whole new view of what we could be. We don't know what we don't know until we experience it." She talks of being intentional about retention to keep homegrown leaders; of affinity groups and leadership opportunities being important for emerging talent.
"My Allie had opportunities I didn't growing up, which you want for the next generation." When academically gifted Allie was in junior high, family noticed her obsessive-compulsive disorder tendencies. She bravely attended City High School, not knowing anyone. While it was ethnically, creatively and otherwise diverse, Allie's anxiety ran high. She was hiding anorexia from her loved ones.
"It was devastating!" Chris remembers taking Allie for help and anorexia anxiety. "Depression does not discriminate. Young people are struggling, regardless of their opportunities and support system. The complexity of mental health disorders is hard to understand." Allie's anorexia consumed the family.
"It was probably the hardest thing we had to deal with. I wish I could take it away when her anxiety spirals—her hurt, anger, never thinking she's good enough."
Allie still struggles but doesn't pretend anxiety isn't there. She moved to New York, doing graduate studies at Columbia Journalism School. She's interested in storytelling, food, culture; she appreciates the city's diversity; she's reflected. Her parents want her to have those experiences.
West Michigan has become more diverse since Chris was young.
"Not a lot of Latinas of my generation were born and raised here. There weren't many around me." Grand Rapids has changed, yet people still ask where she's from. She's been on boards and committees where she was likely invited as a woman of color—where it was emotionally draining to be wanted for her presence, not her voice.
Chris sometimes ponders her upbringing related to her insecurities. "Is this really happening? Am I really here? Could this all go away?" She remembers being treated as less than; hearing "Speak English!" despite being born and raised here; schools wanting to put her and her siblings in special education because they were Mexican. When she and Bob first married, she was working in the garage when a neighbor came over and asked if she was the maid.
She muses about the changing local demographic, noting, "Smart businesses need initiatives. Every aspect of being diverse and inclusive makes an organization richer." She mentions women of color fatigue—sometimes exhausting, sometimes rewards outweighing struggle.
"I haven't given up on West Michigan. I'm here. I'm involved. I'm immersed in the community, because I have hope."
As a Latina Network of West Michigan member, Chris brings vast experience to the table as a valued leader and visionary. The LNWM goal is to create a welcoming, supportive environment for Latinx women. "These women give me so much hope for the future! This has been amazing." It's another example of something flourishing organically through people, passion, support and lifting others up—not competing. "We're making progress." She sees change, small steps, minority-owned businesses, markets and restaurants. She sees diversity of people and small-business growth. She thinks her grandparents would be proud. Still, there's work to be done.
"We as a city need systems to support minority businesses and access. It's exciting. It's slowly starting to happen." Chris dreams of being downtown, walking into a restaurant, seeing diversity and hearing different languages. "This is who we are. We have to be reflective."
Recent years offered transition. "I don't have as many years ahead of me as I do behind. I'm not done. As long as I'm here, I'll be a voice for people who don't have opportunity to speak up; to be an advocate. Mom always said I was the one with the biggest heart."
Chris tends to take everything to heart. "I want to take away everyone's problems. It saddens me, what's happening in our world. I take too much in. It's hard to walk away from things I feel passionately and strongly about. I don't want to see anyone suffer or hurt." She's introverted, yet has the courage to do what must be done and have uncomfortable conversations. Her voice and her demeanor are kind. She's warm and sincere.
She reflects on simple words and patience. "You never know what 'hello' could mean to somebody or what people are going through. We need to take time to learn about and support each other. We have a beauty of cultures, traditions, stories. I love people. Get to know them. Listen to them. Validate their experiences. Keep an open mind. You will learn and realize the richness of those relationships.
"We all want to belong to, to be part of, something. No one is taking anything away from you."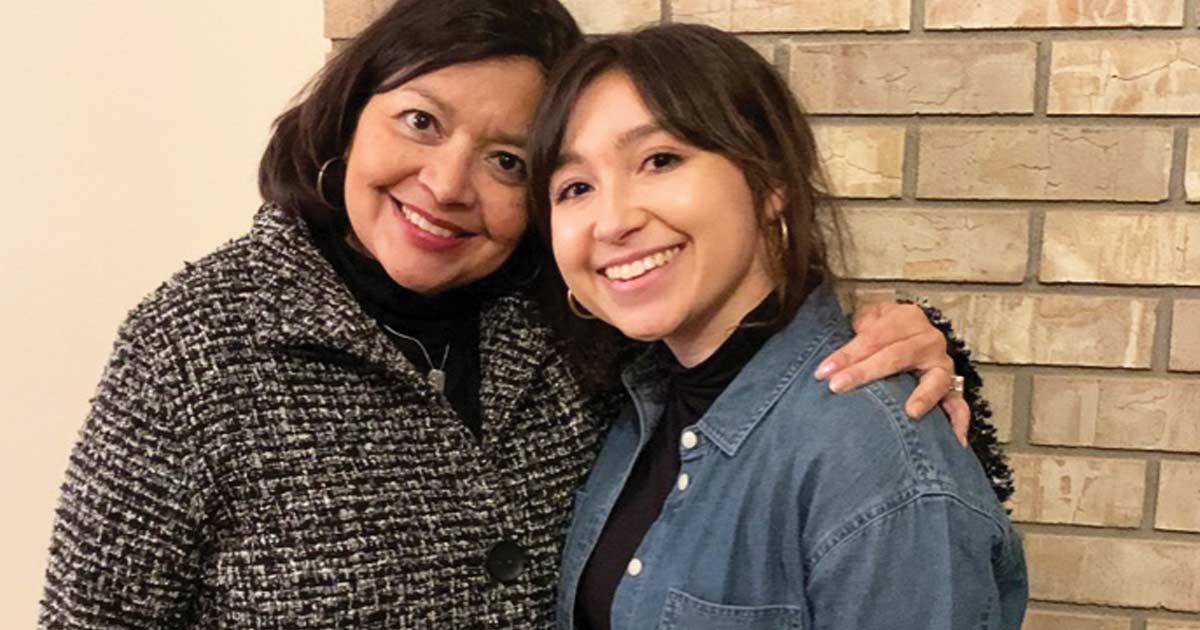 Photo courtesy of Chris Arnold.
More About Chris
"I wish people could be more like dogs: Unconditional love. Trust. No judgment. Happiness!" Dickens, an 11-year-old Shih Tzu, stole the Arnolds' hearts after his 92-year-old person died. "Dickens helped us move Allie to New York. He probably has more miles on him now than in his whole life. He's been the best thing for us. He's our little joy."
Chris and Bob love sharing his family's Big Star Lake cottage with others. Chris appreciates Northern Michigan and its winery tours and loves West Michigan in summer and fall. She adores Lake Michigan, where she sits, reflects, and enjoys water, sand, and sun. "Sometimes, I like to be by myself." A binge-watching Law & Order junkie, she relishes time with her sisters and family dinners. She also makes a mean carrot cake "and the best guacamole around!"
Chris sings loudly in the car and has become more adventurous, parasailing in the Florida Keys and kayaking through the mangroves with alligators.
Words of Wisdom
To Allie and Young Professionals
"Find your passion. Take chances. Every experience, good or bad, is an experience. Take care of yourself: Work will always be there ... and you can't get time back. Don't wish your time away."
To Everyone
"We all have the responsibility to make our community rich, vibrant and inclusive—to make it and our world a better place; to speak up for the injustices. Martin Luther King Jr. wisely said, 'The time is always right to do what is right.'"
Written by Amy L Charles, Editorial Director for West Michigan Woman.
Photo courtesy of Kelly Braman Photography.
This article originally appeared in the Apr/May 2020 issue of West Michigan Woman.