Stacie Thomas, owner and master trainer, The Barre Code Grand Rapids, first discovered The Barre Code while living in Chicago.
"Working out has always been an important part of my day but I was in search of a place that served a bigger purpose in my life," said Thomas, who became a Barre Code member and instructor shortly following her first class, after years of hopping around to different gyms. "The opportunity to open a studio in Grand Rapids came up and I started checking off boxes to make this dream a reality. It wasn't surprising when I went all-in on bringing The Barre Code to GR!"
It's the perfect combination of what Thomas is passionate about: Hard work, encouragement, and creatively connecting with the community.
In fact, that's a huge part of what makes the studio, which opened in March 2018, special to so many today.
"I felt the connections from the first day our doors opened, and the support flooded in," Thomas explained. "It's a safe place for women to get vulnerable with themselves which creates an inviting environment to lean on the sisterhood around you."
Thomas has seen many friendships formed within the studio that carry out into the daily lives of many—a strong and supportive network.
"It's so awesome to be a part of that," she said, noting the strongest connections are made during the moments before or after class. "That always feels really special."
At The Barre Code, Thomas stresses that the focus is on what you have to gain—versus what you have to lose.
"We coach you to tap into the best version of yourself mentally so you can feel your strongest physically—we want to empower you, and then challenge you," said Thomas. "My mission when I opened up the studio was to foster the connection that we have with ourselves and with each other.
"I strive to create a space where women come to get a challenging workout and leave feeling even stronger, more empowered and unconditionally supported."
The best part of Thomas' day is when she's teaching behind the mic and seeing so much determination in one room—witnessing firsthand struggle turning into strength. Often, women can feel intimidated to try something new in the fitness realm, especially among a crowd of strangers. It's a feeling Thomas relates to.
"My advice is to bring a friend to share the experience with," said Thomas. "When things get a little tough in class, you can support each other through the challenges and leave feeling refreshed and inspired."
Thomas believes taking time for yourself to give back to your spirit creates a space to connect with your surroundings on a deeper level.
"Life moves fast and it's so easy to get swept up into the everyday hustle without ever taking a moment to pause and breathe deeply," Thomas explained, offering advice for those who want to increase their connection to themselves and those around them. "Anything that energizes you to disconnect with the world so that you can reconnect to yourself is going to bring your more clarity, presence, and meaning in your relationships."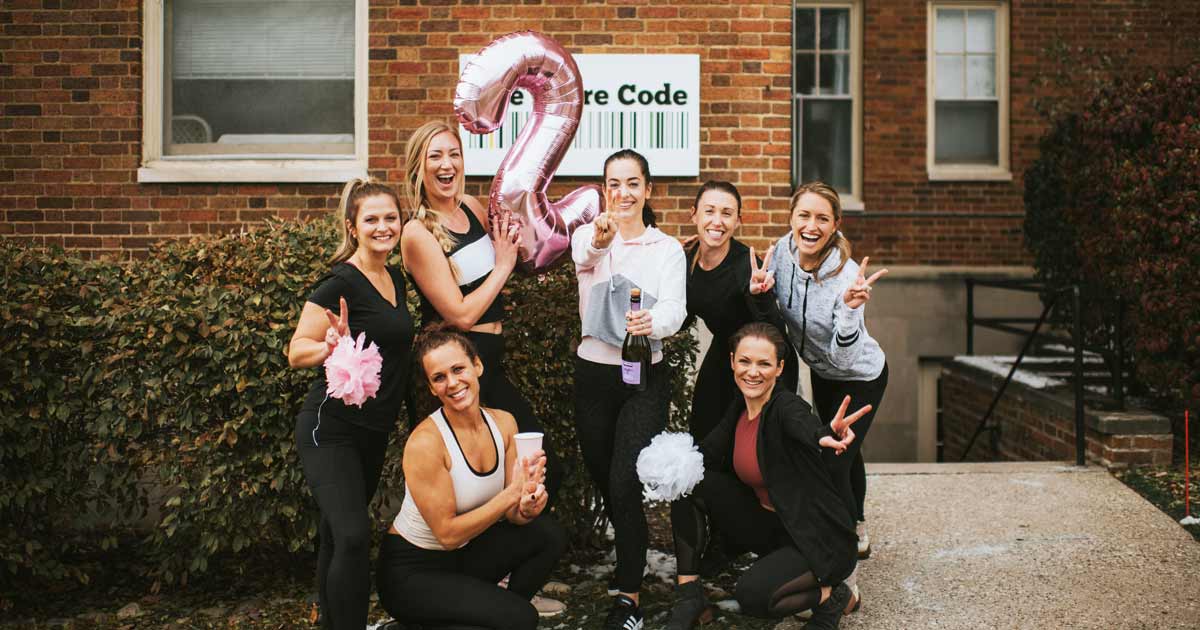 In honor of The Barre Code Grand Rapids celebrating its second anniversary, the studio will be offering free classes until March 15, 2020. Anyone is welcome to come try a class, meet the Barre Code team, and participate in in over $10,000 in giveaways and pop-up events with other local businesses.
"We're nearing two years of pulsing through our days, 50-minutes at a time, and it's been nothing short of amazing!"
Learn more at The Barre Code Grand Rapids.
Written by Sarah Suydam, Staff Writer for West Michigan Woman.
Photo courtesy of Barre Code Grand Rapids.