When women and girls fall on hard times, more often than not, essential needs like bras and hygiene products are low on the list of items people think to donate.
I Support the Girls seeks to change that.
ISTG collects and distributes essential items, including new or gently used bras, underwear, and menstrual hygiene products, allowing women experiencing homelessness, impoverishment, or distress to stand tall with dignity.
The Grand Rapids affiliate of ISTG, started in March 2019 by Emily Beggs, distributed 35,110 bras and menstrual products to West Michigan women and girls in need, in 2019 alone.
"We take donations from individuals who have bras they no longer wear or menstrual products they no longer need because they may have changed brands and have some left over," said Beggs, adding that individuals and organizations often hold collection drives through colleges, churches, support groups, and work. "We also work closely with Soma Intimates, as they collect used bras throughout the year and twice during specific campaigns."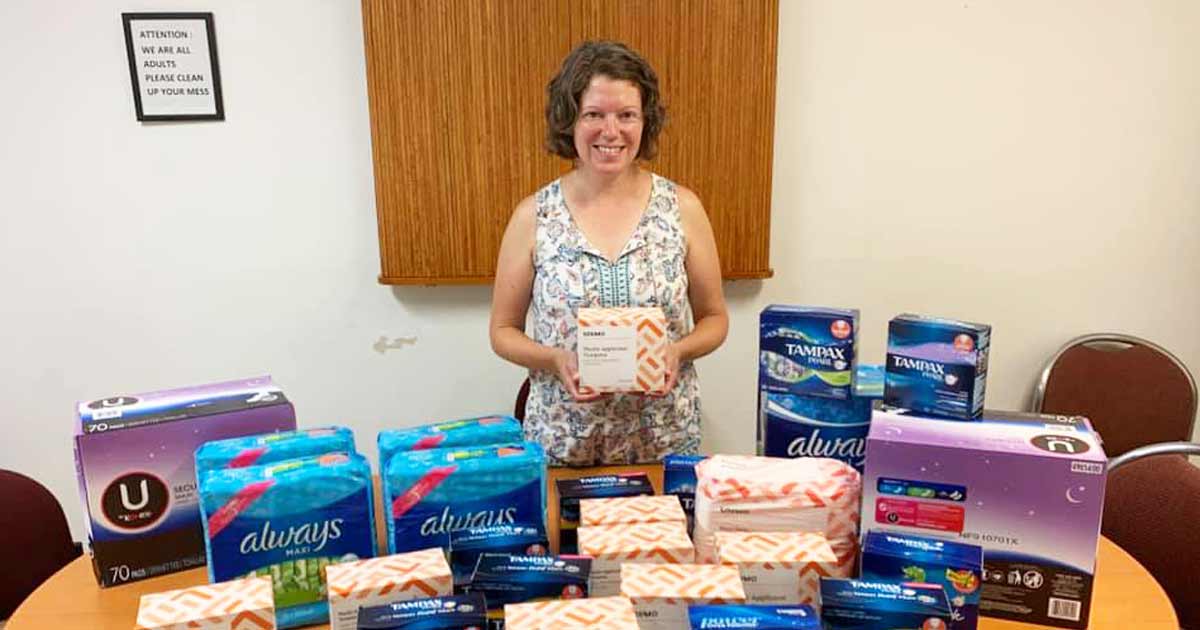 Beggs learned about ISTG from watching a Facebook show and the cause really struck a chord with her.
"I thought, 'That is something I want to do. Women shouldn't have to deal with these issues,'" said Beggs, who then contacted the national organization. "They asked me to run a collection drive and do some research to see if there was a need in our community and if I would get a strong enough response to help."
Her first drive was a complete success. Beggs and her daughter distributed their collection to Dégagé Ministries and the national organization gave the green light for a Grand Rapids affiliate to be set up.
Though Beggs' efforts are based in Grand Rapids, her reach is far from limited. Beggs' ISTG chapter also distributes items to nonprofit organizations and food pantries in Holland, Muskegon, Ludington, Northern Michigan, and Cadillac—with more locations to come in the near future.
"We've also held distribution events where a specific population comes in to choose a bra or two, grab a bag of menstrual products of their choosing, and also get fitted for a bra to be sure they are wearing the correct and most comfortable size," said Beggs, who strongly believes a woman shouldn't have to choose between feeding herself and her personal health. "These women feel 'seen,' supported and loved. I've had women say they never had a good-fitting bra or could now go to a job interview because she feels more confident and comfortable."
Beggs asks you to ponder: Can you imagine not having a home or being in a shelter and having to manage your period?
"A lack of available menstrual products can be extremely dangerous if a woman wears a pad or tampon for too long, with infections or toxic shock syndrome (TSS) being a real concern," said Beggs. "Women who are trying to raise themselves out of these difficult situations and have employment may have to miss work. Girls also often miss school when they get their periods."
Making a difference with ISTG is easy.
"People can get involved by donating new or gently used bras, new underwear, or menstrual products. They can hold a collection drive through work, church, with neighbors, book clubs, et cetera," said Beggs, noting she can be reached through the ISTG Facebook page, which also provides up-to-date ways to help. "A big way to help is to spread the word about this issue facing women in our community and how ISTG is raising that awareness and trying to reduce the burden."
Donations could be sent to P.O. Box 6366, Grand Rapids 49516. Beggs is also available to pick up larger donations.
If you're a woman who could benefit from the products ISTG collects or know one who does, Beggs advises contacting her via Facebook to find out which local nonprofits and food pantries currently have items to offer.
Written by Sarah Suydam, Staff Writer for West Michigan Woman.
Photos courtesy of Emily Beggs.