Paola Mendivil, born in Mexico City, enjoyed growing up near family—playing with cousins, participating in huge New Year's Eve parties, having fun.
Living in three Mexican states and attending several schools gave her different perspectives.
Her exposure to how big the world is began in Tijuana, Baja California, where she lived for five years. She was so close to the United States border, they used pesos and dollars; she was 12, learning English, and away from the family she'd grown up with.
Paola's mother, Mercedes Lopez-Duran, didn't speak English when she met a Michigan man through work. He paid for introductory English classes and offered support, eventually helping with her visa application and paperwork as she prepared to move to Grand Rapids. It was a new city, country and world; he was the only person they knew there.
"We drove here with him from Tijuana, in his little car. I was 17. My sister was 10."
Paola was working and no longer in school in 2005, when they moved. In 2007, El Ganadero, where Mercedes was working, abruptly closed. Chasing a dream and leveraging her expertise, Mercedes bought the restaurant and opened it as El Granjero.
The man who helped Mercedes became Paola's stepfather and encouraged her to get her education. She graduated from Union High School, yet never felt she belonged. The school, the parks, the music and the activities had nothing in common with home. Paola sported black clothes, purple hair and a tongue piercing; her boyfriend, Alberto, wanted her to move back.
Then came a scholarship offer. Paola decided to stay and attend Grand Rapids Community College, studying business and applying her knowledge while working 40 to 50 hours a week at the restaurant. In 2010, she graduated and married, and a second El Granjero location briefly opened. Realizing it was too much effort with too little reward, the family closed it, keeping the original Bridge Street venue on the Westside. Then, they began seeing a demand for catering services.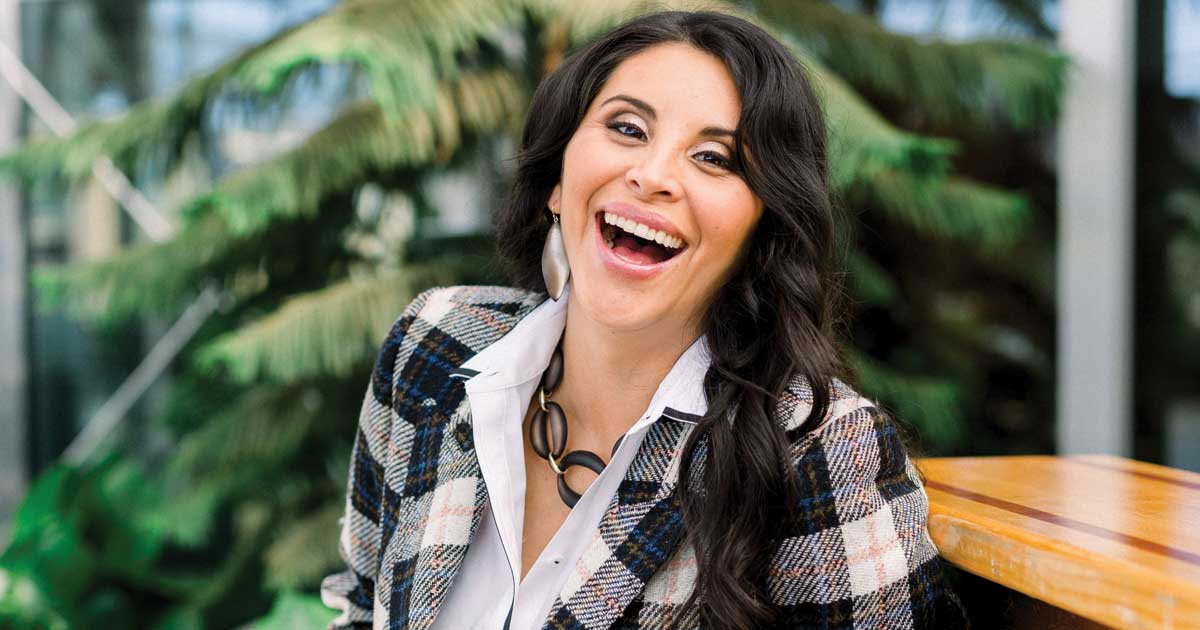 Photo courtesy of Kelly Braman Photography.
Their first event, in 2011, was a Cinco de Mayo multicultural festival at the Grand Rapids Public Schools Southwest Community Campus, where they served an unexpected 200 people beyond the expected 500. "My mom didn't sleep for two weeks ahead of time! There were a lot of challenges, but we did it." Mercedes decided it was worth it. A new El Granjero direction was born. And Paola—co-owner and now catering coordinator—took the reins.
Not that her momentum elsewhere slowed.
Through an internship, Paola became involved with the West Michigan Hispanic Chamber of Commerce, under then executive director Carlos Sanchez. She was making connections, getting El Granjero noticed, and being trained for an opening. A part-time employee still working at the restaurant, Paola didn't intend to stay—yet worked there for six years and was instrumental in its growth and activities. "When I left, people said, 'But you're the Chamber!'"
Paola blossomed. It was significant exposure for someone who's "not one to go first." Carlos Sanchez left for Ferris State University, where he collaborated in creating and is director of the LEADeres program at the Latino Business and Economic Development Center. Paola attended its Professional Development program, which helped her realize her path. "I saw a blank canvas."
She applied to Ferris and studied Business Administration while she was still working at El Granjero, involved with the Chamber, assisting Carlos on a student employment contract, married to Alberto, and mothering a young child. She appreciated it all, yet it was too much at once.
When her position was going full time, Paola left the Chamber and pondered that blank canvas. "I was relieved! You need to follow your heart—follow your instinct." She focused on finishing her degree, building the catering business and working with Carlos. She graduated from Ferris and had a second child.
She made connections. People were contacting her. In 2017, First Ward Commissioner Jon O'Connor asked Paola to join the City of Grand Rapids City Planning Commission, filling a partial term. Working with the Board of Zoning Appeals interested Paola and showed her greater opportunities to get involved with the city and move it forward.
Paola, a 2019 Young ATHENA award finalist and gracious community advocate, is warm, friendly, and honest—and shy and introverted. She's quiet, yet approachable. "It takes a long time to build relationships. I'm uncomfortable initiating, but I'm not intimidating."
The Latina Network of West Michigan encouraged her involvement and professional development. "The group has worked hard to intentionally bring Latinas into safe spaces, presenting interesting topics that create critical conversations to reclaim our narrative as professionals in the area. It has given me so much support, exposure and accountability to better myself, always making sure you're also inspiring someone else.
"Just what I was missing the first years living here in Grand Rapids."
Paola evolved from feeling she didn't belong to having ownership. She embraces the Westside. "I choose to walk to my classes, raise my family and live here." She participates in the annual cleanup program, connected to others who care about Grand Rapids. She's training her sons, Alan and Ian, 7 and 2, to care and be responsible.
She lauds John Ball Zoo as an impetus for keeping the Westside sharp. "Seventy percent of its visitors are not from the city. The zoo has theme days and fun. It's family friendly. We embrace it!"
She lauds development. "El Granjero opened in the middle of a recession. We lost people to ICE deportation and homes being repossessed. Those were tough times." New Holland Knickerbocker, Bridge Street Market and easier to traverse streets further draw people. "My older son knows the walking routes from the restaurant. He loves walks on the Blue Bridge. He loves Downtown Market and will tell you the names of his favorite places there. He understands opportunity and community and has gone to Chamber of Commerce events."
Paola lives and experiences the Westside's vibrancy and opportunity. She's involved with the Stockbridge Association and Adopt a Trashcan, working with others to keep neighborhoods clean. She wants her world to feel welcoming. "I'm thinking of that 70 percent."
She's involved in Grand Rapids Champs League soccer, where neighborhood teams enjoy friendly competition and community. In partnership with Friends of Grand Rapids Parks, it encourages support for parks, neighborhoods and physical activity. Paola played soccer in high school and is co-captain of Deportivo Westside. "The team has become family! We celebrate marriages and children. We share the joy of the sport and being outdoors all summer." Beyond socializing and play, the league has an economic impact: Each team contributes at least $100 to a local charity or nonprofit organization, with roughly $9,000 raised in 2019.
Being out in the community and being outdoors are important. "I love being outside!" Paola's a fan of ArtPrize and the opportunities it provides to be part of and see more of the city. She's volunteered as a navigator, helping visitors find their way and have a welcoming experience. She's a Certified Tourism Ambassador, an official industry designation presented by Experience Grand Rapids.
While there is snow in Mexico, she loves West Michigan's changing seasons. "I was so excited the first time I saw snow here! Everyone else was complaining. My sister and I were excited. It was right there, where we live!" She enjoys camping and the beach; biking and hiking local trails; sledding and tubing in winter. She loves the autumn colors and sweater weather.
At El Granjero, which celebrated 12 years in business October 1, her catering role is more behind the scenes. Still, it's been a joy to get to know the customers and watch their families grow, becoming part of the restaurant's community; it's been a joy to watch employees grow and develop.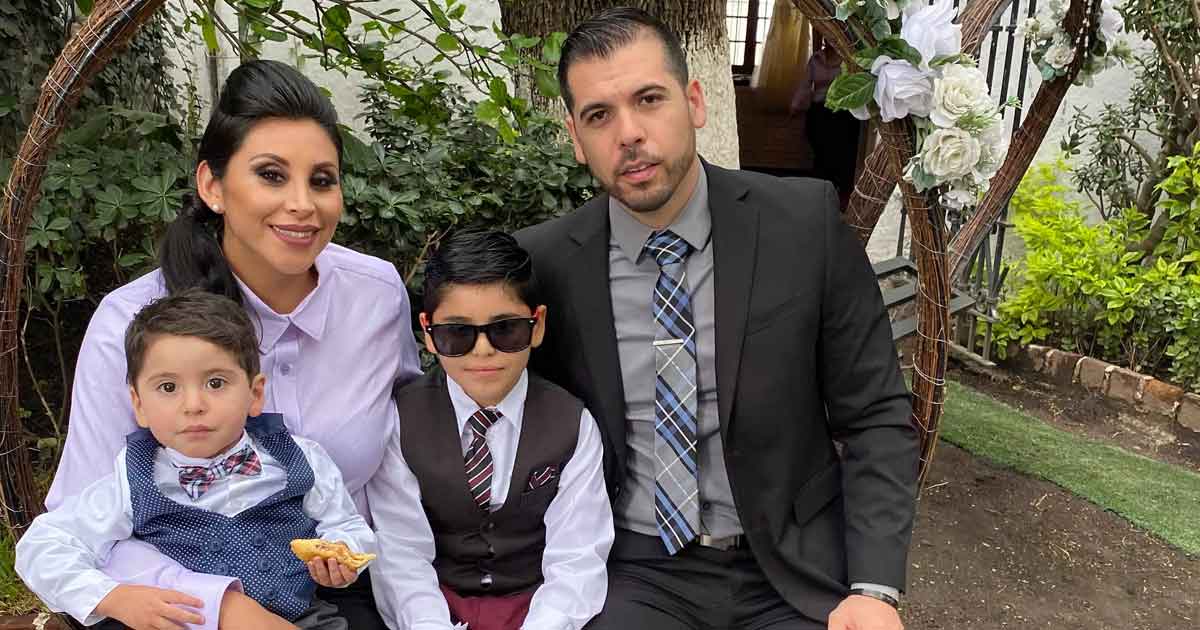 Photo courtesy of Paola Mendivil.
Family and community are woven throughout the fabric of Paola's life. "How you treat people changes everything. How you feel. How you're willing to help." She talks of making the Westside, Grand Rapids and Michigan her own.
"No one will make you feel involved if you aren't putting in the effort." Events and volunteering make you feel alive. Embrace your city. Encourage your neighbors. "Just because you're busy doesn't mean you're being productive."
Paola belongs to the Westside Corridor Improvement Authority, appointed by Mayor Rosalynn Bliss. Their efforts help make the neighborhood more appealing and welcoming.
She supports area events and attends Hispanic festivals with Alan, so he'll know about his heritage. "I try to bring a sense of culture to him. It's important for him to have that perspective." She avoids Spanglish and honors her language in professional and school settings, teaching others by noting errors and guiding them.
She is passionate about her language, her culture and her roots. "I want my sons to be proud of being bilingual."
Paola knows the importance of being positive amid challenges. She reflects on dropping out of school in Mexico and feeling like a failure. "I was hard on myself." Yet she had drive and commitment, and support to attend school and graduate. "You have to keep moving forward!" The second restaurant brought the catering opportunity—now 25% of their business and setting a record 200 events in 2019.
"It's not that you fail. You're learning about business and yourself." She took a risk, leaving Mexico. Her mother took risks with the restaurant and, a few years ago, with its $60,000 remodel. More risks may be on the horizon.
"What I really want is to do for others what I do for my mom: consulting, helping them run their restaurant and grow—the same type of help as I gave her. People always tell her, 'But you have Paola!'" She wants to follow her passion, as Mercedes does. "But it doesn't have to be the same passion."
She wants to help people overcome their challenges. She wants El Granjero's flow, presentation and service, for other businesses. She's comfortable at the restaurant; she knows the job. She wants accountability. She loves ideation. She's pitching her dream. "This is what I want to do!"
She wants to guide, advise and offer expertise. "I'm a regular person. A mom. A resident. A GRPS parent. I was able to take risks and move forward with determination. I want people to try to pursue their dreams. I want people to feel passion for things; to feel satisfaction."
Everything is a lesson—and an opportunity.
"As you go up the ladder, bring people with you."
Photos © Kelly Braman Photography
Makeup: Lexi McCarthy – Aura Beauty Bar MUA
Hair: Amber Bast
Wardrobe: Leigh's
Location: Downtown Market, Greenhouse
Written by Amy L Charles, Editorial Director for West Michigan Woman.
Main photo courtesy of Kelly Braman Photography.
This article originally appeared in the December/January 2019 issue of West Michigan Woman also available in Spanish.