Tasha Blackmon was born to teenaged parents, who worked hard to provide for their family and stressed the importance of education.
The churchgoing family was always involved in their community. Tasha's mother, a philanthropist by nature, has a career as an afterschool assistant; her hardworking, persevering father always believed in a hand up, not a handout.
"We had a moderate life for many years. We weren't poor, but we weren't middle class." Tasha was 11 or 12 when her father took a job at General Motors and the family moved to Alger Heights.
She's a "Grand Rapids Public Schools kid" and Ottawa Hills High School graduate. She eventually married her high school sweetheart and best friend, Will Blackmon, 25 years to the day after their first date. Some call their blended family of three sons and three daughters The Blackmon Bunch.
Tasha attended Michigan State University as a pre-med student, earned a physiology degree and never thought of leaving Grand Rapids—perhaps echoing her father's words: "Don't forget where you're from."
Her parents wanted her to be a doctor; an obedient daughter, Tasha trusted they knew what was best for her.
In her last couple of classes, she realized she didn't want to be a doctor. She completed a bachelor's degree and, later, an MBA. To combine her previous studies with business, she turned to health care administration. "I wanted to honor the education my parents worked so hard to provide." She spent 10 years with Illinois-based Baxter Healthcare, responsible for operations of a Grand Rapids healthcare community.
"That made me more connected to the plight of my city. It was an opportunity to give back and allowed me to make a great living.
It was important for Tasha to live her passion for serving the less fortunate. Enter Cherry Health and six positions in 14 years, beginning as a site manager.
Past CEO Chris Shea saw something in her; he saw her affecting her community.
Tasha's life was changing when she started her MBA. "I went for it—focusing on the one thing that would be stable." She concurrently held a fellowship with University of Kansas Medical Center. She also had one young daughter and her parents' support.
"My dad always told us, 'You belong wherever you are.'"
As she graduated, the Chief Clinic Operations Officer opportunity arose. Her goal and responsibility were to allow Shea to dream—and make the dreams come true. "I had a heightened sense of urgency to serve."
Now, as she completes her first year as CEO, her entire staff helps make her dreams come true. Though she hadn't been sure about moving to that next level, her sense of urgency prevailed.
And her excitement grew.
"I need to do what I love! I love working in health care. I love Cherry Health."
The U.S. Health Resources and Services Administration (HRSA) gave Cherry Health its 2018 Quality Improvement Award. "Patients are healthier because of our intervention. We care for those who face barriers to care. That fuels me and inspires others in our organization." Every day, Tasha sees the staff's dedication and "better together" moments. Their work and commitment inspire her.
Cherry Health served more than 69,000 people last year, including roughly 82 percent of Kent County individuals experiencing poverty. Most are the working poor, with part-time jobs lacking benefits; they're Medicaid patients; they're uninsured; while 96 percent fall under the 200 percent federal poverty level, most are at 100 percent.
"We are a safety-net organization. We are here when no one else is available, despite barriers." During winter storms, Cherry Health facilities stayed open. Physicians and staff wanted to be there. "We wrap our arms around those facing barriers to optimal health. We remove barriers to care."
Tasha includes staff in decision-making. "Staff are our greatest resource and have to be our greatest investment." Her first 90 days as CEO, she visited each employee, learning why do they do this work—why Cherry Health. Reflecting a revitalized mission and strategic plan, priorities have been created via staff, board member and Kent County Health Assessment insight.
"When staff see your intentionality—how pure your love is for them and for the community—you know you're where you're supposed to be. You make thoughtful decisions, in support of those you serve." Tasha wants the community to know Cherry Health provides high-quality, affordable health care to all people. She's proud of the clinical outcomes and patients loving their providers. She reports to a board of directors committed to ensuring the best possible care is available. Tasha and her children get their services there.
"I always wanted to be in a position to give back to the community." She sees immediate impact, when outcomes change, investments, healthier patients. Cherry Health treats people with dignity and strives to be a no-judgment zone. Tasha wants patients to stay for the care quality; because it's their medical home. The organization received its highest patient satisfaction rate—95 percent—in 2018. "It's hard for us to toot our own horn, but we do so many good things!"
Tasha sees the work that needs to be done. She wants the best for patients, now. She wants a long-lasting, sustainable impact. "We're continuing to improve our quality. We want to become a center of excellence—a model for all health care institutions—in patient care, staff satisfaction and innovation. We want to increase access, meeting patients where they are. I want to be part of making our entire community healthier."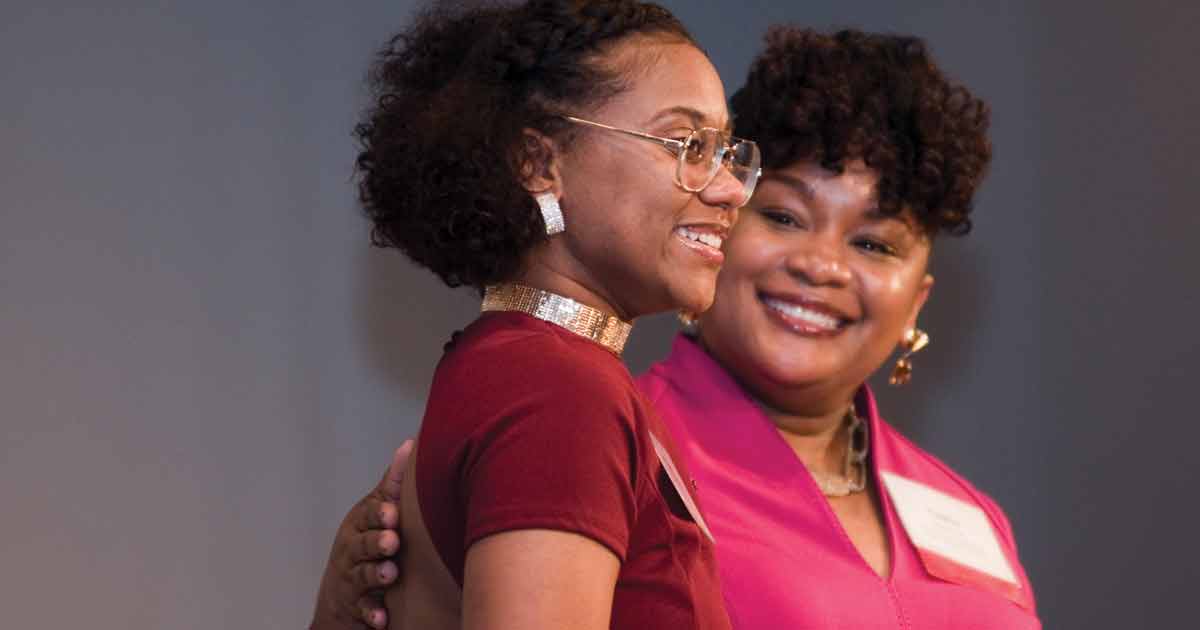 Photo courtesy of Tasha Blackmon.
She wants to make good and balanced decisions, with a conscience. She wants to create another goal when she starts to see a current goal in the distance.
"This is my heart."
Her first 90 days? Tasha sees those faces and a direct line to the patients. Decisions are made with their best interests at heart.
She's grateful for support from her aunt Beverly Bishop, her best friend Jaye Sanders, Jackie Taylor, Vicky Black Weller, India Manns, Denise Crawford, Sandra Gaddy and Deborah Guyton—mentors who took her under their wings and were willing to help—and Brad Zimmerman, her executive coach.
"I'm humbled to lead this organization. I'm accountable to the community I grew up in. I've always worked for God and family; I work for more people now. I am blessed with an opportunity to provide a great work environment. I get thank you notes and notes of support from staff."
Tasha hopes to be known as someone who cares about others, focused on caring for her community. As someone who is passionate about serving the less fortunate—those often forgotten about, whose voices have been silenced. "I'm a voice for people who are voiceless."
All things work together for good, she believes.
"All experiences happen to prepare you for your destiny."
Written by Amy L Charles, Editorial Director for West Michigan Woman.
Main photo courtesy of Karyn May Photography.