Carolyn Stich isn't shy about her love for West Michigan.
In fact, she calls it "the biggest secret of the U.S." Read on to learn what inspires Stich—winner of the 2019 Tulip Time Festival Poster Competition—and how she uses her own experiences and art to give back to those in need.
Originally from St. Louis, Missouri, Stich moved to Holland in 1993 with her husband, when his job was transferred. Even after being offered various jobs years later, in other cities, they knew they wanted to stay in beautiful West Michigan.
"We've been here for a long time now," said Stich, a photographer, painter and owner of Carolyn Stich Studios in Holland. "And we really love Holland!"
Having been creating art ever since she can remember, Stich jokes, "My kids would always say when they were growing up that they had the only mom in town who knew how to draw a pot roast, but had no idea how to cook one!"
Stich's painting Enduring Delft was selected out of 75 works submitted by 44 artists from the region. This year's submissions were reviewed by Kristin Jass Armstrong, Executive Director of the Saugatuck Center for the Arts, who designated the Top 20 from which the winning piece was selected. Enduring Delft will be featured on posters, giclee prints, other festival merchandise, and at area galleries and shops.
When explaining her approach to designing the poster, Stich said she had created it as a celebration of Holland and the elegant simplicity of Delftware, a staple of Dutch heritage.
"The combination of vivid colors and classic patterns is an expression of the rich tradition and lively spirit found here," said Stich, who has also illustrated 10 children's books.
Stich was at home playing a game of Euchre with her family when inspiration struck.
"I looked at the cards and thought, 'Wow, nobody has ever used a symmetrical design like that!'" said Stich, whose family is used to her taking an idea and (literally) running with it.
"So I stopped the game and ran and started drawing it. With art, your pen kind of takes over and you don't really know what's going to appear on the paper."
When she converses with people who are analyzing the poster, Stich loves hearing the variety of differing perspectives that emerge, with people who tell her they see Indian, Hispanic, Polish and Scandinavian influences—and even animals—woven throughout.
"I love that everyone is seeing something different in it, because that's what art should be."
Last year, Stich beat stage 3 breast cancer, which has put a different spin on everything that's come after. While undergoing treatment at Holland Hospital, Stich asked her patient advocate about what happens to the women who come in without insurance and need a mammogram.
That's when she learned about the Holland Hospital Breast Care Fund.
The fund covers the cost of screening and diagnostic mammograms, ultrasounds, and biopsies for women who don't have insurance coverage for these life-saving tests. Carolyn knew she had to do something to help.
Once every three months, Stich creates a piece of art to raffle off on her website and donates proceeds from the raffle directly to the fund.
"I'm trying to do my part to help raise money for the fund, and also bring awareness to it," said Stich, who was previously "so unaware" of her own body.
"I think you know when something is wrong, though—whether you want to admit it, or not. It's so important to go get checked out."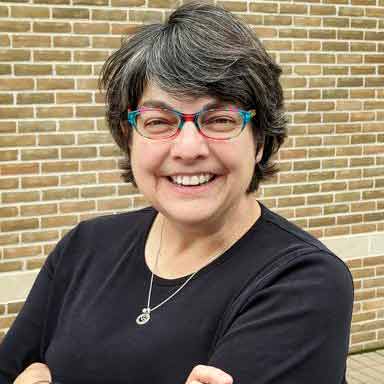 Carolyn Stich's art can be seen around Holland during the 90th Tulip Time Festival, May 4 – 12, 2019.
Written by Sarah Suydam, Staff Writer for West Michigan Woman.