Like the saffron spice derived from the crocus, Cindy Kikkert-Penning is a rarity in more ways than one.
The flower is one of many favorites Cindy grows in her garden, for years the envy of her Spring Lake neighborhood.
"Who needs to go to any other flower festival, when Cindy has the best collection right in her yard?" a neighbor once mused.
A track hurdler in middle school, a swimmer in high school, Cindy only started distance running years later alongside her avid runner husband, Tim. Situated at the end point of the Chicago Marathon in October 2000, Cindy was awed by the many runners crossing the finish line—inspired by their differing heights, body types and ages.
She thought, "You know what? I can do this."
Three miles here, four miles there, Cindy worked her way up to multiple 5K and 25K races, including completing the Chicago Marathon in 2003 and 2004.
It wasn't until being diagnosed with stage 4 HER2+ breast cancer in 2012 that Cindy ever considered she was at risk. She was always told she was in perfect health. She ran competitively and felt great doing it.
"When I had my first ultrasound and was being shown the black circles—one around each tumor—I stopped counting after 12. I didn't get it. We'd done genetic testing. I was BRCA-free. I'm active, I don't smoke. How did this happen?"
Since then, she's been faced with unthinkable challenges, among them undergoing several rounds of chemotherapy, radiation and radiation burns, a brain tumor, multiple extensive reconstructive surgeries, stress fractures, associated side effects and more. She attended 181 medical appointments that first year and countless since—appointments Tim frequently accompanies her on. When discharged from outpatient surgeries or hospitalizations, she always has a new outfit and shoes ready to wear.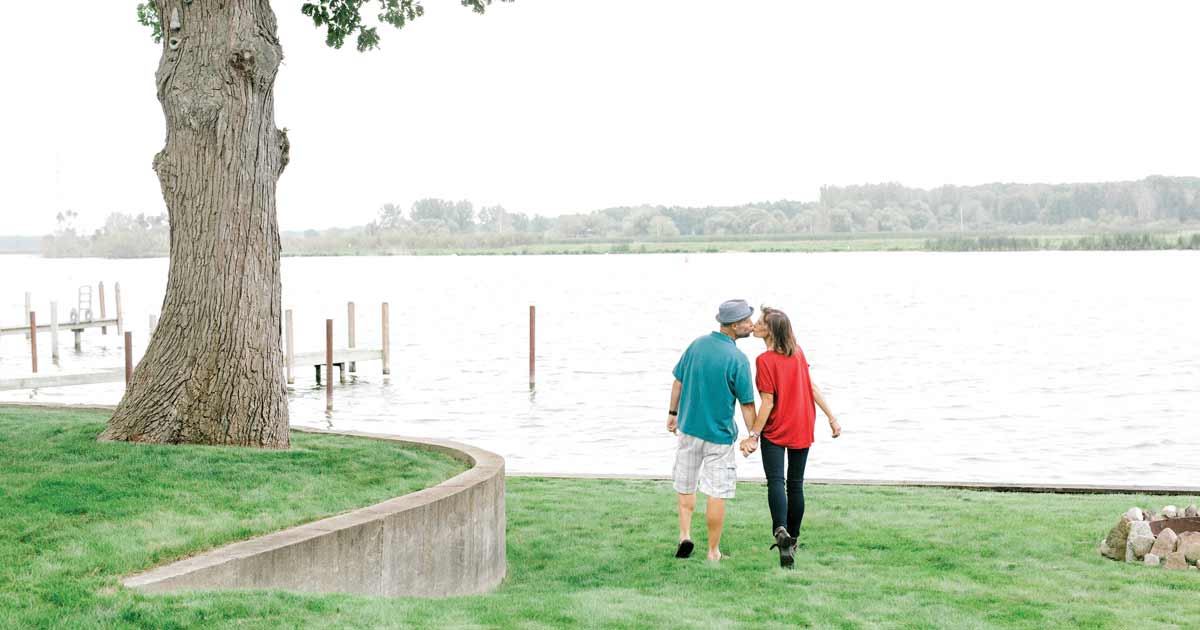 Photo courtesy of Kelly Braman Photography.
"Cancer took away my breasts, but I was NOT going to let cancer take the lady out of me!"
Never afraid to get her hands dirty, Cindy has always played by her own rules. She's always pushed boundaries. Which is why when her doctor at the time told her she couldn't run at the same pace and frequency she was used to, Cindy knew there had to be another way—and there was.
"I told her, my job is to lace up my running shoes and run, every single day. Your job is to keep me healthy every single day."
She continues to run. Whether it's a 5K, 25K or half-marathon, Cindy does it.
"Running is a continuation of who I've always been, and I'll always carry that with me. When Tim and I travel, our suitcases are always half full of running clothes," Cindy said, laughing.
Before cancer, Cindy was highly competitive at the 5K level, winning her age group, women's master's division or overall women's in numerous West Michigan races. "Tim jokes and calls me his 'trophy wife' because I'll run races and literally bring home medals and trophies. Sometimes I'll even pass him in a race!"
Julie Forstner, M.D., her former Radiation Oncologist at U of M Metro, mentioned that years after receiving treatment, Cindy still sets herself apart and has made a lasting impact. "She told me that to this day, I'm the only patient she knows of that consistently ran throughout radiation. She said that it just doesn't happen."
Along with running, Cindy always gained comfort from spending time out in nature. She strives to be outside every single day, regardless of season. "Springtime is my absolute favorite. You can begin to plant things in the ground and see life and new growth all around you."
Cindy also finds happiness in bringing home remembrances of the destinations she and Tim travel, including the top of a volcano in Hawaii. "In every city we visit, I try to find a Hard Rock Café, so I can add to my collection of teddy bears. Chances are, wherever you look around the house, you'll see a teddy bear!"
At one point, due to bone fractures in her foot, Cindy was running races with a knee scooter—one she endearingly named "Scooter." Slowing down wasn't an option. Cindy even wore down the rubber on Scooter's wheels.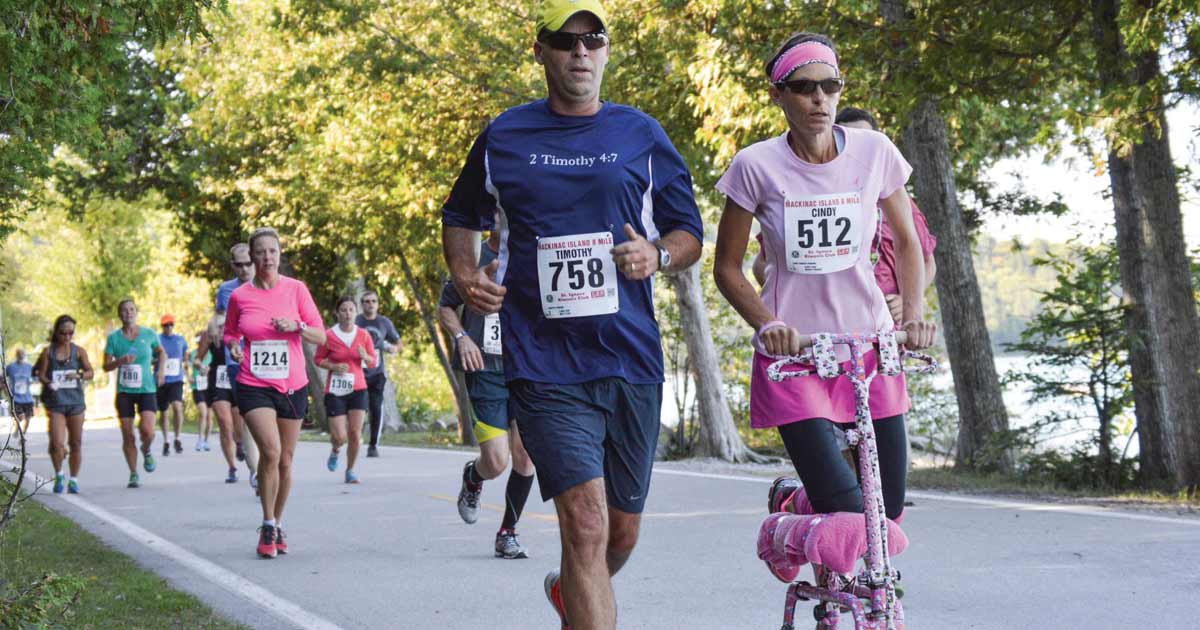 Photo courtesy of Cindy Kikkert-Penning.
"During races, having started earlier with the wheelchair athletes, I'd move out of the way for the elite runners. But they'd actually come up to me—adding precious seconds to their overall time—just to pat me on the back and tell me how inspired they were. I just couldn't believe it."
Cindy has since encouraged other runners to persist through injuries and complete races in innovative ways. She plans to run her 19th consecutive Fifth Third River Bank Run—without Scooter—in 2019.
The journey with breast cancer has been ever--evolving, with soaring peaks and deep-seated valleys. Cindy is blunt about the realities of it being a messy and complicated path.
"Having a chronic illness is like riding a corkscrew roller coaster: One minute you're upside down and the next you're going backward, downhill, uphill and you might hit a plateau where everything smooths out ... But another loop could be right around the corner."
Through it all, Cindy rolls with the punches with undeniable strength, knowing she has the support of her loved ones and community.
"I'm always reminded of my faith. Even when there seems like there couldn't possibly be any more lessons left to learn, I'm still learning them."
Cindy's advice to other women faced with cancer?
"Always get a second opinion—it's worth taking the time. Don't Google your symptoms to try to self-diagnose yourself either. Be your own advocate. Ask questions!" She stresses the benefits of a separate paper calendar specifically for medical appointments and the importance of keeping copies of your latest scans and medical information with you while traveling.
Despite daily health-related complications and obstacles and needing an infusion every three weeks—indefinitely—Cindy maintains a truly powerful positive spirit and knows there's more life for her to live.
"God's not done with me yet!"
Written by Sarah Suydam, Staff Writer for West Michigan Woman.
Main photo courtesy of Kelly Braman Photography.