"I've always wanted to help everybody."
The Hon. Sara J. Smolenski was in fourth grade when she knew she wanted to pursue law. Seeing an introverted classmate's discomfort when he was asked to read, she thought, "I'll read for him!" This is like being an attorney, she thought—I'm speaking for someone who can't speak for himself; I'm helping someone out of a tough spot. The teacher felt otherwise, but the seed was planted. In high school, Sara's father was a big influence.
For Sara, going on to law school was as natural as going from seventh to eighth grade.
The Smolenski family's legal roots in the community run deep: Sara's grandfather was among the area's first Polish attorneys; her father and brother were judges. Sara, who's spent 28 years as 63rd District Court judge—22 as Chief Judge—started young in the still male-dominated field.
Locally, there's been a Smolenski on the bench for 50 years. Sara's father, J. Robert Smolenski, was a judge for 17 years, beginning in 1968; her brother, Michael R. Smolenski, spent 25 years as a judge; Sara was elected in November 1990.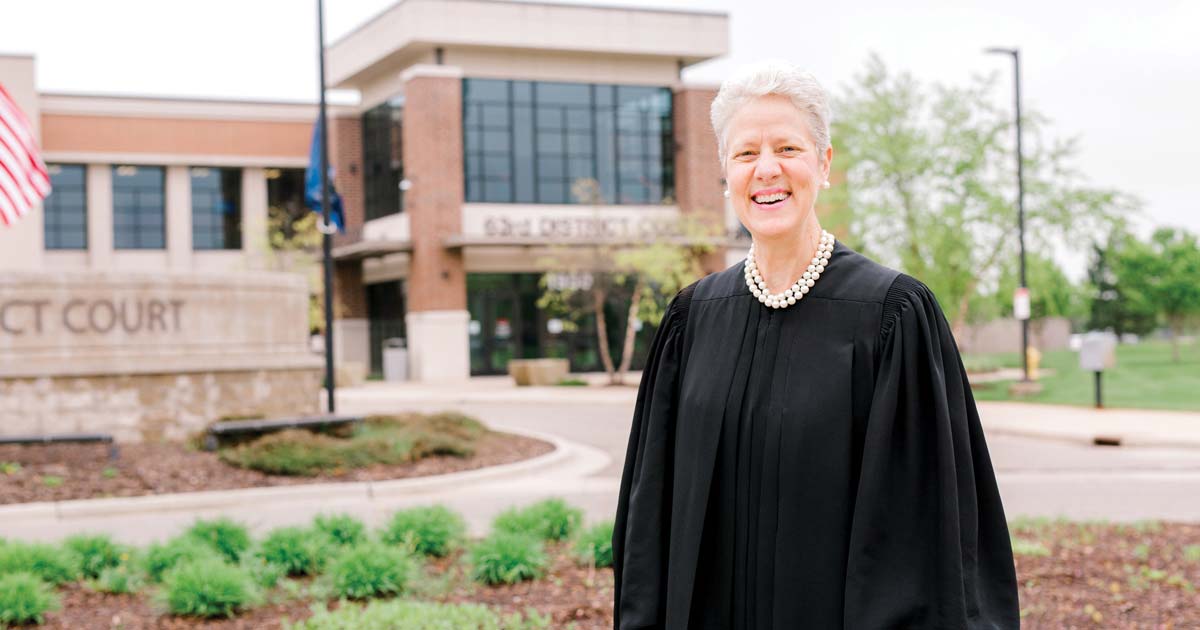 "It's been a wonderful career. West Michigan is a wonderful, friendly place to practice. There's mentoring, support, a close community, a good bar association ... The Women Lawyers Association is celebrating its 100th anniversary ..."
Only a handful of women have presided over Kent County district courts, among them Carol Irons, the county's first female judge and a friend and mentor to Sara, then assistant city attorney with the Grand Rapids City Attorney's office. "She taught me a lot. She told me, 'You can do it.'" The two dined together the night before Irons was killed. Irons' parents gave Sara their daughter's gavel and block, which has a place of prominence in Sara's office.
Friends and family are important to Sara, who grew up seventh daughter and eighth child among 10 siblings; the oldest was the only son. They're an extroverted family, though some are quieter than others.
Her sisters are all parents. "It's fun to watch them become grandparents!" Two battle breast cancer as the others rally around them: "Sister Strong, Smolenski Strong." Sara, who served on the American Cancer Society board and worked with Gilda's Club, admires their strength. "They're courageous!"
Sara and her partner of almost 30 years, Linda Burpee, married in a 2016 religious ceremony. They met through friends, though both were great athletes who knew of each other when they played at Grand Rapids Catholic Central and East Grand Rapids high schools, respectively. Sara considers her spouse "smarter than any lawyer I know" and considers herself "the luckiest person in the world."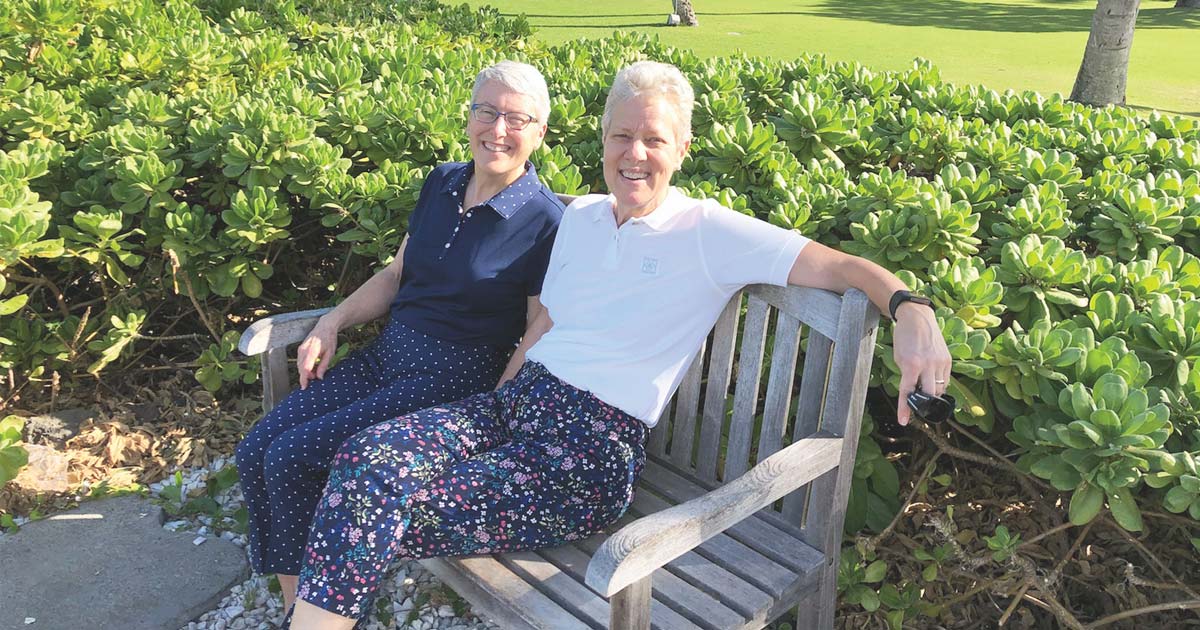 Linda, who has three older brothers, was "adopted" as a sister by Sara's family; Linda's family is in turn close to Sara. Between their families are 42 nieces and nephews—32 from Sara's siblings. "The wedding was such fun, as we all knew each other! It was very loving, fun, festive."
Also fun is juggling, something Sara and a sister began doing in grade school; something Sara still does as the whim hits or occasion calls. Pottery, her relaxation time, is her love. Linda first gave her a gift of lessons in 1996, with local artist Mary Doezema. Sara's pottery graces benefit events and becomes gifts; it's scattered throughout the courthouse office. Her art isn't as widely known as her sense of humor, which often ties to her determination.
Sara played basketball at Catholic Central High School, Grand Rapids Junior College and University of Michigan. (It wasn't an option at Thomas M. Cooley Law School, where she earned her Juris Doctorate.) Most of the Smolenskis attended her debut at Michigan's Crisler Arena. "The arena holds about 11,000 people. There were probably 60 there for women's basketball. And 42 of them were family!" There she was, in her sharp warmups with zip ankles and high-top leather Converse shoes, hoping to get off the bench and into the game. She was cheering up a storm when her friend Sheila was called in—and forgot to unzip her ankles before trying to pull her warmups off over her shoes. The more she struggled, the worse things got. "There's Sheila, twisted on the floor like a pretzel."
The coach yelled, "SMOLENSKI!" Knowing she had to be ready before Sheila got untangled, Sara stripped off her pants. As a cool breeze registered, she realized she'd pulled down her pants and basketball shorts. There she stood in her underwear, pants and shorts puddled around her ankles. Quickly pulling up her shorts to the sound of her family's laughter, she ran onto the court.
She doesn't remember much else from the game, including whether she scored. But she has a relatable embarrassing moment story and a lesson learned: You can have desire, determination and drive ... "But you have to keep your pants on!"
Sara's sense of humor and compassion are popular on the local event circuit. A recent week found her participating with CASA of Kent County, Cherry Health and Mercy Central School of Nursing alumni; lip syncing for the Grand Rapids Bar Association; working with the Dominican Sisters golf outing; visiting a Breton Downs Elementary School fifth-grade class. She has heart for nonprofit organizations, being involved and being community-minded. "There are so many programs worthy of our help."
The role of elected office set a standard for community service, Sara notes. Groups of all ages come to watch court in session, giving them an appreciation for the process. She tells students, "If you stay in school until 19th grade, you can be a lawyer."
Sara constantly has students tour the courthouse. After a recent fifth-grade class visit, a parent stopped to tell her she'd been in Sara's court as a fifth-grader—26 years ago. That was when the parent, an attorney in Grand Rapids, decided to become a lawyer. "I thought it was so darling! She was there with her daughter. It was such a touching moment. Isn't that cute? It gave me chills. I just hugged her."
Sara has never aspired to a higher court. "District court is the peoples' court. It's the infantry. It's the triage group." She sees the bench as a way to help people, respecting her position and those standing before her. "Nothing and no one is out of bounds. It's a different world, but you don't want it to be negative." She's a glass half-full person who wants to see the good. It's humbling.
"All I can be is the best person I can be. The best judge, person, spouse, sister ..." It's working.
Written by Amy L Charles, Editorial Director for West Michigan Woman.
Photos courtesy of Kelly Braman Photography.