Going into business with your friend? Sounds risky!
But the women from Rustic City Living will tell you otherwise.
Bypassing the Best Friends Forever necklace, pals Amy Calvert and Kristy Dipiazza decided owning a business looks a lot better on them.
"We've been best friends since the third grade, gone on family trips together, driven across the country together and lived together for a year," said Amy. "We were each other's support systems when we were divorced, and we're always on the same page."
The chapter and page they're currently on is co-owners of Rustic City Living, a company providing customized, made-to-order woodworking décor and farmhouse furniture. They work in barn wood, pallet scraps, free wood and occasionally frequent Lowe's for materials. For now, it's a side business as both women have full time careers—Amy is a coordinator at St. Mary's Hospital in the emergency department and Kristy is a certified optician.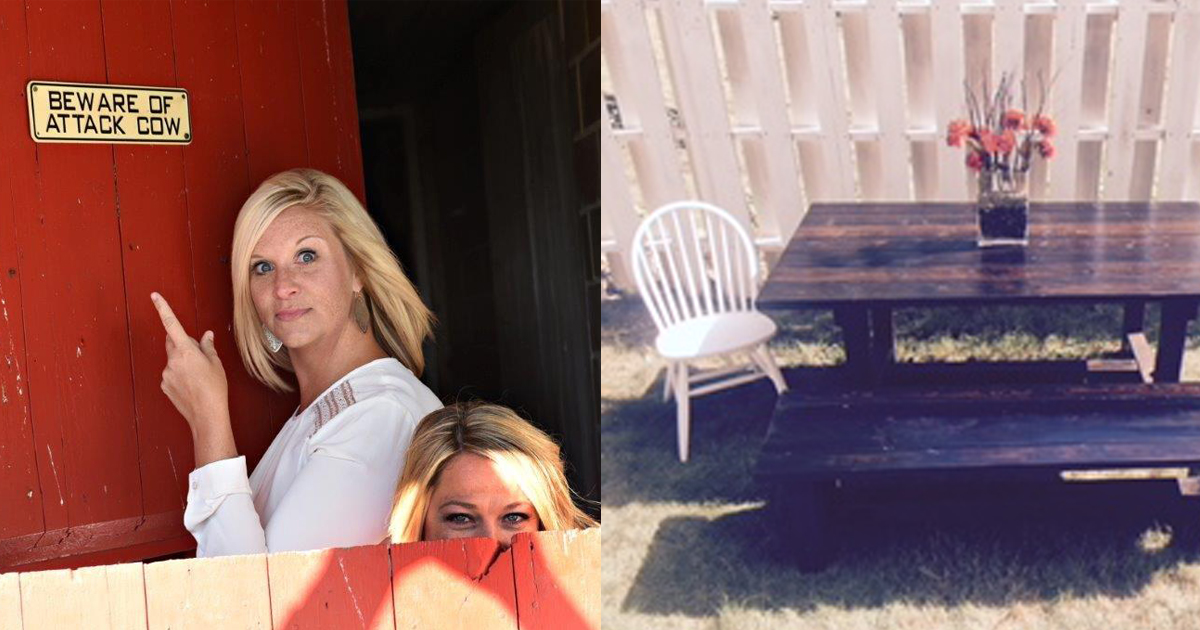 But when the need for an entertainment center arose, so unfurled a dream venture.
After the purchase of a Wii U and television, Amy decided to try her hand at constructing a furniture piece to hold it all. What began as a necessity turned into something fun and grew into household items, farmhouse tables and eventually a king-size bed with matching nightstands.
Inspiration comes from custom orders, pinned images and recreating items in stores. They've fashioned succulent planter boxes created out of old barn wood; made crosses, mirror frames and cornhole game boards; and crafted larger items such as media centers with sliding barn doors.
"Farmhouse tables are a big hit," said Amy, who admits both she and Kristy own them—and paid more for them than they currently have them priced.
The pair has learned to show progress pictures to clients, keeping them engaged throughout the process, and they find success in repeat customers and referrals.
"If we feel it's not quality, it does not fly," said Kristy. "We start over because we push for quality." High value, affordable pricing and excellent customer service drive the business and—of course—the unique needs and wants of their customers.
"We recently made a menu board," said Kristy, citing her favorite custom order. "It's a simple sign where Monday through Sunday they can display the changing menu." They've partnered with a real estate agency, handling many of its closing gifts and welcome signs for new home buyers. "We've even added beer caddies to those relocating, where you can add in Michigan beers."
Another rewarding collaboration—with 8THIRTYFOUR, an integrated communications firm—found the women constructing a custom 300-foot accent wall made from various pallet, vintage and barn wood pieces, complete with sliding antique doors.
"Nobody will ever have a piece like it," said Kristy. "For her creative team space, we made a bar counter and a coat rack from an old piece of barn wood." The business had a great mixture of modern and rustic influences in one spot, sort of like Rustic City Living's own logo.
"We grew up in Sparta and moved to the city," said Amy. "Our logo is the skyline of Grand Rapids sitting on tractor wheels. That tells our story."
But, so do the tools ...
"My dad passed, and he was a home builder—and taking my dad's old tools and working with them, that's been amazing," said Amy. "He was like a father to Kristy as well."
Head to the website at www.rusticcityliving.com and ogle over images on Instagram @rusticcityliving_. It's worth noting the company offers free local delivery to the Grand Rapids and surrounding area. Please contact them to learn more.
Written by Missy Black, a footwear fanatic, style child and contributing writer for West Michigan Woman.
Photo Courtesy of Jennifer Roede Photography.