What happens when the daughter of an entrepreneurial family graduates from law school, lands her dream job in Miami, then realizes she's really not in love with it like she thought she'd be?
Well, for Jamie Loeks Duffield, the next step was clear: start her own business.
Jamie began her clothing company, Duffield Lane, in her spare bedroom in 2014. Inspired by a lifetime spent on and around the Great Lakes, Jamie envisioned a line of timeless styles with a nautical twist. With one full-time and one part-time employee, she began selling her line of cotton knit pajamas online and to wholesalers.
As time went by, Jamie noticed people wearing her line of pajamas and loungewear out and about as well. Realizing there was demand for functional, comfortable and fashionable loungewear, she expanded the brand—and Duffield Lane quickly outgrew the spare room. In 2015, she moved operations into a warehouse in downtown Grand Rapids.
Today, you can find Duffield Lane in over 300 boutiques around the country. From Martha's Vineyard to Nantucket and Cape Cod, the classic, nautical vibe of Duffield Lane has been continually preserved. "It's been exciting to grow the brand to five full collections annually," said Jamie. "Now, Duffield Lane includes dresses, tops, sweaters, pants and beachwear. I wanted to make the kind of clothes I loved to wear."
All of the items in the line are thoughtfully designed by Jamie and reflective of the brand's Michigan roots. Each piece is named after a place in Michigan, like the Ludington Dress, the Reeds Lake Dress and the Mackinac Dress.
Sales have increased by 800 percent since 2015, and the team has expanded to four full-time and five part-time employees. But, in classic entrepreneurial spirit, Jamie was ready for the next challenge. Three years after her business' launch, she decided to make the biggest leap yet—its first storefront location. Duffield Lane celebrated its grand opening at 2237 Wealthy St. SE, in East Grand Rapids' Gaslight Village. A fitting place for the milestone, with nearby Reeds Lake supporting the nautical theme of the brand.
Jamie has focused on developing the Duffield Lane brand over the years, both online and with wholesalers. With this addition, she's faced with an entirely new set of opportunities. At the new location, the Duffield Lane crew is able to interact with customers directly, allowing them to try on clothes and share reactions with the staff.
"The Duffield Lane Store is intended to be a happy place to shop with classic, but fun styles that aren't available elsewhere in Grand Rapids," said Jamie. "We plan to have a lot of events, with wine tastings, trunk shows and fashion focus groups. This will be the only designer-owned store in the area, and we will be previewing new collections and incorporating our customers' ideas into our new designs."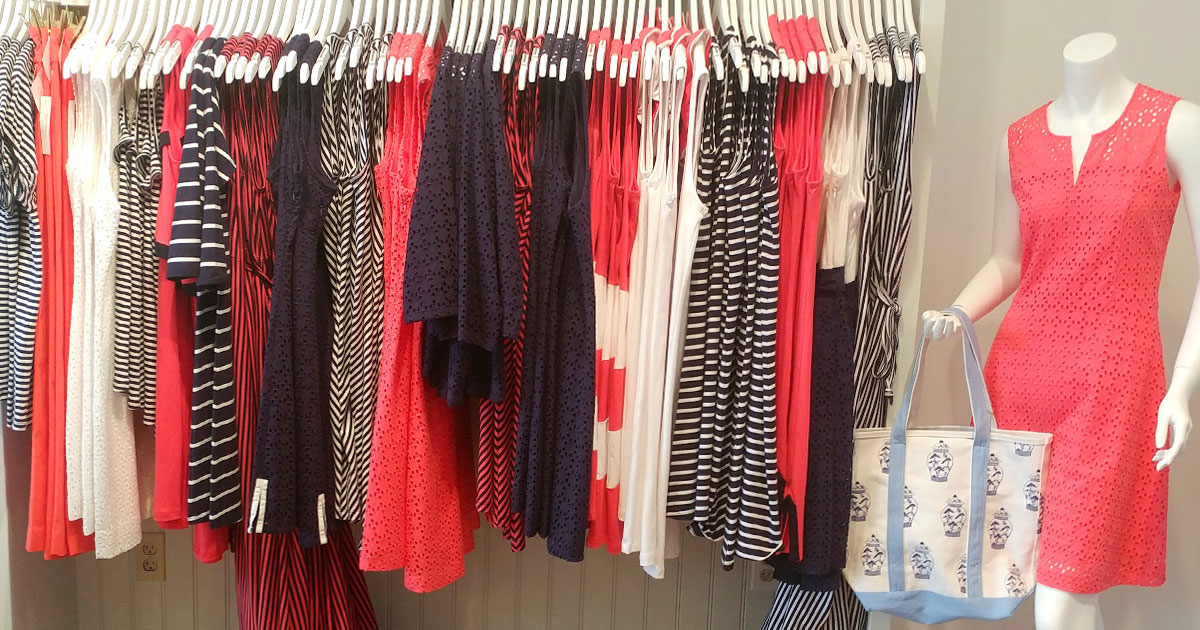 Jamie and her team are excited for this new development, and hope to use it as an opportunity to create personal connections with their customers. As an East Grand Rapids resident, Jamie is living just a few blocks from the new location. This close proximity will allow Jamie to be in and out frequently, opening up a unique forum for constant, direct feedback. As time goes on, she hopes these relationships will help her to continually better the line with each new collection.
Written by Lina Lintemuth, Richett Media.