If you've never experienced the West-Michigan Women's Expo, this is the year to go! This year's event at the DeVos Place includes a full line up of exclusive product launches, shopping, networking and seminars is more exciting than ever before.

"We change it up every year so we always have something new as far as new products and services. Many people launch products to women because women biggest market, so either women going to like it or not. This is the way to find out," says Denise Kolesar, President of Kohler Expos, Inc.
Stop by and meet the West Michigan Woman team at the Expo. We'll be talking about our print version–West Michigan Woman Magazine–coming this August!

Women can glean health and wellness information from the many presentations and booths at the Expo. The American Red Cross will be on site doing a blood drive, and Go Red for Women will be promoting its twelve-week Go Red Better You nutrition and fitness program.
"If you have a health issue, plenty of health experts will be there," Denise says. "Where else are you going to go and talk first hand with somebody? You'll find solutions and a wealth of information."
Denise began the Expo fourteen years ago when an event such as this was uncommon for women.
"Back fourteen years ago, most expos were created for men. I decided women needed their own expo. It was time for Grand Rapids to have their own," she said.
Since then, companies have begun to recognize women as the best market of shoppers and decision makers, and the Expo has seen much growth in participation because of it.
"Women are very independent now…People realize it, even home modeling companies. My husband is not coming home saying 'We need to remodel the kitchen,'" Denise says. "We're an incubator for new companies who are launching a new product."
Women from all over the state, of every age, and "from all walks of life" are invited to partake in the general celebration of the Expo. It's a perfect place for girlfriends to spend the day, or for moms and daughters to get away for an afternoon, Denise says.
The Expo is inspiring to Denise who hopes other women will feel encouraged by all that is available to them.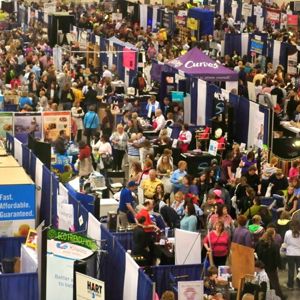 "We cover so many topics because women are responsible for so many things," Denise says.
Events taking place throughout the weekend include the Girl Scout Cookie Cupcake Challenge, "Get Plastered Naturally"–a presentation on a new, eco-friendly wall treatment, and a lecture on publishing your own book will be given by Tricia McDonald, local author of Life with Sally: Little White Dog Tails. More than four hundred exhibits and seminars will keep the event action packed.
"We have a lot going," says Denise. The 2012 Spring Bridal Show of West Michigan will run in conjunction with the Expo.
Denise recommends a four to six hour block of time be set-aside for Expo attendees.
West Michigan Credit Union is sponsoring the Expo. The CU will hold a prize drawing for a $500 gift card. Enter at the Expo.
Visit the Expo website for more information. Tickets are available through the site, or at the door for $8 per person. Pick up your tickets at any Meijer store location for $6.
Written by: Erika Fifelski was born and raised in West Michigan, and after a brief stint on the sunrise side, she's home and loving it. Erika enjoys cooking, sewing, vacuuming, and discovering new ways to live sustainably and support local businesses.