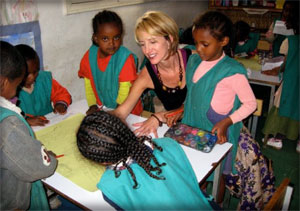 A lot has changed since a young girl from the Midwest saved up her money to buy her first plane ticket to Italy. Six trips to Ethiopia later, Stephanie Schlatter is decorating the pallet of her life with philanthropy, service, and a little bit of paint.
When Stephanie, a former hairdresser, took her first trip to Nepal, she was inspired by the culture of respect and emphasis on communal spirituality. The children there knew how to entertain themselves without iPods and game consoles. But something was missing, and that something was art.
"I wanted to help, but I didn't know how," Stephanie says. "If art is the first program that is cut from schools in America, these kids will never have a chance."
Although she wanted to help kids in every developing country, she knew she had to keep her focus small, at first. She made a contact in Ethiopia, got on a plane, and "worked it out."
Ethiopian students in Stephanie's art classes are 4-6 years old. In a country where the drop out rate is 43 percent by fifth grade, she is using art to inspire creativity as well as interest in the educational system as well as raising money to pay for children to stay in school.
"The core of what I do is using art as an expression."
Click here to watch a video of Stephanie in Ethiopia. Development in motor skills and comprehension of colors are key lessons Stephanie tries to impart on the students during her annual trips. Some children are taking the lessons and fashioning life-long dreams.

"One of the little girls wants to be a teacher," Stephanie says.
Back home, Stephanie sells the artwork created by the children, and puts the money into a fund for the students. She raised $20,000 locally this year through Art Aid for TEFSA.
Stephanie is a full time artist herself, and work sold from her Africa series also aids the Ethiopian school. It takes a team to make Stephanie's original dream a reality.
In the near future, Stephanie will launch Art Across Ethiopia, in which she will work with local and foreign artists alike traveling across the country while creating a "body of work to raise money for kids."
Stephanie says she always has a project. In addition to her work in Ethiopia, she is exploring the art of wine making in Michigan which she reflects in paintings and photography inspired by vineyards across the state. On the Michigan Wine Trail has taken Stephanie to eleven vineyards so far, and she would love to visit them all.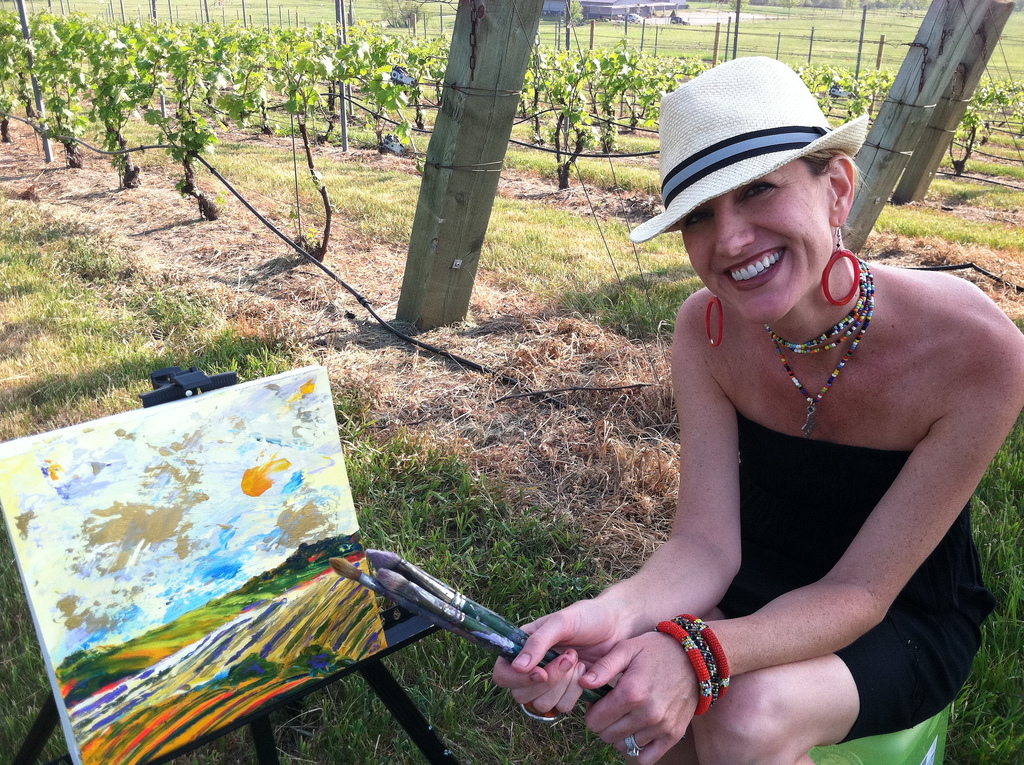 "I don't see an end in sight. There are eighty-one vineyards in Michigan. I haven't even begun to scratch the surface," she says.
Contrasting her worldly travels with time spent acquainting herself with her home state has given Stephanie an appreciation for the resources Michigan has to offer.
"I believe we are one world," Stephanie says. "When I work in Ethiopia, I have to be mindful of being one world and supporting our local community as well."
Visit Stephanie's website to find out more about her current and future projects, or to contribute to Art Aid for TEFSA.
Written by: Erika Fifelski was born and raised in West Michigan, and after a brief stint on the sunrise side, she's home and loving it. Erika enjoys cooking, sewing, vacuuming, and discovering new ways to live sustainably and support local businesses. Photos and video courtesy of Stephanie Schlatter.