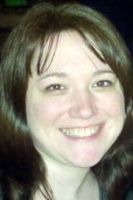 Empty shop windows, scarcely trodden side streets, and defeated, jobless families are icons of Michigan's economic turmoil as of late. But Norton Shores native Amanda Shunta never had plans to leave West Michigan; instead she's making plans to improve it. As the Vice President of West Michigan Jobs Group, Amanda has fought to increase employment opportunities in the Muskegon area, and it appears that her efforts are paying off.
Amanda helped to begin the group in 2010 when developers were looking to build an offshore wind farm in a neighboring community. The plans never did pan out, but Muskegon residents rallied to have the builders consider their own community for the site of renewable energy production. Plans to install offshore wind turbines in Lake Michigan in Muskegon are still in the works, but several acres of land on the Muskegon Waste Water Treatment Plant property will be used for wind power production.
The creation of jobs for West Michigan workers was at the heart of Amanda's advocating for the development. Manufacturers in cities across West Michigan will be employed to create parts for the wind turbines, and workers will be hired to build and run the wind energy sources.
"A lot of these parts can be made locally, and we have enough manufactures…right here in Muskegon. The more need that we can make for these wind turbine parts, the more jobs they will need," she says.
Amanda also works to encourage her community members to shop locally. The West Michigan Jobs Group hosts "Cash Mob" events throughout the year that allow people to shop at often overlooked, but resident-owned businesses. Money spent locally allows tax money to stay within the city limits as well, which will help to improve the community overall.
"Obviously by keeping money locally in the economy, it benefits everybody. The more money that is spent locally, the more that stays locally and goes to taxes for the schools and the roads…There's nothing wrong with big box stores, but I think it's important to remember that there are these other locally owned stores that local people (own)," she says.
Supporting the local economy is a strength of the Muskegon community, Amanda says, but the region is plentiful in many resources. Amanda and her neighbors know that together, Lake Michigan, renewable energy sources, and a universal consciousness for the region well help to sustain its beauty and economic success.
"Sometimes we take it for granted, but it's important to remember all the resources we have right here," she says. "I think we have a community that really does want the best for Muskegon, and it's willing to work at it."