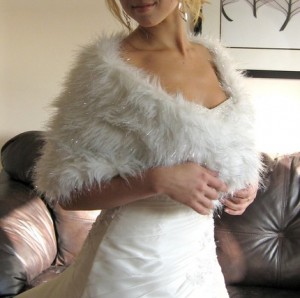 I love when a bride tries a dress on and she says to me, "that looks so wintery." I am always confused because what is a "wintery" look? I see hundreds of dresses every day, and I think any style of dress can be made for any time of the year. Since we are closing in on the holidays, I am going to focus mostly on what trends I have been seeing brides venture to and also what my favorite things are for the upcoming colder season!
Faux Fur Covering. I believe you can do any color of faux fur; white, black, brown etc and it will be beautiful over your dress. The nice thing about this look is it can go any which way from Ball Room to Rustic Affair. Two benefits you don't want to miss out with this item, Warmth AND Style.
Sparkle! Even for the bride that doesn't like a lot of 'bling' it is a Must to have sparkle somewhere! I love dripping everything in crystal and sequins but I can also appreciate the more classic clean look. A lot of brides have been choosing glittery shoes which is so fun because when wearing a long dress, they will only be seen when you want them to. This is a new trend I see that is taking over the colored shoe. Sparkles come in all colors so if you want to do something blue I suggest searching for a blue sparkle shoe. If you want to add a little more sparkle to your look, have the florist wrap your bouquet with a crystallized fabric. And the obvious.. Huge Jewels. Earrings, Necklaces and Bracelets, all of the new 2012 pieces are beautiful and chunky. Everyone can be a princess for a day this way!
The Long Veil. Ladies, this trend is coming back and coming back fast. Most all my brides are ordering long single tiered veils right now. These range from simple to fully beaded or a lace edging. Don't be fooled by whatever one says either, these veils are very much affordable. Plain Veils start at just $55. This look is a must inside or outside a church.
Source: Margaret Torongo owns Renee Austin Wedding in Grand Rapids. She calls herself a "yes person," and her favorite part of the job is seeing a bride light up when she walks out of the dressing room, and knows she's found her dress. Photo provided by Margaret Torongo