In Grand Rapids, right before the pandemic arrived, a small group of women met and carefully broached a taboo topic: money.
It wasn't an easy discussion. Together we shared salaries, family finances, retirement plans and investments—topics usually considered to be the ultimate in private information. But the insight and encouragement we gained from each other during these sessions about women and money ended up leading to raises and promotions for all.
With 21st century women becoming more often responsible for money at home and on the job, we need to build confidence in our ability to steer finances and pull back the curtains on our financial lives. When women share information about career and finances, goals, hopes, dreams—and yes, fears—we can find the crucial support needed for success.
WOMEN AND MONEY
Research in a 2020 report by McKinsey & Company Financial Services showed that by 2030, women will control much of the wealth being left behind by the Baby Boomer generation—an estimated $30 trillion.
Women also are making more money at their jobs—about 6% of women earn $100,000 or more annually. And the number of women business owners went up by 21% from 2014 to 2019, accounting for $1.9 trillion in revenue, according to the State of Women-Owned Businesses Report. Yet, Swiss bank UBS noted in 2019 that while 85% of women control their families' day-to-day finances, few control long-term financial planning decisions.
In the U.S., women and money were legally separated for centuries. While single women and widows had more financial control in early America, it wasn't until the 1960s that married women were permitted to open their own bank accounts without their husbands' names on the account. In addition, it was the 1970s before a woman could get a credit card in her own name, without a male co-signer.
Knowing this, it's not surprising that even today, women are less confident—not less knowledgeable—when it comes to handling money, according to the Global Financial Literacy Excellence Center released in March 2021.
WOMEN IN CHARGE WITH CONFIDENCE
We need to build confidence in the driver's seat. How can we do this? By learning, sharing ideas and creating a better support system for women to push for more in their careers. Women need to create safe communities to empower each other's financial expertise. Friends, relatives and mentors can become financial doulas for each other by learning, sharing ideas and creating a better support system for career management.
I believe there's more to financial management than hitting a certain return on investment; it's about funding a life that has meaning.
Currently, the general consensus is that the financial services industry is falling short of women's expectations. Why does it take a traumatic experience such as divorce or widowhood for a woman to be put in the driver seat? It shouldn't.
Most of my professional women friends are in control of their household finances and out-earn their husbands, yet they're shy to talk about compensation structures or ask for what they want in terms of benefits, compensation or professional advancements.
About a year and a half ago, two of my closest friends and I broached the subject. We had an open conversation about topics such as on-the-job earnings, saving for retirement and how to position ourselves during annual reviews. It was so insightful and encouraging.
When each of us talked about raises, for example, we would make excuses. That's when the others rallied around, saying, "You are worth it. Ask for that raise. State what you want and what would make you happy."
WINE, WOMEN AND MONEY
Writing for CNBC.com, financial journalist Alicia Adamczyk described the "Money Salon" she conducted in early 2020 over snacks and wine with a few close women friends. Adamczyk reported that while they didn't resolve each and every issue, simply discussing money freely was a beneficial experience.
Adamczyk shared these ideas for assembling your own "Money Salon":
Invite only a few friends who are comfortable around each other, and who can be trusted—and agree to keep private information private.
Set expectations ahead of time. Make this a "judgement-free zone."
Have a list of specific topics to discuss but let the conversation flow naturally.
Ask questions.
Be open to new perspectives.
Why isn't there more of this? There needs to be.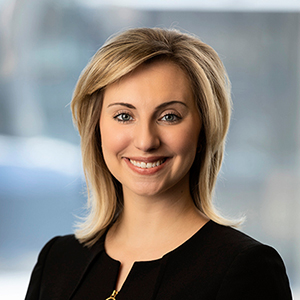 Anastasia Wiese JD, CFP® is a Senior Financial Advisor for Grand Wealth Management, LLC. Anastasia's core strengths and interests include wealth advising for professionals, executives, and individuals in transition. She also focuses on company retirement plan investment management services, including 401(k) plans, cash balance plans, and ESOP Cash Accounts. She is a member of the State Bar of Michigan, the Women's Lawyers Association of Michigan, and the Grand Rapids Bar Association, and is a CERTIFIED FINANCIAL PLANNER™.
Disclosures:
Grand Wealth Management, LLC ("Grand Wealth") is a registered investment advisor. Advisory services are only offered to clients or prospective clients where Grand Wealth and its representatives are properly licensed or exempt from licensure.
All information has been obtained from sources believed to be reliable, but its accuracy is not guaranteed. There is no representation or warranty as to the current accuracy, reliability or completeness of, nor liability for, decisions based on such information and it should not be relied on as such.
Photo courtesy of Anastasia Wiese, JD, CFP®