Although we're continuing to get snow flurries in Michigan, Easter is just around the corner! After months of gray weather and few reasons for big celebrations, it's time to get creative. Whether you celebrate with a small or large group, bright spring colors and a festive table setting can really set the mood for a great Easter holiday event.
#1 – One of my favorite things to look forward to each spring is the birds returning! Hearing them sing is a clear indication that the seasons are changing. This tablescape has a nest runner and a color scheme of robin's egg blue—I love the natural beauty! It can be recreated with hard boiled or chocolate eggs, nests purchased at a craft store, and any spring color for the coordinated monochromatic placemats and napkins. Photo: Martha Stewart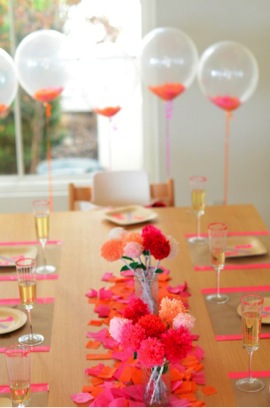 #2 – This tablescape is all about crafting! The bright colors and playful elements would make for a fun Easter meal. Tissue confetti creates a table runner and adds interest inside clear balloons. Kraft paper placemats edged in tape or painted are easy to pull together and make cleanup a breeze! And I love the yarn pom "flowers"—they would be in bloom all season long, and then some. The pink and orange colors are bright and festive for any group, but I definitely think kids would appreciate this table! Photo: Camille Styles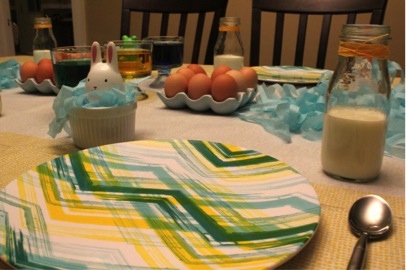 #3 – This set-up is directly geared toward a traditional Easter activity: dying hardboiled eggs! Just a few simple decorations transform this afternoon tradition into a really special event. A palette of green, yellow, and blue anchored by patterned plates brings the table together. Fun patterned plates could be found at secondhand shops or even the dollar store to inexpensively pull together a new and fresh look on your table. Photo: This Nest is Best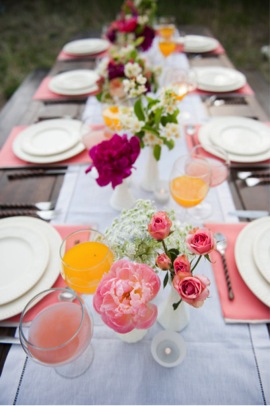 #4 – Fresh flowers are harder to come by in the winter. But as the season turns to spring and flowers start to bloom, it's great to feature them on your Easter table. This tablescape is easy to recreate by picking up a bouquet from the grocery store. Separate the blooms by type of flower into bud vases, to line the center of the table. Let the bright blooms shine with a white runner and plates, and add an extra splash of color with coordinating pastel placemats. Photo: Style Me Pretty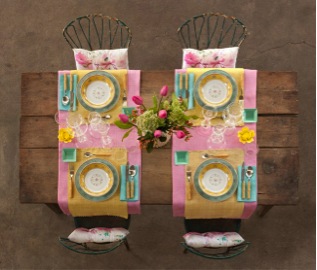 #5 – Sometimes a gathering calls for going all out. Floral centerpiece, runners, placemats, fine china—the works. If you're hosting a dinner, light candles. Goblets may be used for any beverage, even just ice water. And if you're fortunate to own grandma's silver? Use it! If you can't pull out your best for Easter Sunday, when can you? Adding a few bright pastels to the tablescape guarantees the look will feel fresh and fun, without getting too stuffy. But there's nothing wrong with being a little formal now and again! Photo: Belgian Pearls
Written by: Rebecca Lemon is the writer and founder of This Nest is Best, West Michigan event planning and design blog. Rebecca lives in Grand Rapids and enjoys celebrating milestone events from birthdays to anniversaries, new jobs to graduations, weddings to births, and everything in between.