Memorial Day, originally called Decoration Day, is a day of remembrance. For many, the day has evolved into one of celebration of those who have served and sacrificed for us all. Many of you will make road trips or attend parades; many of you may head to a backyard barbecue. Whatever your plans may be, I'm guessing there's a dish to pass, a dessert that needs to be made, or a special cocktail that could spice up the occasion. Here are a few suggestions that will keep you in the holiday spirit and certainly be memorable.
APPETIZER: Black Bean Salsa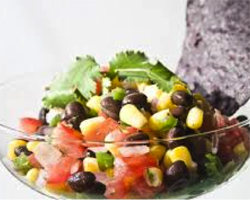 Appetizers are a staple at any gathering in our home. In fact, we often will only serve appetizer spreads. I have seen the following recipe in so many variations, but I will tell you that there have been few times where there've been leftovers of this black bean salsa.


1 can black beans
1 can corn (Drain in a strainer while you prepare the other items.)
4 diced and unseeded Roma tomatoes
1/4 cup red onion, chopped
Cilantro, about 1/3 cup chopped
2 avocados, chopped (Add avocados right before serving to avoid discoloring.)
Mix everything together in a mixing bowl.
Dressing: Purchase a package of good seasoning Italian dressing. Make per the package instructions.
---

SIDE: Pasta Salad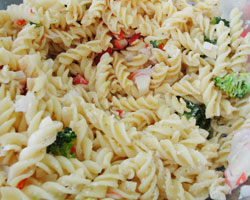 Let's face it: Most barbecues will have hamburgers, chicken breasts, or hot dogs. Why mess with a good thing, right? Adding a great pasta salad to the table will complete the holiday menu. Here's a pasta salad that gets rave reviews—and it's quite easy to make.


1 package of spiral pasta
(Cook to the directions on the box, while preparing the other items.)
Combine in a bowl:
1 package of imitation crab meet, chopped
1 cup of broccoli florets (no stems)
3 Roma tomatoes, chopped and seeded
4 chopped green onions
Dressing:
½ cup mayonnaise
¼ cup Zesty Italian dressing
2 tbsp. Parmesan cheese
Mix together, chill, and serve in your favorite serving bowl!
---
DESSERT: Fruit Pizza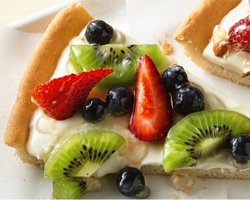 Completing every great holiday is a sweet treat. There are so many options available! Pinterest is chock-full of Memorial Day ideas. I have done the flag cake, which was a hit. (Don't add the fruit until ready to serve. It stains the frosting.) But what I found to be a hit for kids and parents alike is this great fruit pizza. It's easy to make, looks great, and curbs the sweet tooth. Take the liberty to make this look festive for any holiday.


Sugar Cookie mix: Follow the recipe on the back of the bag, but make one large round cookie and let it cool.
Frosting: Apply one jar of cream cheese frosting, sparingly.
Toppings: Use whatever fruits you and your family like. I typically use peaches, strawberries, kiwi, and blueberries.
Sealer: Heat a jar of apricot preserves in the microwave. Strain it in a strainer and pour over the pizza. This will seal in the fruits and give it that extra great taste you are looking for.
There are so many options available for holidays. These are just some staples that I can tell you from experience are a hit!

Written by: Kasie Smith is the president and publisher of West Michigan Woman.