One home decor feature that has been floating around a lot lately is the styled bar cart. It's probably a page taken from the 1960s Mad Men era, but no matter where it came from, I'm very much in favor. As our dining room progresses, I've been working on styling our own bar. I've noticed a lot of similarities in the bars that I pin—they're typically colorful, have gold details, and contain some whimsical elements. Still, I still tried to bring a little variety here!
Crush #1 (right) This beautiful bar from Style Me Pretty Living is so soft and girly, just look at those heels on the bottom shelf! This bar also sports a popular element of the styled bars I've seen around: the gold shaker and glasses set that was available at Target over the holidays. In person, I didn't fall in love with the shaker and glasses set, but my heavens do they photograph beautifully!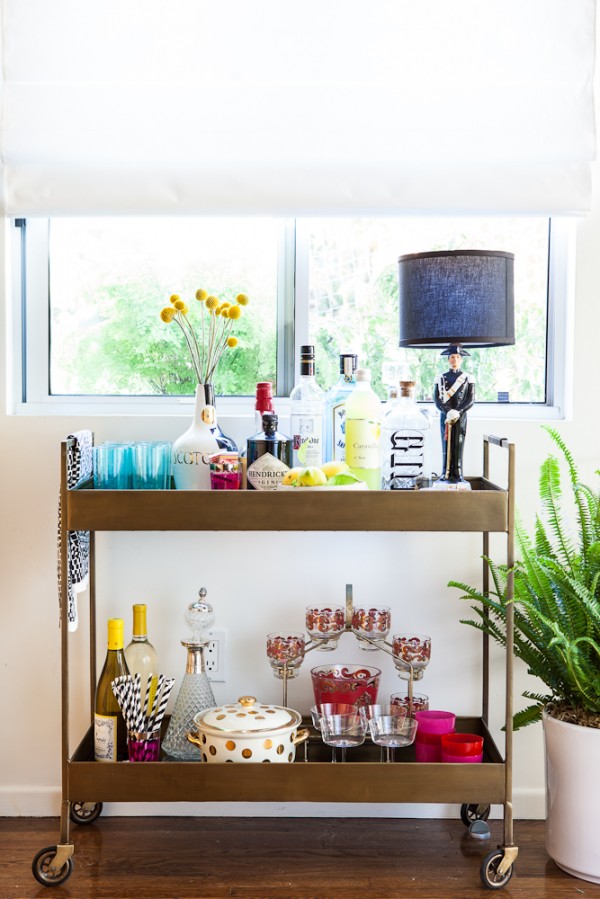 Crush #2 (left) This bar is all about cheeky touches, color, and some truly vintage elements. Shown on Style by Emily Henderson, this cart definitely shows how you can incorporate a lot of bright colors and it can work. Plus, check out that lamp! Serious style there! This cart makes me want to scour flea markets to find an amazing vintage rocks set. Although you won't believe some of the things I've already found!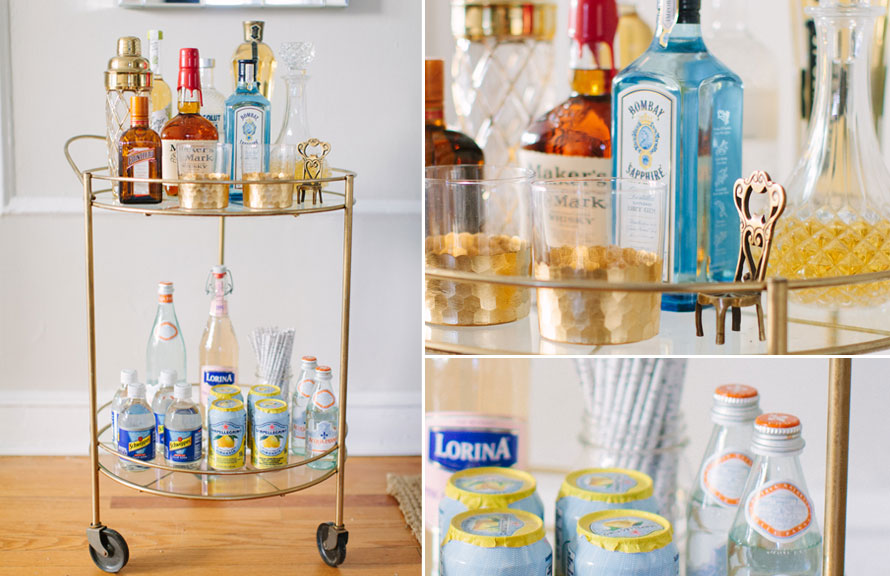 Crush #3 (right) This smaller cart just kills me with cuteness. Wouldn't it be fantastic in the corner of a bedroom? So swank for a nightcap. And again you can see my obsession with the colors, touches of gold (those glasses!)…and there's that darned Target shaker again! The Every Girl featured this one, and I truly find it adorable.
Click here to see more pictures and get three more tips for crushworthy styled bars from Rebecca Lemon, writer and founder of This Nest Is Best!

Written by: Rebecca Lemon is the writer and founder of This Nest is Best, West Michigan event planning and design blog. Rebecca lives in Grand Rapids and enjoys celebrating milestone events from birthdays to anniversaries, new jobs to graduations, weddings to births, and everything in between.