Now that we have passed the unofficial start of summer, we Michiganders know that it is time to take advantage of entertaining outdoors! Creating an outdoor space for entertaining is like adding a room onto your house. A few well-chosen accessories can make the space work even better for hosting friends and family for an enjoyable event.
Lighting …
Just as inside your home, lighting can make all of the difference outside—particularly when an event runs into the late night hours. Candles, of course, always give off a warm glow and citronella options can be helpful for keeping away the pests. Fire pits serve both the lighting purpose and as a great excuse to break out the s'mores! And my personal favorite outdoor lighting options are strands of bistro bulbs strung overhead. So dreamy ... Photo: Style Me Pretty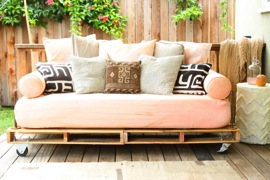 Seating …
For any outdoor event, make sure you have ample seating available. From table and chair sets to lounge-worthy couches, the outdoor furniture options available are as gorgeous as the indoor options. Teak and metal are great materials for the long haul, but Craigslist can be a wonderful source for a diamond in the rough. (Spray paint can do wonders!) If you're of the DIY persuasion, there are amazing tutorials for pallet furniture online. Photo: Pretty Prudent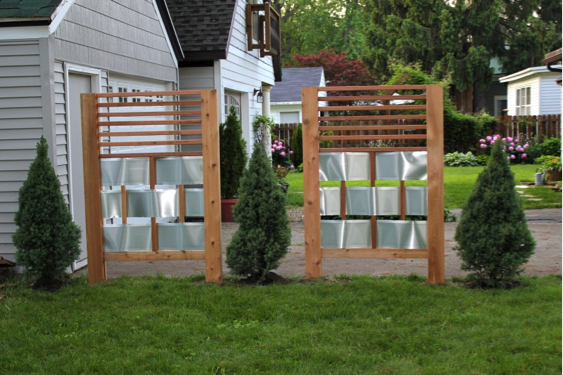 Privacy …
When entertaining in the backyard, it is helpful to have some level of privacy from neighbors so you don't feel that you're being a bother while enjoying yourself. Depending on your lot layout, the level of privacy needed will definitely vary. Tall grasses, a privacy fence, or a hedgerow are all options for creating a barrier. Fountains and water features can also give a level of noise privacy, for you and your neighbors. Photo: This Nest Is Best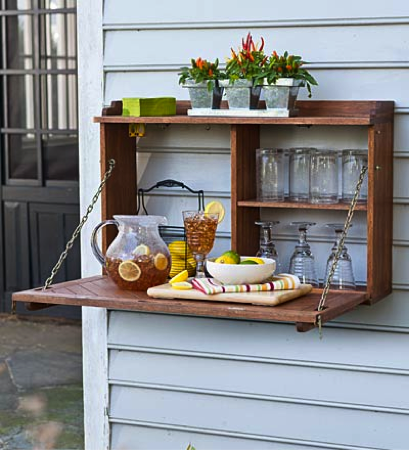 Entertain station …
If there is room in your garage, patio, or deck, carve out a space to store your outdoor entertaining items. This keeps things nearby for impromptu gatherings and can encourage you to use the outdoor space more often. A small collection of outdoor-friendly glasses and dishes, napkins, and nonperishables are just a few of the things that would be helpful to have on hand. Throw in some outdoor games and the evening is set! Photo: Plow and Hearth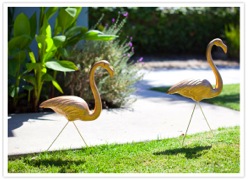 A bit of whimsy …
With all of the practical and useful things you can add to your backyard, it's definitely important to infuse a bit of whimsy and your personal style into your outdoor space. These gold flamingos are just the thing to lighten the mood. Perhaps you would prefer birdfeeders, colorful throw pillows, or a garden gnome. Whatever your tastes may be, make sure that your outdoor space reflects you—just like your indoor space. Photo: 100 Layer Cake
All of these elements will make your outdoor space feel more comfortable for you and your guests, and encourage you to spend more time in the space. Enjoy your summer!
Written by: Rebecca Lemon is the writer and founder of This Nest is Best, West Michigan event planning and design blog. Rebecca lives in Grand Rapids and enjoys celebrating milestone events from birthdays to anniversaries, new jobs to graduations, weddings to births, and everything in between.