With the social website Pinterest becoming a hot place to look for ideas about anything, this is one idea that could become the new trend in baby shower decorations and gifts. Whether the baby is a boy, a girl, or unknown, these centerpieces could be the absolute talk of the party—as well as completely useful after the shower is over.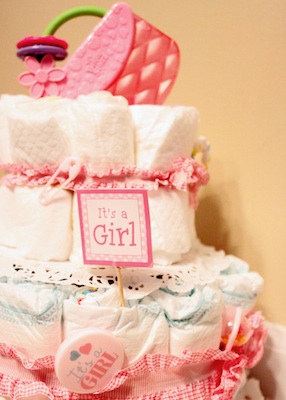 Baby Cakes
The pregnant mom will have a lot of diapers to change, no question! But celebrations come first, and these cute little cakes made out of diapers are made for the occasion!
All you'll need are diapers rolled up in two tiers; two cardboard circles with doilies to cover the cardboard edges; a cute pink, blue, or yellow ribbon; and dollar store baby items such as fake pacifiers, safety pins, rattles, and rocking horses.
Top it all off with a different toy per cake. This is a great way to give a gift to the mother a nontraditional baby gift.
If you are attending a baby shower, put the cake in a basket, wrap it up in tissue paper or cellophane, and tie it with a ribbon. Who wouldn't love a cute and useful gift like this?
Oh, Baby!
Other ideas for gifts or centerpieces could include a baby motorcycle made out of diapers, pajamas, and a bottle for the headlight; baby onesie cupcakes; books wrapped in a soft blanket and tied with a cute ribbon; or baby bottles made from a blanket, a bottle and a onesie.
Step away from traditional baby gifts: Come up with something creative and fun that will be remembered long after the baby is born.
Written by: Chelsea Stoskopf, an intern at Serendipity Media. The idea for these cakes came from her mom, Wendi who is planning a baby shower for a friend.