Sometimes, crafting a homemade dish for your upcoming holiday gathering just isn't in the cards. The intention was there, but alas. It happens to the best of us!
Whether you're the kind of person who loves to plan ahead or the type to grab something at the very last minute (we're talking enroute to the party), West Michigan has plenty of options for party-pleasing delights that are just waiting to be picked up and enjoyed amongst loved ones.
THE CHEESE LADY GRAND RAPIDS
thecheeselady.net
Visit The Cheese Lady's independently owned Grand Rapids location to scoop up an assortment of savory and sweet delicacies sure to please the palate of any guest. Not exactly sure what you're looking for? The good news is that sampling and asking questions are encouraged.
They recommend trying a big wedge of Brie and some Almondina crackers; Manchego with pear jam and Marcona almonds; a bloomy rind goat cheese with hot pepper jelly or oil and herbs; marinated feta with a sliced baguette; or one of several gift baskets.
The store—which offers curbside pickup—is happy to gather your order prior to arrival, in addition to creating custom cheese boards for your gatherings (24-hour notice minimum).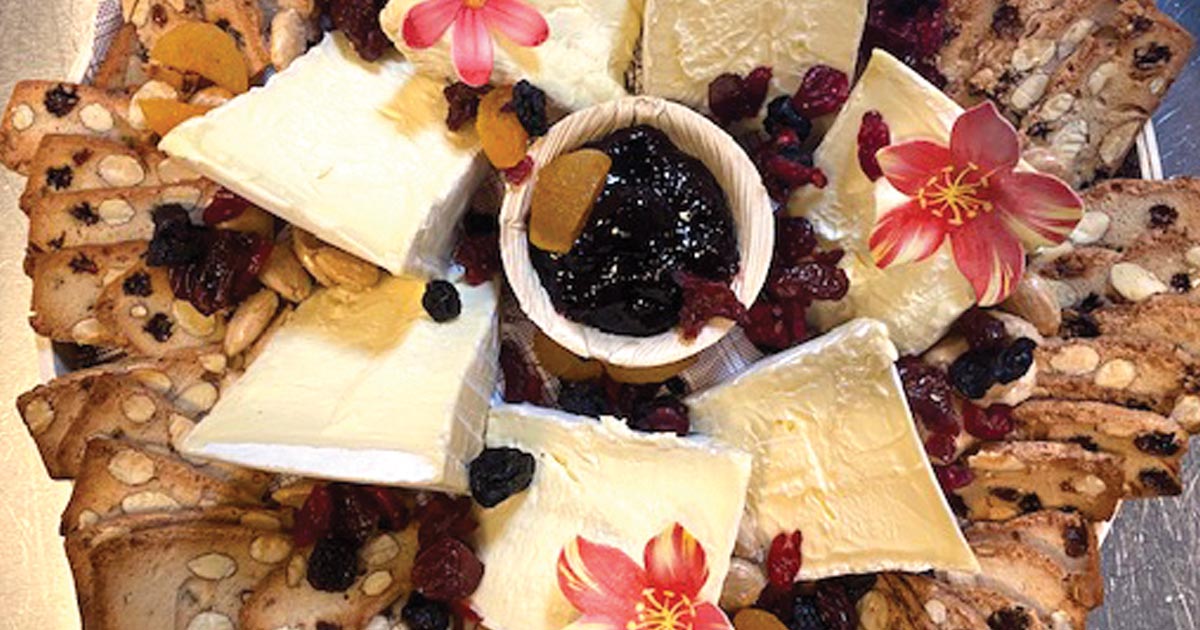 CHERRY REPUBLIC
cherryrepublic.com
Those on the lakeshore could head to Cherry Republic's Holland retail location for a truly tart experience (in a good way, of course). A made-in-Michigan haven, Cherry Republic carries more than 200 specialty cherry items including dried cherries, salsas, barbecue sauces, candies, chocolates, jams and preserves, bakery items, nut mixes, savories, pop, beer and wine—not to mention gift boxes.
Some popular items include the sweet Dark Chocolate Cherry Nut Mix, the salty Cherry Public House Snack Mix, the Original Cherry Salsa and the Cherry Salsa Verde. For a unique holiday appetizer, combine the Savory Cherry Pepper Jelly with the Cherry Nut Mix and cream cheese. It's a staff favorite for a reason!
Need a lot of something for your gathering? Call ahead and you'll save 15% on a case of whatever your cherry-loving heart desires.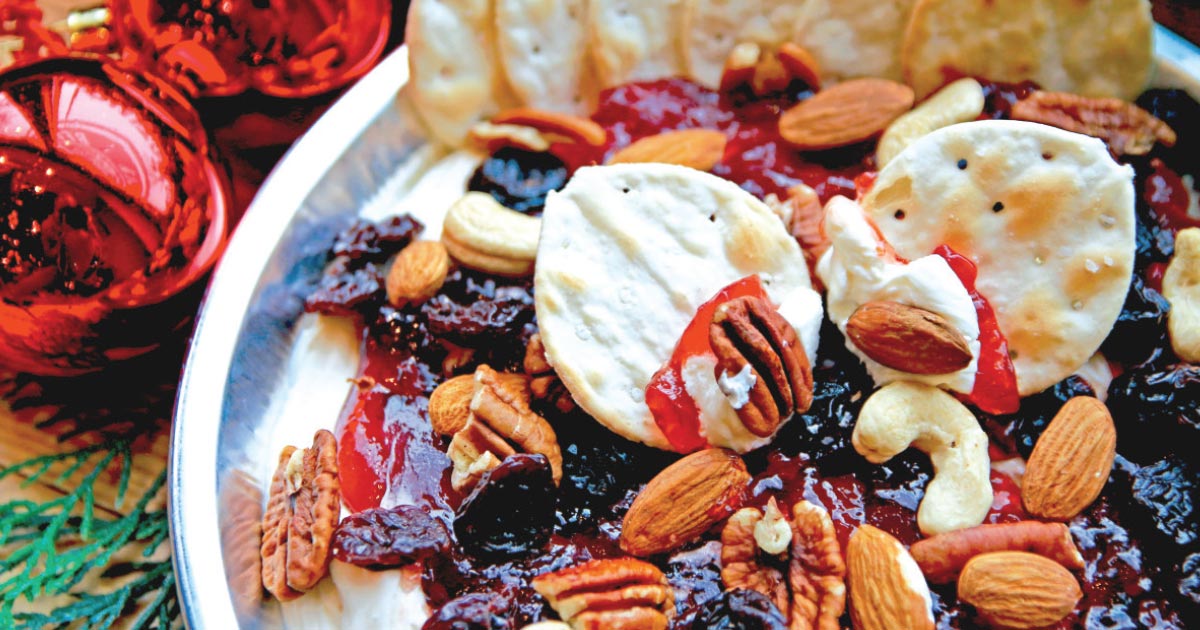 MARTHA'S VINEYARD
mvwines.com
Celebrating 40 years in business, Martha's Vineyard is an ideal destination for those seeking a masterfully curated selection of delicious local, imported and hard-to-find goods, not to mention a deli and grocery.
Spend some time perusing their stellar wine selection—spanning from entry-level to high-end—to find something your fellow party goers will love to sip (they recommend going with a medium bodied red wine, if you're unsure). For something unexpected, pick up the Mirzam Date & Fennel Bar, which features a thin layer of date and fennel paste enrobed in a super fine dark chocolate. Or choose from a variety of artisan desserts and cheesecakes, made by Nantucket Baking Company, found in the deli.
The well-loved, family-run business also has no shortage of options for artfully presented cheese and charcuterie boards (48-hour notice minimum), along with standard and custom-order gift baskets available for pre-order.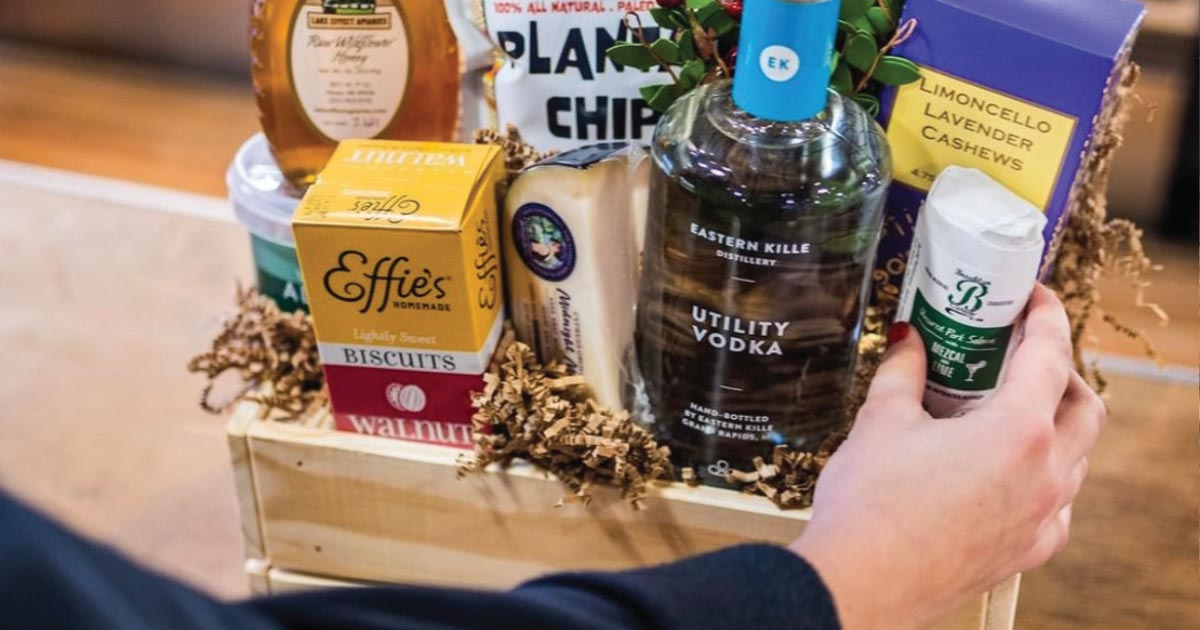 MOKAYA
mokayagr.com
For artisan chocolates and confections that taste and look like an absolute dream, a stop at Mokaya on Wealthy is an absolute must for your holiday party.
From truffles and bonbons to pastries and desserts, all of Mokaya's products are made in-house, by hand and in small batches using fresh ingredients (no preservatives or artificial flavors found here). Mokaya also uses couverture chocolate from U.S. and European companies that source cacao ethically and sustainably.
During the holiday season, the shop creates a number of specialty items that celebrate the flavors of the holidays, perfect for taking to your next gathering: A six-piece flight of truffles and bonbons, colorful cocoa bombs, peppermint bark and a "smashable" tree filled with chocolate treats—just to name a few.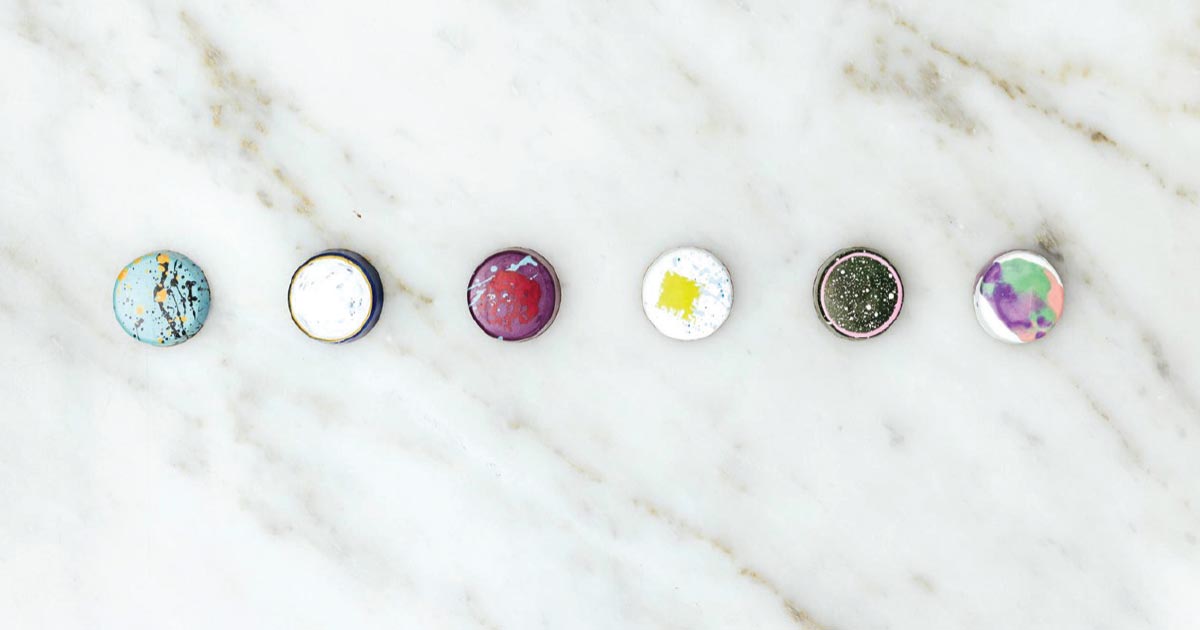 Written by Sarah Suydam, Managing Editor for West Michigan Woman.
This article originally appeared in the Dec '22/Jan '23 issue of West Michigan Woman.