You may have noticed the bright blue containers situated on Wealthy and Fuller in Grand Rapids and on 17th Street in Holland. Did you realize they're your key to simplified shopping while supporting local businesses, restaurants, farms and more?
The containers belong to Cubi Market, a quick and easy shopping option that allows those in the community to buy local, sustainable and fresh ingredients all in one place. The company focuses on keeping money in the community by working with business owners who are invested in stimulating and supporting our shared local economy. Shopping local means "voting with your wallet," endorsing local businesses that are more likely to embody your values and listen to your desires in a more impactful way than big-box brands are likely ever to do.
The team at Cubi has come up with an innovative way to support local merchants while providing shoppers with the baked goods, fresh veggies, locally roasted coffee, home goods, high-quality meats and more.
So, how does it all work?
Once you place your order at cubi.com, the team gathers all your items and drops them off for pick-up at one of their two locations. Simply select, buy and pick a time. Their website selection is vast, full of prepared meals, beverages, desserts, artisan goods and home products—all grown, created and prepared in West Michigan. Once you fill your cart, check out and schedule a convenient pick-up time at one of the locations. In the meantime, your goods are kept fresh in a temperature-controlled locker.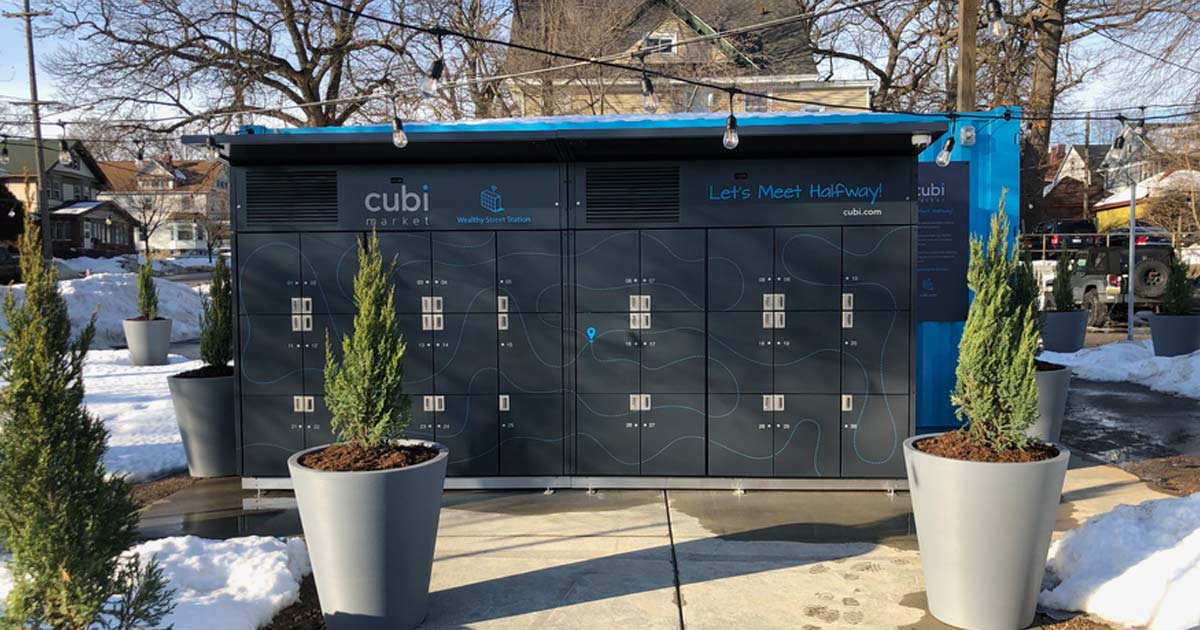 We often think of farm-to-table as it relates to local restaurants, but now you can personally source farm-fresh products to your table. The temperature-controlled transportation of your selected produce and goods ensure your purchases are able to be enjoyed at peak freshness.
Best of all, Cubi Market is reducing waste with their packaging. When you pick your order up from a Cubi Market temp-controlled locker, it's presented in a paper bag with minimal amounts of plastic packaging. With the environment, community and merchants in mind at every step of the shopping process, your grocery budget will help support the local economy, reduce waste from unnecessary packaging and cut back on transportation.
Remember, all you need to do is:
Browse: Visit the Cubi Market website to explore ultra-fresh produce, mouthwatering meals, handy pantry items, and unique personal care products.
Buy: Once your order is placed, Cubi Market merchants thoughtfully prepare your items. You can also access several recipes designed specifically for the items sold through Cubi Market.
Pick up: Select your preferred pickup day from your chosen Cubi Market station. The Cubi Market team will have your order ready for you to pick up anytime between 11 a.m. and 11 p.m.
To learn more and check out Cubi Market's latest offerings, visit Cubi Market and follow along as they add new merchants and feature local farmers on their Facebook and Instagram.
Written by Paul Mixa, Marketplace Director for Cubi Market.
Photos courtesy of Cubi Market.