Situated on a beautiful 48-acre farm plot in rural Fennville, Virtue Cider has become a well-known cider staple—in West Michigan and beyond.
Find out why Virtue's 3rd Annual Apple Fest is the place to be on October 20, 2018.
Virtue's Apple Fest is truly an autumnal celebration, fit for those of us who feel the crisp air of October, pause and exclaim excitedly, "Finally!"
Featuring apple-themed games, Percheron-led cart rides, a farmers market, delicious food and more, Apple Fest certainly won't leave anyone bored. Visitors can get lost along the dog-friendly trails, navigate a field maze or relax by a fire pit—with a beverage in hand from the greenhouse bar, of course.
Those who want a closer look at the cidermaking process can take one of several production tours offered that day, along with experiencing educational apple-pressing demonstrations.
If that wasn't enough already, the music at Apple Fest is motivation to make the trip. The evening is headlined by Grand Rapids-based band Major Murphy, fresh off playing the Audiotree Music Festival in Kalamazoo. Rounding out the event on the Virtue Cider Stage are American Grizzly, The Family Gold, The Long Lost and Thomas Comerford.
Virtue Cider was founded by Gregory Hall, former Goose Island Beer Company Brewmaster for 20 years, in 2011. It's not the least bit surprising that folks at Virtue know what's up.
When you think of cider, you may immediately have a certain flavor in mind. Virtue Cider breaks that mold in a way that's innovative and literally refreshing, combining traditional techniques with new approaches—from the popular Michigan Apple and Rosé to the Norman-style cidre brut Lapinette and The Mitten, a blend of apples aged in bourbon barrels with notes of vanilla, caramel and charred oak.
While you're there, hit up the Taproom to try the seasonal offerings—some of which aren't available anywhere else—or a snag a tasty Frozé. Afterward, poke your head in the nearby Bottle Shop for some local fare to take home. In addition to Virtue merchandise and ciders, the shop is stocked with a wide selection or curated charcuterie, cheese and snacks from nearby local producers—something Virtue places a high priority on including.
When visiting, don't be surprised if you get to pet an animal or two, thanks to Virtue's heritage breed rehabilitation program. From Gloucestershire Old Spot pigs, Icelandic sheep and a variety of chickens to a giant rabbit and Pippin—a "star of the show" cat—the gang is all here. Other than being really cute, Virtue's animals help keep the property trimmed through their rotational grazing program and keep the soil healthy. They also receive lots of love and care from staff and farm visitors alike.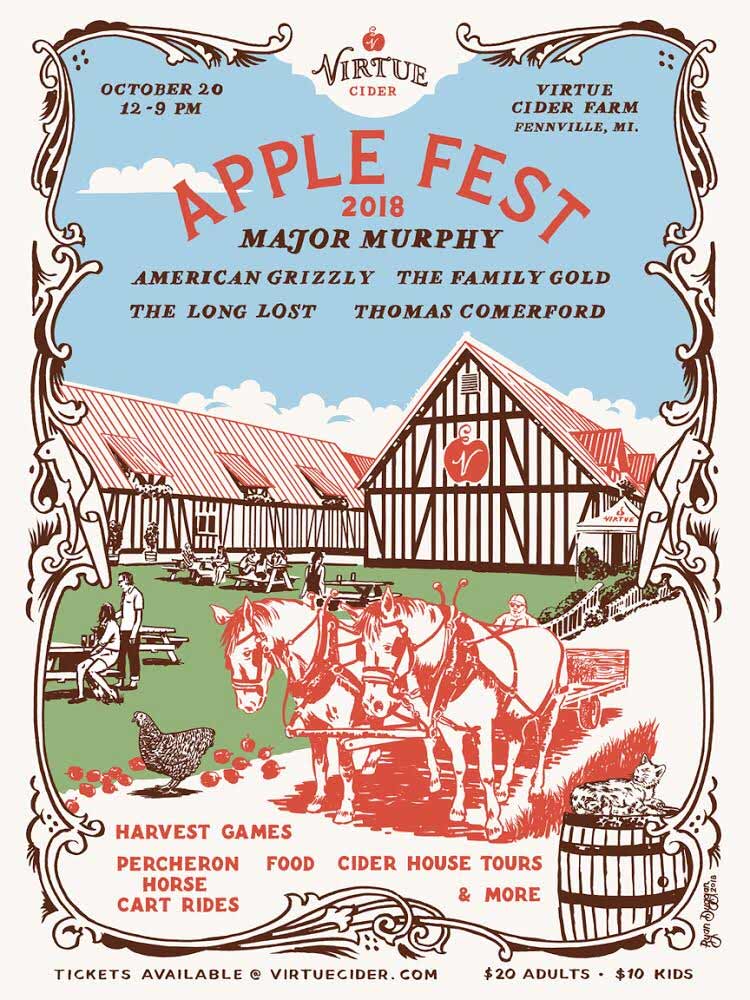 Visit Virtue Cider to learn more and get your tickets to Apple Fest.
Written by Sarah Suydam, Staff Writer for West Michigan Woman.
Main photo courtesy of Sarah Suydam.