The Fourth of July is a favorite holiday for our family. What could be more fun than warm summer temps, fireworks, and celebrating our wonderful country and freedom? And like any decent holiday, it always includes yummy food—as well as adult beverages, if you're in any way associated with my family.
Most years we head north to Crystal Mountain Resort & Spa in Thompsonville. They have a lot of great stuff happening there for families, and if you haven't yet visited there in the summer, I highly recommend it. Usually I rest easy knowing my mother-in-law will have some special patriotic-themed goodies ready to delight my boys. But this year she can't be there, so I need to step up to the plate.
Here is a fun collection of ideas I found online that seem relatively simple and offer something for everyone. Do you have any favorite recipes or treats for the Fourth of July celebration? If so, please share!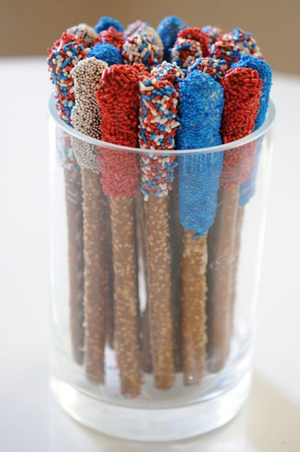 Something to snack on:

Pretzel Rod Sparklers
I'm a sucker for the salty sweet combo of chocolate-dipped pretzels. A bonus is that you can make them a day ahead and they look pretty on display! Just be sure to make more than you think you'll need. They get snatched up fast! Oh, and don't forget to add a tablespoon of shortening per 8 ounces of chocolate. It creates a smoother consistency to work with.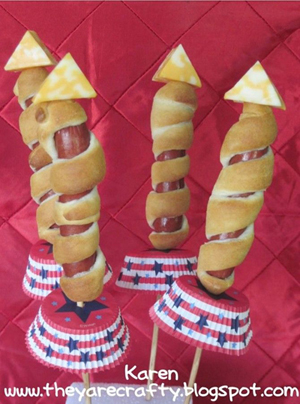 Something for the kids:
Rocket Dogs
How stinkin' cute are these? All you need is some patriotic muffin cups, wooden skewers, hot dogs, crescent rolls, and block cheese.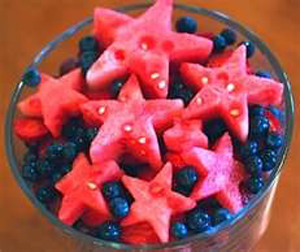 Something healthy:
Festive Fruit
Everyone will be eating enough junk over the weekend, so you might have better success sneaking in something healthy with this festive fruit.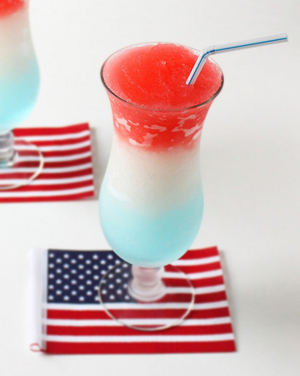 Something for the adults:
Frozen Boozy Bomb Pop Drink
Who doesn't remember the taste of bomb pop popsicles from their childhood? (Blue was my favorite!) Here's a fun way to be a kid again, but with an adult twist. You'll need sugar, vodka, fresh lime juice, blue raspberry vodka, and cherry vodka.
For the complete recipe and instructions, click here.
Written by: Jill Carroll is the marketing director for West Michigan Woman. We know what she'll be eating this weekend ...
Photo courtesy of Karen at www.theyarecrafty.blogspot.com