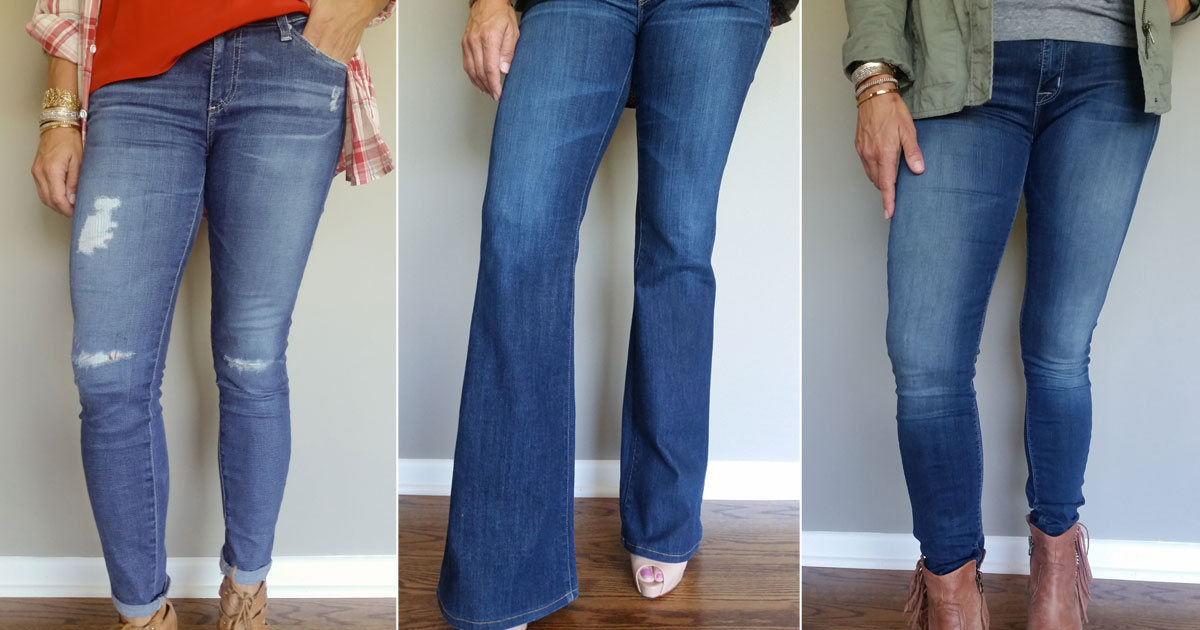 Isn't it enough that you've found the right jeans—the ones that fit and flatter?
No. It isn't.
Now, it's a matter of taking good care of those jeans, so they'll be around to enjoy for a long time. Contributing writer Missy Black asked around about tips and tricks to extend the integrity of your denim, so it looks great for years to come. Here, DENYM owner Katie Harney and Evereve owner/stylist Lisa Jabara offer sound, stylish advice.
The less you wash denim, the better, notes Katie Harney, owner of DENYM. "I would say I typically go four to six times before I wash them. That helps lengthen the life of your jeans." Unless you've dropped your lunch in your lap, give your styles some leeway when it comes to laundering.
When washing premium denim, heed Lisa Jabara's rule: "Always wash inside out, cold water, and never put in the dryer." Heat can break down stretch material and can affect longevity and quality.
Consider dry cleaning, which will help keep your denim's shape and wash intact. While a dry cleaning bill might make you cringe, think of the investment: You'll maintain your jeans' quality and not having to purchase others to replace them.
Harney recommends hanging denim or laying it flat to dry. If your styles have a little stretch, she suggests putting them in the dryer for half of the time. This helps to get the stretch back, she notes, adding, "I let them air dry for the remainder of the time." Keeping jeans in the dryer for the complete cycle could take a toll on jeans.
If you like your denim dark, keep that moody hue the same as the day you bought it by keeping jeans out of the dryer. They'll stay darker that way. Try turning jeans inside out and washing with cold water, for the same reason. Also try using a cup of vinegar or salt in your first wash, which helps set the color in your denim.
Extremely dark denim should be washed before the first wearing. If you have a light leather interior in your vehicle or lighter shades of furniture, the denim dye may not have set—and you may find, unfortunately, that the color is transferring from your jeans to those lighter objects.
What about storage? Jabara urges you to fold jeans, as hanging them can pull on the material.
Have a stain that won't come out of your favorite jeans or other denim? Rub some sandpaper on the spot to create a little distressing or a tiny hole, for a vintage, worn-in look sans that grease spot. It's a great way to keep wearing an item you may have considered a lost cause. It's also inexpensive and stylish, and nobody needs to know—and really, how would they with all of the scratched and defaced styles that are so popular?
http://www.denym.com | http://www.evereve.com
To learn about finding the right fit for your figure, visit the October/November West Michigan Woman magazine.
Written by Missy Black, a footwear fanatic, a style child, and a contributing writer for West Michigan Woman.
Photos courtesy of Evereve.