Local First will hold its tenth annual Street Party, presented by Founders Brewing, with stage sponsor Celebration! Cinema, in front of Bistro Bella Vita on Saturday, June 1, from 3 p.m. to 12 a.m. New this year is the 3 p.m. start time, which will extend the event by one hour. Also new this year, Local First will host family-friendly art stations, where children and parents could create art together for free. Local Artist REB Roberts will lead sculpture making, and sidewalk chalk will be widely available. REB Roberts is also the designer of this year's Street Party poster. This year's event will also feature roving performance artists who will entertain the crowd throughout the day.
This year's band line-up features an eclectic mix of Michigan music that has something for every kind of music fan. First up will be folk duo Seth Bernard and May Erlewine, followed by local legend Ralston Bowles. Next will be Cabildo, with danceable Latin rock. Led by the principle percussionist at the Grand Rapids Symphony, the instrumental surf rock group The Concussions will perform. Second to last will be The Crane Wives, with their high-energy Americana. Indy rock sensation Step Dad will close out the night. Popular Grand Rapids Soul Club will spin vintage soul and funk between sets.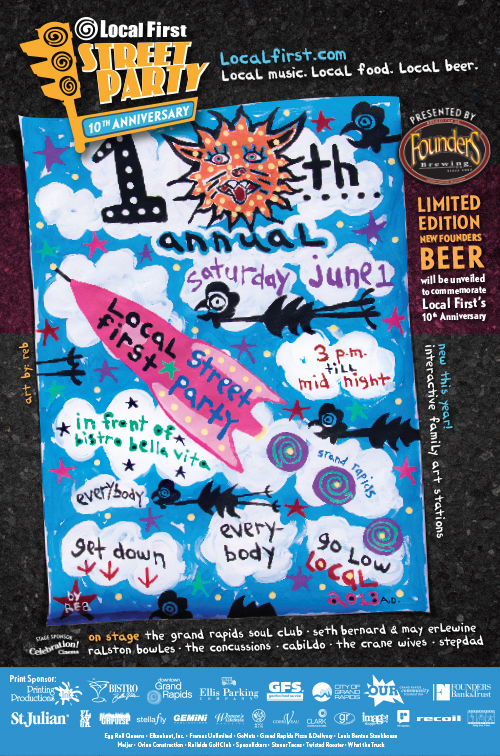 Band schedule in detail:
The Grand Rapids Soul Club (between sets)
Seth Bernard and May Erlewine (3:30-4:30 p.m.)
Ralston Bowles (5-6 p.m.)
Cabildo (6:30-7:30 p.m.)
The Concussions (8-9 p.m.)
Crane Wives (9:30-10:30 p.m.)
Step Dad (11 p.m.-12 a.m.)
The Street Party will also feature the best of West Michigan's food and beverages. Founders Brewing will bring many of its most popular beers and also unveil a limited-edition brew made to commemorate the tenth anniversary of Local First and the Street Party. The name and type of this special-edition Founders beer will be released sometime soon. St. Julian wine will also be available, as well as Faygo soda and free water.
This year's food vendors are:
Egg Roll Queens
GoNuts
Grand Rapids Pizza and Delivery
Louis Benton
Railside Golf Club
Spoonlickers
Stoner Tacos
Twisted Rooster
What the Truck
The Street Party was started ten years ago as a major summer event that would give local businesses and sponsors a chance to share their products and show their support for the West Michigan community. On this tenth year, the Local First Street Party is still the only event on the downtown Grand Rapids calendar that features local businesses and sponsors exclusively.
Source and photos: Local First