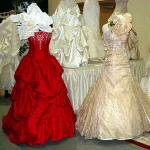 The twenty-second Annual Shoreline Bridal Fair will be again at Holiday Inn, downtown Muskegon, on January 8. Admission is free.
From limosines to lima beans, from bodice to bouquets. Every aspect of the planning of "that special day" has continually been provided for brides-to-be for now over twenty years.
If you have a need for great ideas, or, if you need a final source to help check off those last remaining details of that list you've been working on, the Shoreline Bridal fair is here for you.
Brides register for prizes at the door or pre-register online. Doors open at noon with a New York-style Fashion Show by Muskegon`s own Carol`s Bridal beginning at 3 p.m. It's West Michigan's premier bridal exhibition with experts in every field focused on making your wedding day the best day of your life!
January 8, 2012
Holiday Inn Muskegon