Taking place March 28, the Michigan Diversity Council is hosting its 2nd Annual West Michigan Women in Leadership Symposium, aimed at bringing together successful women leaders, to educate, inspire, and encourage attendees to reflect on their goals and status as they strive to advance in their organizations.
The virtual event, held from 8 a.m. to 12:30 p.m., will examine how despite advances over the past several years, women continue to be underrepresented in the C-Suite and executive leadership teams of businesses across the nation. The Women in Leadership Summit is a signature event hosted in 30 statewide markets and three global markets under the National Diversity Council.
The event's theme for 2023—"Rising in Resilience: Achieving Empowerment Through Advancement & Adaptability"—spotlights several panelists: Vanessa Jimenez, Founder and CEO, Mezcla Mosiac Collaborative; Laurie Morse-Dell, COO, Incompass Michigan; Pujita Sieplinga, AVP and Financial Wellness Consultant, PNC Bank; and Misti Stanton, Vice President, Diversity, Equity, and Inclusion Officer, Mercantile Bank. The event's keynote speaker is Valissa Armstead, Sr. Director of Diversity and Inclusion at Corewell Health, and the moderator is Michigan Diversity Council's Executive Director, Darlene King.
When speaking on who should attend the event, Ivy Hunter, Senior Event Programmer for the Michigan Diversity Council, said it would be ideal for "Those who truly understand the importance and benefits of creating equitable spaces and unique platforms for women looking to advance their careers and gain valuable networking and professional development opportunities."
"This year's symposium will explore how women can develop adaptation strategies that can empower and increase resilience amongst themselves and support others," Hunter continued. "This great event offers an opportunity for attendees to observe, learn, network and hear different perspectives from a diverse mix of executives who have 'broken the glass ceiling.' Attendees will gather a wealth of knowledge, experience, and expertise from some of the best women executives and entrepreneurs speaking on topics addressing the personal and professional challenges faced while successfully rising to the top in their respective organizations."
Hunter explains that hosting the signature event in West Michigan is important because of the many outstanding, influential women business owners, executives and key decision-makers who reside in the region.
"As we embark on two decades of progress, the Women in Leadership Symposium highlights the legacy of excellence and advocacy for women's equality in workplaces and communities," Hunter said.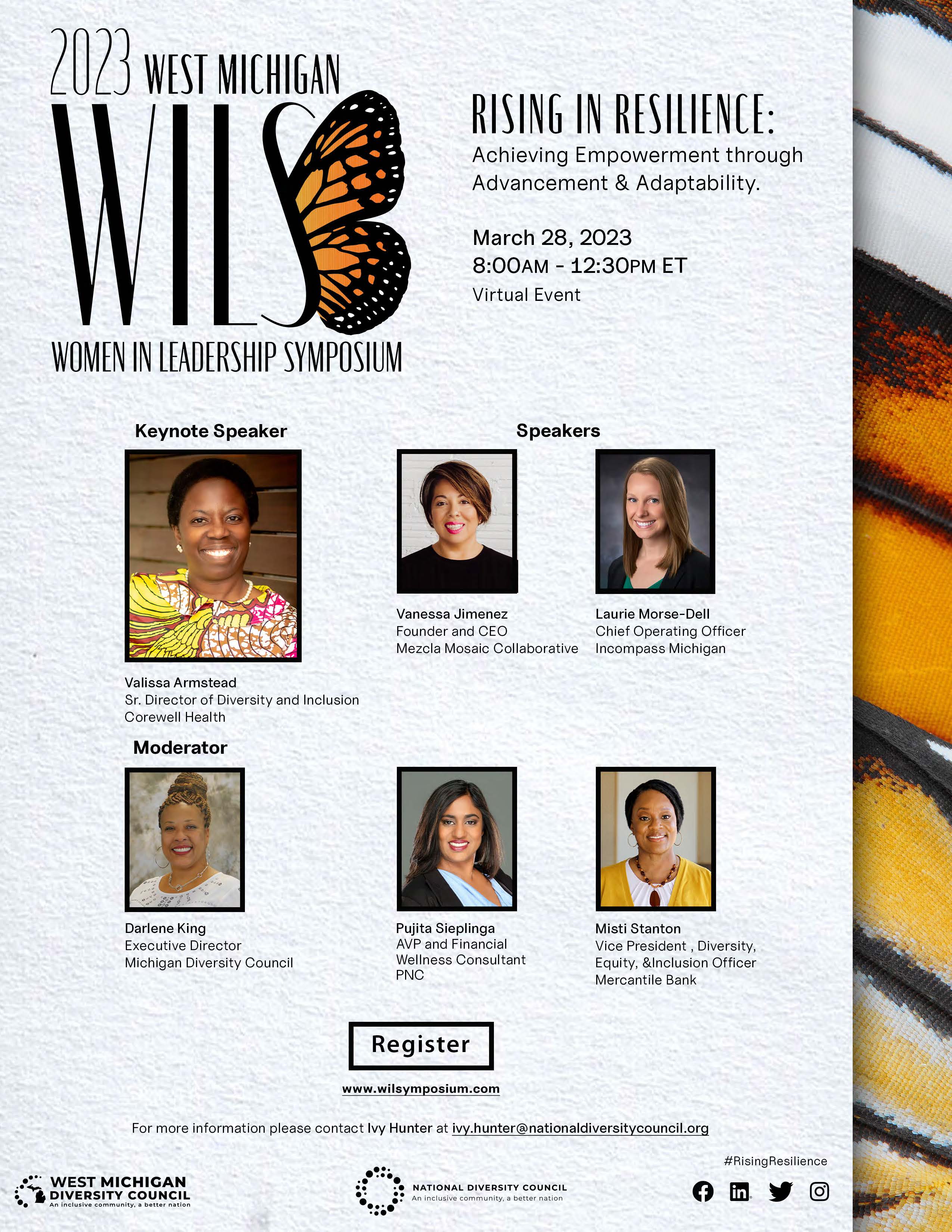 For more information regarding the virtual West Michigan Women in Leadership Summit and the West Michigan Diversity Council, please visit Michigan Diversity Council.
Written by Sarah Suydam, Managing Editor for West Michigan Woman.
Photo Courtesy of Michigan Diversity Council.