Grand Rapids Children's Museum understands that play is essential to development because it contributes to the overall well-being of children. It's through play that our youngest children learn to engage and interact in the world around them. Free play allows children to use their creativity while developing their imagination, dexterity, physical, cognitive, social and emotional strength. Play also allows children to create and explore a world they can master, conquering their fears while practicing adult roles. Through play, children can learn to work in groups, share, negotiate, resolve conflicts, and learn self-advocacy skills.
"It's wonderful when parents and caregivers engage in play with their children—this is one reason I love the Grand Rapids Children's Museum," said Dr. Miranda Hillard, Pediatrician and GRCM Board Member. "They help to facilitate play between children and their caregivers."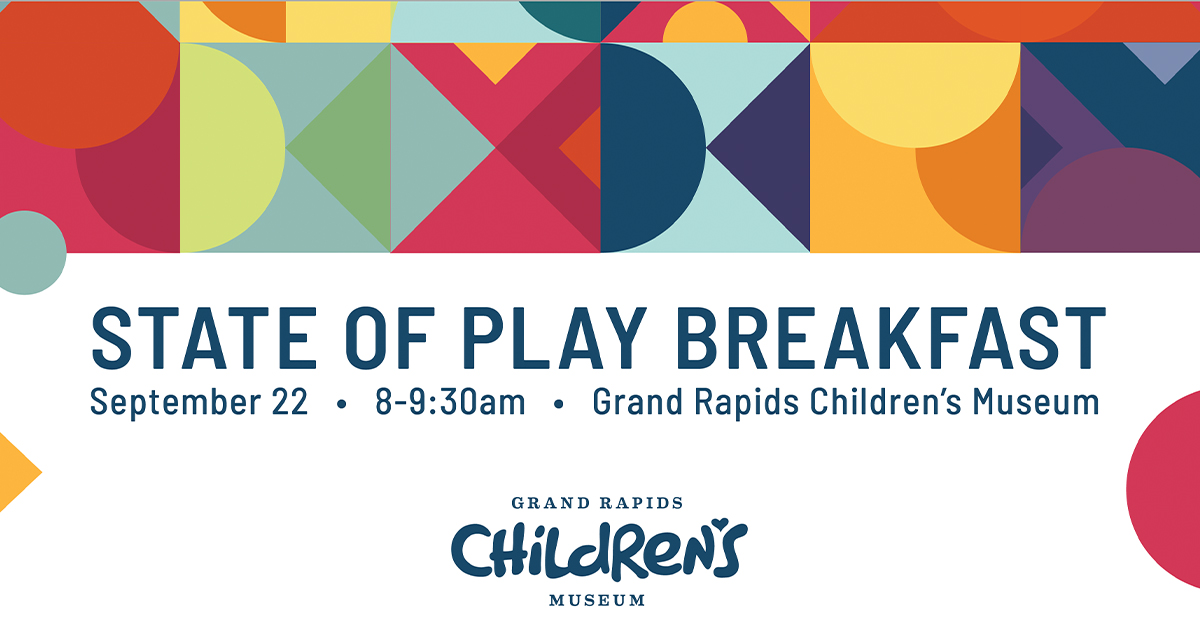 Support the efforts of Grand Rapids Children's Museum to bring play to all children by attending the State of Play Breakfast on September 22. This open house fundraiser will give the opportunity to GRCM guests to learn about the play-deficit facing today's children.
Taking place inside and outside the museum on Sheldon Avenue in downtown Grand Rapids, this complimentary breakfast fundraiser allows guests to attend the event and have direct access to play. Guests can enjoy outdoor seating, curated food options, beverages and presentations. Proceeds from the 4th Annual GRCM State of Play Fundraiser will provide vital funding for the museum's efforts to bring play to all children in the community through open-ended programs and exhibits, outreach initiatives, and community partnerships. As GRCM celebrates 25 years of play, they are thrilled to welcome a special keynote speaker, Arthur G. Affleck, III, Executive Director of the Association of Children's Museums!
State of Play attendees can enjoy guided and self-led tours to view the museum's new changes and new exhibits, including a first look at the first exhibit in GRCM's traveling exhibit series.
The Grand Rapids Children's Museum is also proud to announce The Pigeon Comes to Grand Rapids!: A Mo Willems Exhibit. Co-organized by the Children's Museum of Pittsburgh and the Eric Carle Museum of Picture Book Art, the exhibit is inspired by the art and characters of the beloved children's book author and illustrator, Mo Willems. Many familiar characters will be featured, including best friend duo Elephant and Piggie, faithful companion Knuffle Bunny, and The Pigeon, the wily city bird best known for his antics in Don't Let the Pigeon Drive the Bus!
RSVP for the GRCM State of Play Breakfast by clicking here. The event is free, but the museum will be asking for participants to give generously.
Courtesy of Grand Rapids Children's Museum.