One of the best ways to make winter an enjoyable time of year is to get out there and take part in all the West Michigan winter fun.
Luckily, Virtue Cider is holding its 5th Annual Wassail on Saturday, February 15, 2020, at its Fennville farm.
Wassailing is an old English custom of blessing the trees in the orchard with song and cider during the depths of winter, to ward off any evil spirits and ensure a good harvest in the coming year. Wassail is also the name of the warm, mulled cider drink the revelers used in celebrating the occasion.
Virtue pays homage to this cider tradition with its annual free and all-ages wintertime cider farm party—replete with live music, bonfires, food, Percheron-drawn sleigh rides, and a candle-lit parade at dusk through the apple orchards.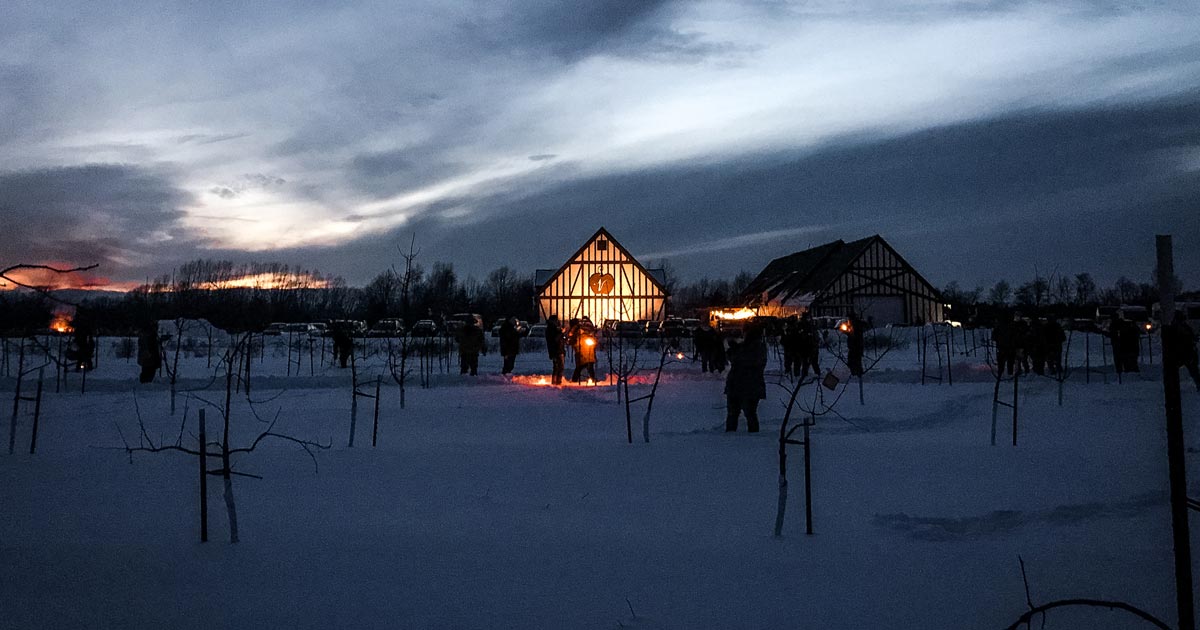 "Our 5th Annual Wassail marks our tradition of leading a music-led parade through our heirloom apple orchard," said Johanna Bystrom, Consumer Experience Manager, Virtue Cider. "Wassail is practiced in England by agriculturally lead communities right in the middle of winter, when we all need a reminder of the good harvest and weather to come. What makes Wassail special is that it draws the warmth of cider fans, music and farmers to one center location—our 48-acre farm—and we use that combined strength to 'bless our trees.' We hang toast on the branches of our semi-dwarf apple trees and pour cider on their roots, which encourages the birds to come eat the toast and nest on our property and, over time, help pollinate the fruit trees in our area for a 20-mile radius.
"It's a festival of good tidings, joy and good farming practice."
Those in attendance could expect horse-drawn sleigh rides, live ice sculpting from the Ice Guru, snowshoe tours, cider, and traditional English fare. Guests will also be treated to live music and a proper farm rock show with Jon Langford (of Mekons, Waco Brothers) & 3 Blokes from Chicago. Please note: Cider, food and sleigh sides are sold separately.
SCHEDULE
● Noon – 5 p.m. Winter magic for all ages (snowshoeing, sleigh rides, food, mask-making)
● 6:30 p.m. Wassail toast and bonfire lighting
● 7 p.m. Live music: Jon Langford & 3 Blokes from Chicago
Need a place to stay?
Virtue encourages guests to check out the numerous wonderful B&Bs in the area. Virtue has also partnered with AmericInn in neighboring Douglas to offer a limited number of hotel rooms at $100 for the night of February 15. To book at this rate, please call the hotel directly at 269.857.8581 and mention Virtue Cider. Rooms must be booked by February 1 to secure this rate.
More questions? Feel free to contact [email protected] or find Virtue Cider on social media.
Wassail!
Written by Sarah Suydam, Staff Writer for West Michigan Woman.
Photo courtesy of Virtue Cider.