Hosted by UrbanYou, the third annual Flawless Fall Beauty Event takes place September 9 – 11, 2019!
Join Urban You at its Knapp location, Monday, September 9, for a day of skincare. Event guests can get mini glow-ups, view live demonstrations, be the first to try new fall facials and get incredible savings on the newest injectable wrinkle treatment on the market: Jeauveau. Urban You will have a coffee cart bright and early, starting at 9 a.m. | 3152 Peregrine Drive NE, Suite #115, Grand Rapids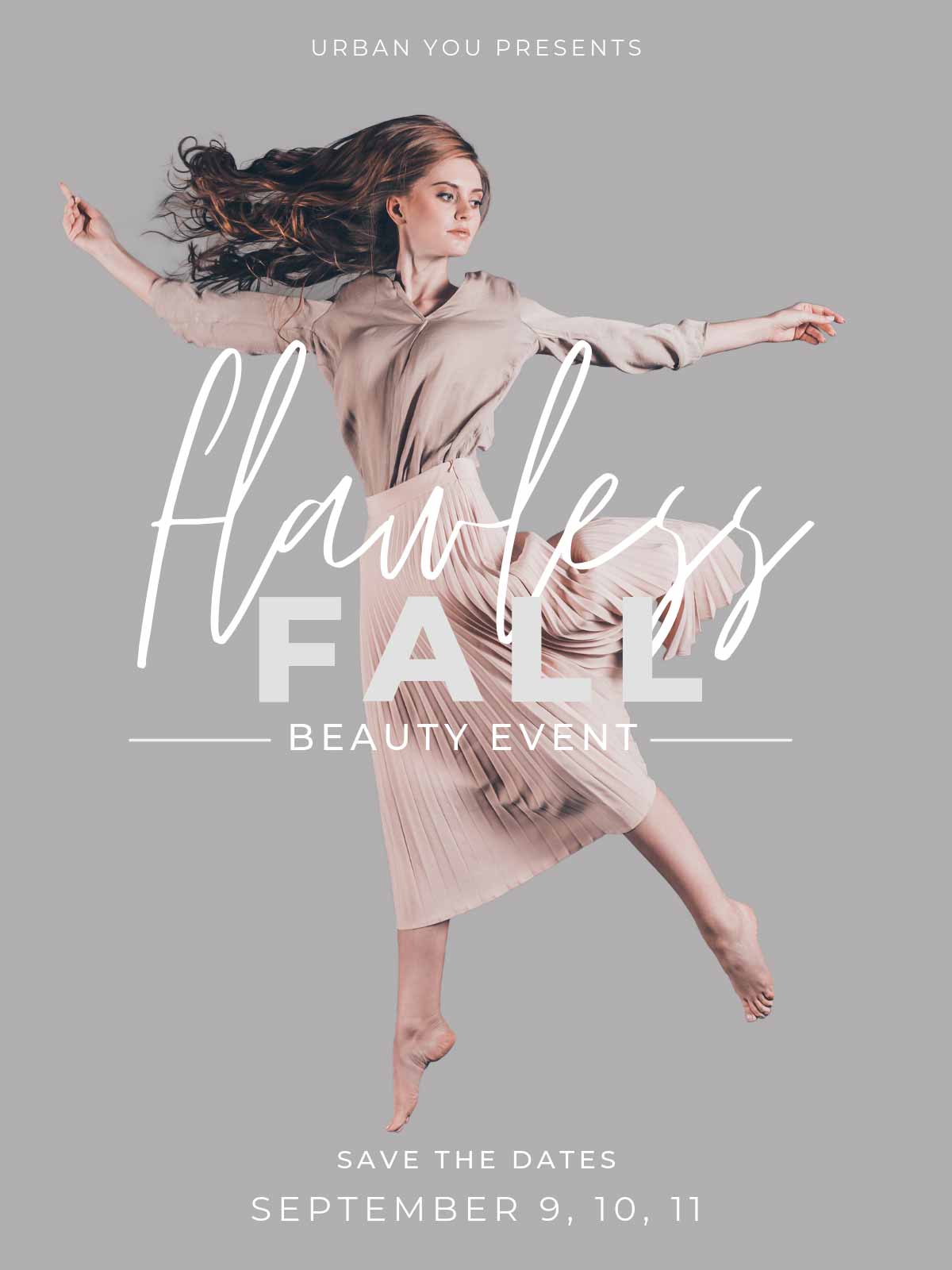 Photo courtesy of Urban You.
Tuesday will be a Flawless Fall Fiesta! Urban You is turning up the heat at its Wealthy Street location as members enjoy tacos and happy hour beverages. West Michigan Woman will be on-site to do a social media live feature! Members will enjoy complimentary brow shaping and express makeup, guests can book $25 Kevin Murphy blowouts (a $40 value), and receive free gifts with select SkinMedica purchases. | 756 Wealthy St SE, Grand Rapids
The nurses and aestheticians at Urban You will perform free assessments for body sculpting and cosmetic injections at the Knapp location, Wednesday, September 11. Urban You will also introduce a brand-new facial and offering free treatments on site for up to 30 guests. In addition to the daily events and specials, all guests can take advantage of Urban You's biggest sale of the season. Special event pricing on Botox Cosmetic, Aquagold, Juvederm, lash services, body sculpting, premium skincare and hair care, and more will run all three days, while supplies last.
As Urban You invites you to celebrate the new fall season, it also celebrates a third location in Northville, Michigan—set to open this fall.
"We are elated to be expanding and are currently seeking talented applicants for all job openings," said Nicole Gregory, Urban You CEO. "Keep an eye out for special announcements, pop-ups in the Northville area, giveaways on our social media channels, and a chance to become a founding member of Urban You – Northville."
The Northville location will be a full-service beauty and medical spa offering facials, cosmetic injections, beauty styling, lash extensions, and more—providing the latest trending products and services in the industry to guests and members.
"As our company grows, we promise that the care we give to our guests and members to ensure an exceptional experience will remain and elevate," Gregory said.
"We enter this new season with an incredible sense of gratitude for the continued support of our families, staff, and community."
Written by Kimberly Aisthorpe, Brand Manager, Urban You Beauty Bar.
Main photo courtesy of Leigh Ann Cobb.