In 2019, Tulip Time Festival adds a new Culinary Series, including four fabulous ways to experience the epicurean talents of some of the best local chefs, brewers and beverage experts.
The unique menu offerings will delight adventurous palates and those seeking good traditional tastes.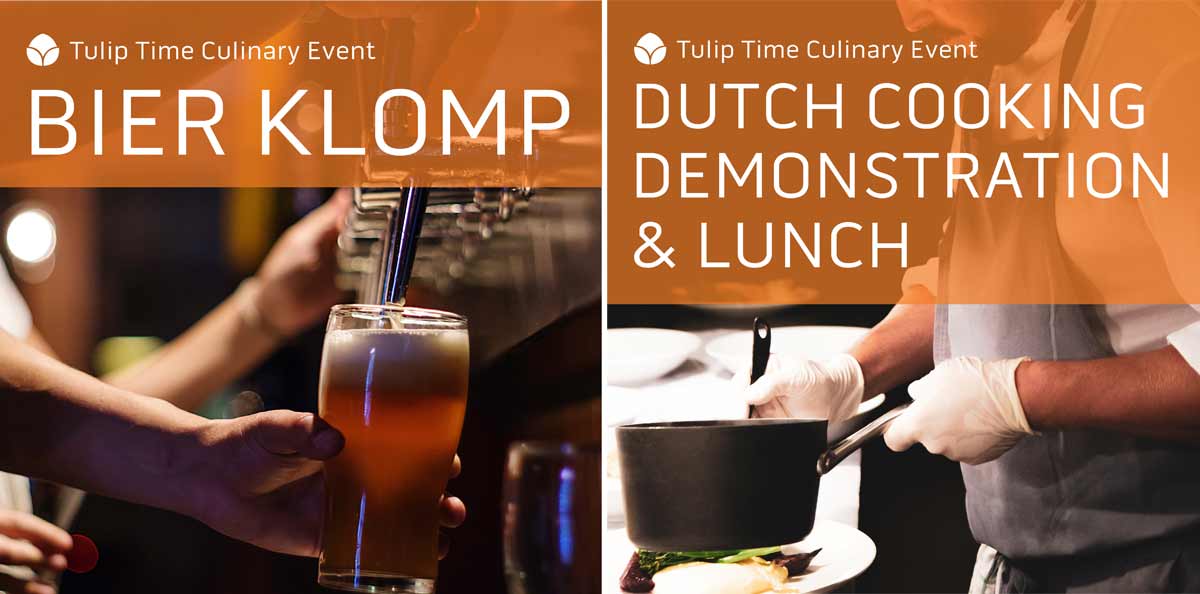 Dutch Cooking Demonstration & Lunch
The culinary expertise of two great local businesses unites to bring you a unique cooking demonstration. Chef Andy Stewart of Fustinis collaborates with Boatwerks Restaurant to create this modern take on Dutch favorites. You'll enjoy a three-course lunch while Chef Andy demonstrates his unique way of blending Fustinis oils and vinegars into classic favorites. He'll also share his recipes, so you can re-create this delightful lunch.
Book a long lunch and join this cooking demonstration Monday, May 6, or Tuesday, May 7, from 11 a.m. – 1 p.m., $45. The menu includes split pea soup, pretzel-and-mustard-crusted pork tenderloin sliders, and almond rhubarb crumble cake.
Dutch Comfort & Craft Dinner
Big Lake Brewing invites you to savor an incredible fusion of Dutch comfort food and unique craft beers. Chef Jeremy has created a special five-course dinner inspired by authentic Dutch recipes. Big Lake Brewing will take you through the art of pairing various foods with each craft beer for a distinctive dining experience. The chef and brewers will lead the event, to answer all your questions. Participants will receive an exclusive growler, along with special discounts on fills.
The event, for ages 21 and older, will be held Tuesday, May 7, and Wednesday, May 8, from 6:30 – 8:30 p.m. Tickets are $75 per person, which includes all craft beers paired with the menu: spring vegetable soup with veal meatballs; Dutch pulled-beef bitterballs; endive, chicory, and apple salad; pan-seared duck, seasonal vegetables, smoked egg yolk, and a red wine reduction; and avocado ice cream with stroopwafel crumbles.
Boatwerks Twist on a Traditional Dinner
Boatwerks Waterfront Restaurant presents a unique four-course dinner that puts a spin on traditional Dutch Cuisine. Each course of this exceptional culinary delight will be presented by your host, who'll offer insight into the "twist" on the traditional recipes. Join this elegant dinner while taking in the view of beautiful Lake Macatawa for a truly fabulous evening.
Dinners will be held Thursday, May 9, and Friday, May 10, from 7 p.m. – 9 p.m. Tickets are $45, with a cash bar available. The menu includes aspergesoep soup, pig in a blanket, hutspot met klapstuk, and turtle Bossche bollen.
Bier Klomp
Take a step beyond downtown Holland into Washington Square, for a unique Tulip Time neighborhood party experience! Beer enthusiasts won't want to miss this selection of one-of-a-kind Tulip Time brews, thoughtfully curated for the 90th Tulip Time Festival.
With a menu full of local and regional brews, ciders, spirits, and wines, there's something for everyone. This is the only place in town where you can try all these special Tulip Time beverages in one place. The Bier Klomp will feature fabulous entertainment by The Crane Wives and an opportunity to mix and mingle with some of the local beverage experts in a fun and relaxed atmosphere. The Printmobile's screen-printing setup will also be there, with multiple designs ready to print on your choice of T-shirts and sweatshirts; your unique item will be ready in minutes. Food from the Electric Hero food truck will be available for purchase.
The Bier Klomp will be held Friday, May 10, from 4 p.m. – 12 a.m. Take home a commemorative 15-ounce beer stein and enjoy larger pours at the event. This stein is available for pre-sale through April 19, with a limited supply of commemorative steins available at the event for $10 each. Tickets are $15 for adults—$22 with the addition of the commemorative beer stein—and $10 for minors. ID is required at entry and beverages are not included in the ticket price.
The 2019 Tulip Time Festival Guide, available online, contains details for these and all other shows and events.
Paint the town orange at Tulip Time's 90th Anniversary celebration, May 4 – 12, 2019. Tickets for all events can be purchased online, by phone at 800.822-.2770, or in person at the Tulip Time Festival Box Office: 42 West 8th Street, Holland, Michigan.
Content and photos courtesy of Tulip Time.