February 5 will mark the Tulip Time Festival and Holland Area Arts Council's announcement of the winner of the 2015 Art in Bloom Poster Competition, selecting a work of art for this year's official Tulip Time Festival poster.
Artists aged eighteen and over who live in Ottawa, Allegan, Kent, Muskegon, and Kalamazoo counties (as either full-time or summer residents) were eligible to participate. This year's juror, Steve Nelson, associate professor of art at Hope College, judged the submitted pieces, selecting the top twenty; the final choice will be made by representatives of the Tulip Time Festival and Holland Area Arts Council. Tulip Time visitors have the opportunity to vote for Viewers' Choice Awards during the springtime festival.
Tulip Time Festival artwork was chosen by contest for the first time in 2011, after previously having been commissioned. Winning artists over the past four years come from a variety of art backgrounds, and represent a range of artistic styles.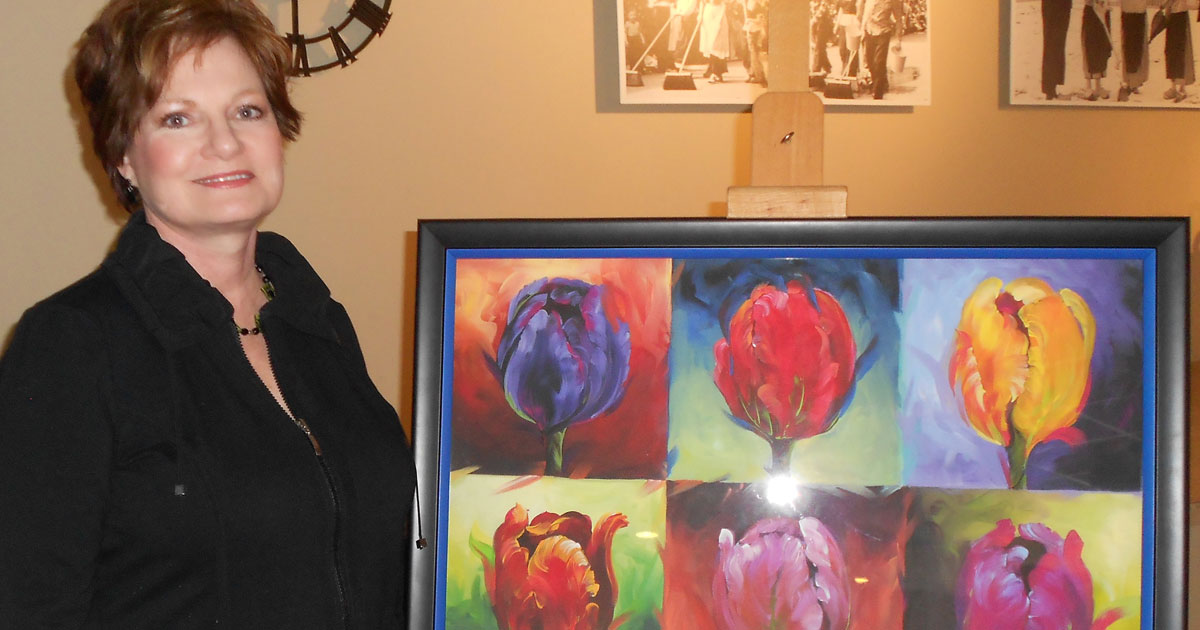 Beth Charles won the initial contest with "Drama Queens" in 2011, and her painting "Abundance" is one of the top twenty contenders for this year's contest. Formally trained in the fine arts at University of Michigan, Beth's favored media is acrylic on gallery-wrapped canvas, allowing her painting to continue over the edge and around the sides, adding dimension and surprise. In addition to floral, her subject matter includes sailing, landscapes, still life, and abstract design. She laughingly describes her style as "fresh, fast, and loose," but always changing. Teaching painting to others has influenced her own work, too. "Learning goes both ways." Beth offers classes at Courtyard Studio in Douglas. Visit her website for more information about her classes. Beth's work is on display at several galleries across Michigan, including Round Lake Gallery in Charlevoix, Live for Art Gallery in Beulah, East End Gallery in Marshall, and Absolute Gallery in Lansing's Old Town District. Learn more about Beth at bethcharlesart.com, find her on Facebook, and follow her on Twitter.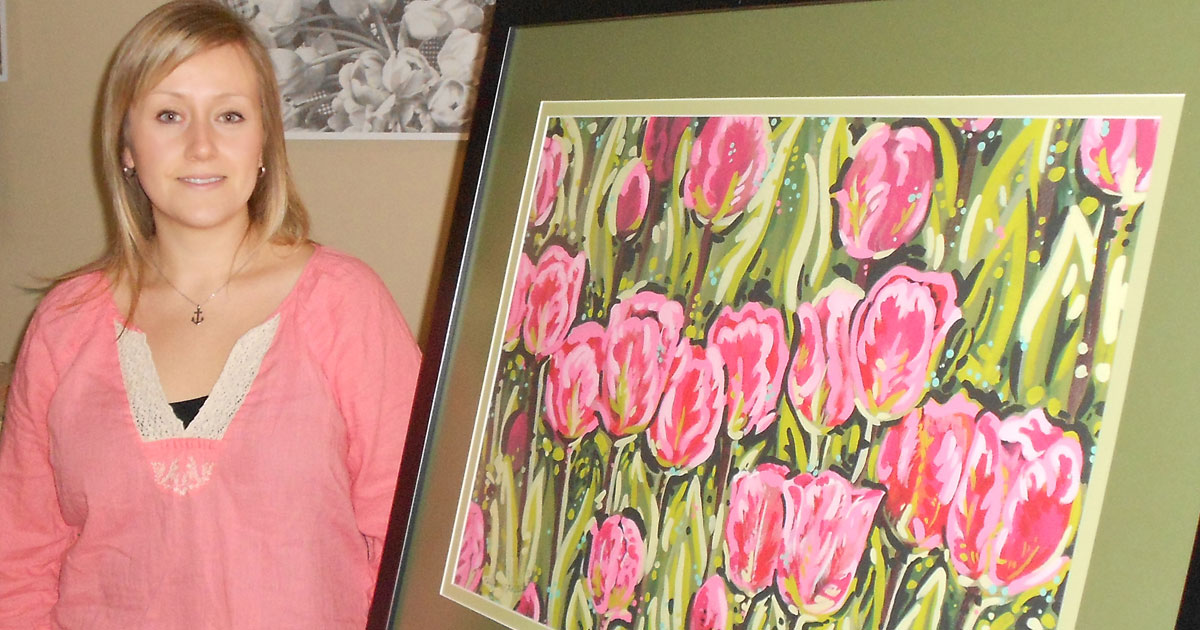 The 2012 contest winner was "Beautiful Dream," an acrylic by Brittany Strabbing, a stay-at-home mom from Zeeland. Brittany has been painting since she was a child, but her only formal training was in art class in high school. Enjoying elephant ears and watching the 2011 parade with her oldest son, Brittany saw Beth Charles taking part in the festivities as winner of the contest, and thought it looked like fun. She entered the contest the following year at the urging of her mother and neighbor. Brittany continues to paint as a hobby, favoring Americana themes, and a bright cheery feel. She also displayed work in the 2013 ArtPrize, and was one of twenty-one artists to create a banner for downtown Zeeland's light posts in 2012. From time to time, she advertises her work online, but as the mother of two little ones, her time for painting is limited. View her latest projects on Pinterest.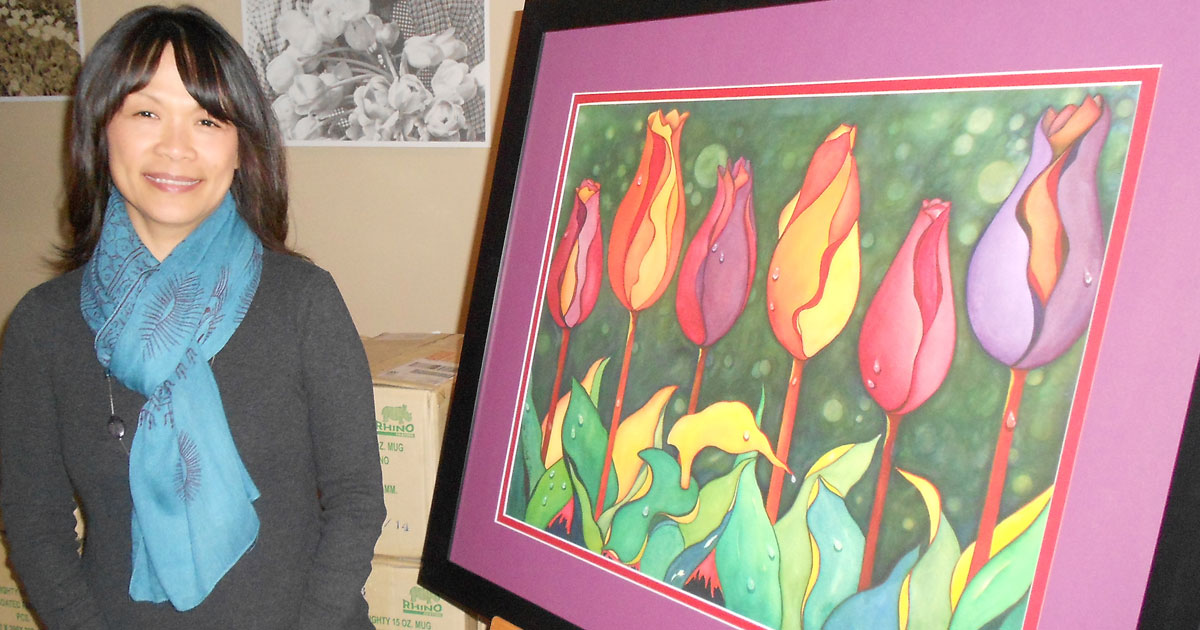 Maggie Schultz's "Clothed in Splendor" won the 2013 contest. Maggie, who graduated from Ferris State University with a degree in product design engineer, worked outside of the home for seven years, but has been a stay-at-home mom since. She has painted as a hobby for the past eight years, developing her skills through night classes at Kendall College of Art and Design. She favors watercolors and acrylics, and especially enjoys portrait painting. "Clothed in Splendor" was her first abstract style painting. Visit Maggie's website, maggieschultz.com, to view her work. The original "Clothed in Splendor" is for sale at Flying Colorz Studio in Holland.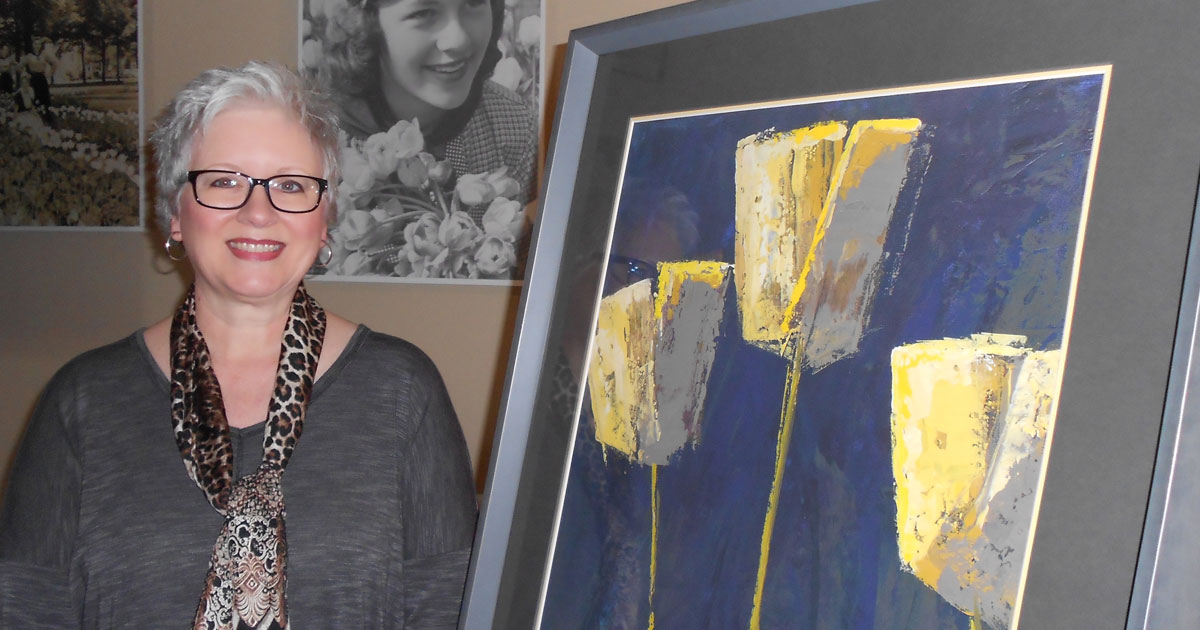 "Resilience," by Karin Nelson, was the winner of the 2014 contest. Karin, a self-taught artist, describes her work as masculine and stately, rugged and concrete. She is attracted to painting buildings and objects with strong lines. "Floral is unusual for me." She began experimenting with painting in 2009, and eventually became successful enough that she left her job as an administrative assistant to devote more of her time to art. "I never thought I'd make a career out of it!" Karin's work has been accepted into juried exhibitions including the Grand Rapids Festival of the Arts Regional Exhibition, MI ARTS Visual Arts Competition in Holland, and Celebration of the Arts. Her works are displayed at Treeline Gallery in Suttons Bay, Canterbury Cottage in Holland, and in her home-based gallery and studio, which clients may visit by appointment. Learn more about Karin's work at her website, follow her on Facebook, or call 616.723.6600. Karin's website also contains video demonstrations of her painting technique, and an interview about her Tulip Time Art in Bloom experience.
For more information about the Tulip Time Festival, visit www.tuliptime.com.
Written by Jennifer Reynolds, staff writer at West Michigan Woman magazine.