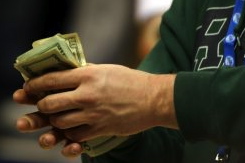 Most of the time, getting paid means cold, hard cash. But there are some forms of compensation that may be more beneficial than Benjamins, especially for public speakers. In a survey by the National Speaker's Association, 81.1 percent of public speakers said they worked for no fee at least once in the last year. In addition, 89.6 percent of the same speakers said they speak for free one in ten times. Still, public speakers benefit from giving presentations without pay. Instead of raking in the dough, speakers develop good reputations and secure positive exposure and marketing.
When a speaker knows her material and has confident stage presence, she can keep the audience captivated and informed. But working for free must be balanced with travel and other expenses. Here are some ways to turn a profit, monetarily or otherwise, while being conscious of budget:
Look Professional. Using professional video tapes of presentations and distributing professional photographs is a good way to sell yourself to those who have yet to see you speak. You can ask the organization at which you are to speak if it has the capability to record your presentation professionally. These videos can be distributed at future presesntations or online. Professional photographs are more necessary now for media kits, handouts, your website and other publicity-related needs. These resources are an investment that may pay off in future speaking engagements.
Sell Merchandise. If you have a book, CD or resource kit, make it available where you are giving the presentation. You may be speaking for free, but the dollars generated from your product sales will add up. Your audience will see you as more than a public speaker when your products and services are packaged into these media outlets. When you are speaking, you are also selling your ideas and your expertise. Develop media reources from your presentations and make them available at every event.
Solicit a Good Recommendation. Stock your portfolio with testimonials. By collecting glowing recommendations of your presentations, on the organization's letterhead no less, you will have a tangible record of success to show future organizations. Go one step furthur and ask to be featured in the organization's newsletter. The feature should include information about your presentations and your contact information. This medium will allow you to reach a public to whom you otherwise would have no access, and it will increase your publicity.
Guide Audiences to Your Website. Hand out business cards or brochures with your contact information, and include your website. When you guide your audiences back to your website, they will spend more time getting to know you and your product. During your presentation, refrain from handing out notes pre-assembled notes, but encourage audience members to take their own. Let them know that they can attain more information on your website. You can be creative by providing your audience members with a promotional item the reminds them of your message.
Source: Bryan Caplovitz. Photo credit: LeoSynapse